BARRY POTTER AND THE MAGIC OF WIZARDRY Comes to Adelaide Fringe Fest
Performances run 17 February - 18 March.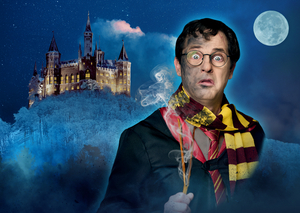 Dive into real live wizard magic, with the world premiere of the first Harry Potter themed satirical magic show for adults, (also accessible to a family audience). Character comedian and magician Tim Motley (USA), best known on the Fringe circuit for his award-winning and popular Dirk Darrow shows, dives into a new genre with this fantasy parody of a certain Wizarding World.
Though no knowledge of Harry Potter movies or books is required to enjoy the show, this is a chance for fans to experience live magic in a context they already understand. The show is presented as an autobiographical story-telling show by a new fictional character "Barry Potter", who is performing at festivals after a tragic fall from grace. Experience the wonder of world-class wizardry in a realm of messenger owls, robed wizards, and flying broomsticks! Marvel at mind blowing mysteries with cauldrons, goblets, scrolls, and talking snakes.
"Magic is a vital part of how humans understand a world that is often complex and unknowable... both as young humans, and young civilizations. This Potter-verse is the most common reference most modern people have for knowing what magic is. That's why I thought it would be really cool to do a show that plays to those tropes, rather than ignoring them." -Tim Motley
Location: The Griffins, 38 Hindmarsh Square
Dates: 17 Feb - 5 Mar @ 7:25pm + 4:20pm weekend matinees.
Location: Wonderland Festival Hub, Hindmarsh Square
Dates: 11-13 & 18 Mar @ 3:30pm.
Cost: $20-$30. Media comps available upon request.