The Royal Ballet's DON QUIXOTE Will Be Screened In Cinemas Across The UK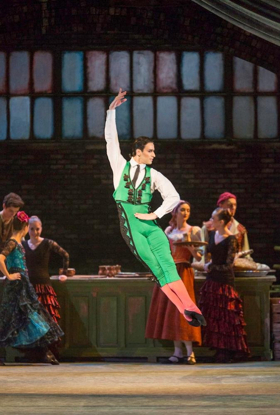 Audiences across the UK can enjoy The Royal Ballet's charming and fun production of Don Quixote broadcast live from London's Covent Garden to cinemas on Tuesday 19 February with an encore screening on Sunday 24 February presented by Ore Oduba.
The ballet explores love, friendship and adventure. The knight Don Quixote and his servant, Sancho Panza, meet love-lorn couple Kitri (Akane Takada) and her sweetheart Basilio (Alexander Campbell) who are unable to marry as Kitri's father wants her to marry the wealthy Gamache. Don Quixote, in true heroic style, intervenes and convinces Gamache he would rather marry the barmaid - this allows Kitri and Basilio to wed.
Carlos Acosta's 2013 production of Marius Petipa's 19th-century ballet brings Spanish warmth and joy to the stage. Acosta adds energy and wit to the ballet, particularly with the new choreography for Act II's gypsy scene, which brings musicians onto the stage to add to the lively atmosphere.
The Royal Opera House cinema broadcasts offer audiences the best seats in the house, include exclusive behind-the-scenes footage, interviews presented by Ore Oduba and incredibly detailed close-ups of performers. Audiences are never far from a performance at the Royal Opera House, with most UK viewers located within 30 miles of a cinema screening. In 2017/18 more than one million people globally saw a production of world-class opera or ballet from the Royal Opera House at one of more than 1,500 cinemas in 51 countries.
Don Quixote will be live broadcast on Tuesday 19 February at 7.15pm and lasts approximately two hours and 45 minutes with two intervals with an encore screening on Sunday 24 February at 2pm. The next production in the Royal Opera House live cinema season is The Royal Opera's La forza del destino on Tuesday 2 April.