The Community Practice of North East Dance Artist Esther Huss and Collaborators of STAIRWALL
The Community Practice of North East Dance Artist Esther Huss and Collaborators of STAIRWALL.
A 20-minute bus ride takes me from Newcastle City Centre to the North East suburb of Heddon-on-the-Wall. I'm there to observe the community practice of Dance Artist Esther Huss, Sound Artist and Composer Jeremy Bradfield, and Visual Artist Claudia Sacher, who collaborate as part of a project called 'Stairwall: The Things We Find'.
The project incorporates performances - deliciously rich with movement, music, and visual art (more on this soon) - workshops, and skills development sessions for teachers, youth workers, and community champions. The 'crux' of the project is hard to pin down simply. It engages with aspects of the local North East heritage, and this influences the material and sensory aspects of the production and the workshops, and it's an ode to the importance of individuality and playfulness.
The workshop I attend is for 32 primary school children. It's noisy, and the team is not-so-sure about how things are going to go with such a high number of participants. But from my perspective (as I try to make notes whilst battling waves of nostalgia, perched on a wooden gymnastics bench), the three artists and their producer Sarah Hudson, who is delightfully invested in the carefully controlled chaos, manage the hour with ease. Claudia lays out twigs, buckets of mud, apples, leaves, and other natural materials so that the children can... well do whatever they please. They work together to upcycle - downcycle, perhaps - a knitted vest, making it an earthy, gorgeous mess. Esther works with the children, who have each brought an item that means something to them, to create movement sequences. Jeremy uses these items as inspiration for songs.
Each group works with ten-or-eleven children at a time before they move on to the next artist. I notice that each time, the activities evoke the same qualities in the children. With Esther, they're very energised. However, she ensures every child gets to choreograph their move with her with patience, occasionally swerving a high kick from a zeal-filled participant. With Jeremy, they're so focused. I'm in awe as he creates three coherent, tuneful songs about various stuffed animals. Claudia is a quiet facilitator, coring apples and sourcing water to make mud for Maximum Mess. Watching them work, it's a joy to see the often-squashed feral-ness of kids harnessed so that they can create freely. Speaking to Esther, this quality becomes quite evidently vital to her working approach: "I think sometimes that [we think we] need to control our children or keep things sort of... tame and safe".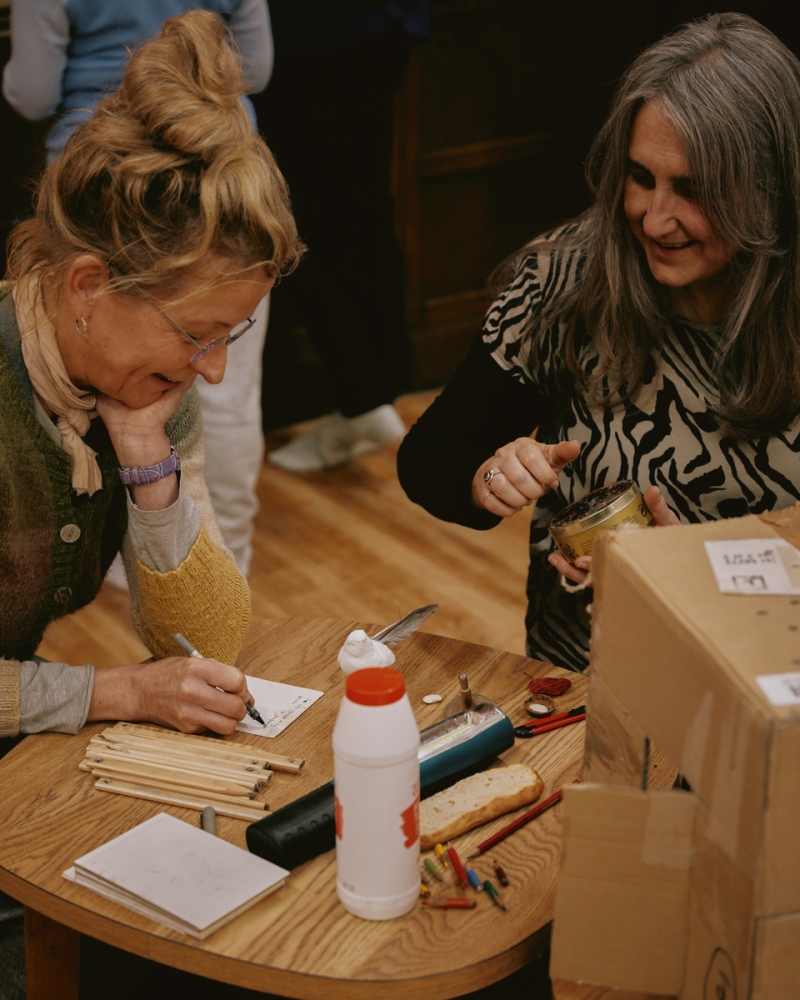 Born in the Black Forest in Germany, the dancer moved to the UK in 2000. After about 20 years of dancing professionally, working with the likes of Kate Flatt, Aletta Collins, and Michael Keagan Dolan, Esther now focuses most of her time on her community practice. She runs The Institute in Northumberland, a community arts organisation in the Cambois Miners Welfare Institute, with her husband, the writer Alex Oates. They hold free activity sessions for the locals, such as dance classes, playgroups, and creative writing workshops. "I need to find genuine ways to connect and bring people in," Esther says, "moments of celebrating what we value as a community".
She speaks with gentle candor about the people she's encountered at the workshops, at Cambois, or elsewhere as part of Stairwall. Her ethos seems to arise from the need for art to heal some of the wounds inflicted on people by societal norms. In Heddon, I see this in the provision of a space for children to be grubby. Esther also talks of challenging the gendered norms often imposed on them from so young; "with dance, there's this idea of movements for girls and movement for boys. It's really hideous, and I'm starting to experience that now through Dahlia's [Esther's two-year-old daughter] nursery. Being [encouraged to be] pretty when you dance... "make sure you smile!"'.
Alongside the fluidity of her practice, we also address the discipline of improvisation: how it's "founded in freedom" but, as a practice, requires structure. The performances of Stairwall are devised collaboratively, and the artists try to include elements of those they have encountered in the workshops in them. I watch one a couple of days after the primary workshop again, in Heddon-on-the-Wall, in the Knott Memorial Hall.
The piece is harmonious, with Jeremy, Claudia, and Esther's artistic practice all contributing something distinctive. It's loosely structured around the idea of a circus visiting town, which acts as an anchor for the varied, lively action that fills the hour. As with the workshops, audience members are asked to bring an item that means something to them. My friend Sarah and I wobble excitedly in our seats as our items are chosen and put under the macro lens of a camera. I howl with laughter as my little blue and white porcelain cat becomes a part of the action, rotating on a plinth, filled with joy as something small but significant to me is made magnificent. Then, we're silent and attentive as we watch Esther's controlled and mesmerising movement practice. She wrestles with the revolving wall that forms the set, climbing over and hanging off shelf-like structures. On the other side, Claudia engages with a variety of trinkets and objects. Of course, she also makes her mark with clay. Jeremy scores the event with instruments that I won't hazard a guess of the names of. They involved tubes and strings and other make-shift bits and pieces. The beauty that comes from the rugged noisemakers is a stunning contradiction.
The dialogue between the workshops and the performance feels clear to me. The same deceptively loose structure, truly rich with big, human concerns. Conflict, community, individuality. Communicating the theory and the process behind the staged part of the project comes across as important to Esther; she says that the skills workshops "share the freedom within the disciplines of dance, music, and art [but] doesn't mean we're being undisciplined or being careless or unprepared". It's for this reason that the project seems to have so much life: it all hinges on a praxis of ensuring playfulness and sincerity meet one another. Whomever Esther and co. encounter, their message is clear, crucial, and profound. As Esther states, it's the importance of art without a focus on the "product": "not the vision of the end result". It's about getting a chance to be unconfined.
To wrap up the project this year, The Institute, Cambois, will be home to an exhibition of the process, project film, and objects that have been featured throughout Stairwall, on the 3 - 4 December between 1pm and 3pm.
Photo Credit: Luke Waddington