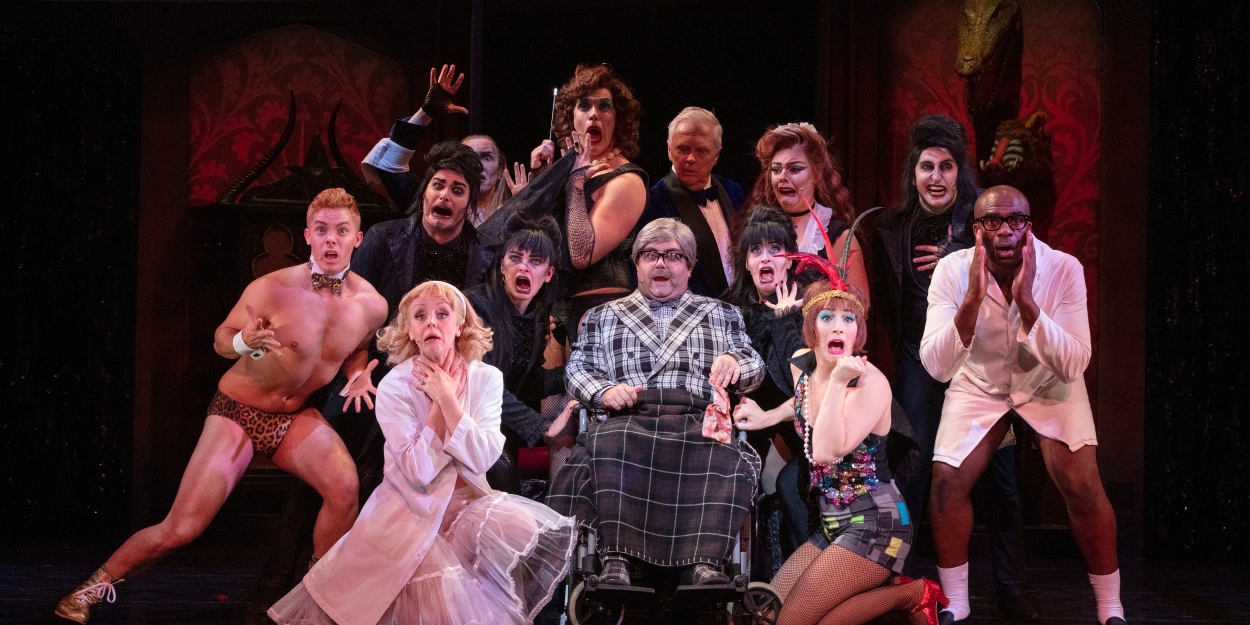 Review: THE ROCKY HORROR SHOW UK TOUR, Theatre Royal Brighton
Currently at Theatre Royal Brighton until January

What have I just witnessed?
That was my overriding thought as I wandered out of the Theatre Royal Brighton, dumbstruck, baffled, fascinated and charmed by this extraordinary production.
Now, let me give some context to the review that's about to follow - I had never seen a production of The Rocky Horror Show until last night, nor have I seen the film. I was familiar with the score of course, and of the general premise as it's so deeply embedded in mass culture (who HASN'T done the time warp in a sixth form disco or at a wedding?) but seeing it live is an uncomfortably enthralling experience.
In case you've also been living under a rock like myself, let me break it down for you.
The Rocky Horror Show tells the story of Brad and his fiancée Janet, an innocent young couple who stumble into the weird and wacky world that Dr Frank'n'Furter has created when their car breaks down outside his castle. What follows is a bizarre combination of sex, rock 'n' roll, horror and hilarity. Narratively speaking, it's not rocket science, but it doesn't pretend to be.
It rose to mass fame in 1975 when it was made into a film after several successful runs in various London theatres and this cult status was palpable within seconds of entering the theatre during the Brighton run of this World Tour, directed by Christopher Luscombe.
Audience members were wearing anything from bedazzled top hat and tails to full-on cosplay - the atmosphere was electric before the show even began. And once it did, my face must have been a quizzical picture because - as a newbie to the Rocky Horror experience - every beat took me at least 10 seconds to work out what was going on. But this production isn't designed for people like me, it's squarely aimed at the fans and based on the reaction from the crowd, it achieved its goal.
Every single cast member is utterly mesmerising and seductive. Aside from looking like they're having the time of their lives, the vocal ability across the board is stellar and the overall performances are gloriously and intentionally kitsch and tongue-in-cheek. Stephen Webb's Dr Frank'n'Furter is a standout performance. Full of bold brassy vocals and sinister sex appeal, he could could lure even the most chaste person into his bed chamber.
Hugh Durrant's set design is simple and functional, taking a backseat to create space for the bounding energy on stage. It's the costumes that are the star of the stage - Sue Blane has created visual feast for us to dine out on, imbuing every piece with the extravagant theatrics that The Rocky Horror Show has come to be known for.
This World tour of the The Rocky Horror Show is as subversive and sexy as you'd expect, but it's the perfectly placed cast that make it really fly. If you're not part of the core fanbase of the show or film, it might feel a little bit like being at a party you weren't invited to but with an open heart and mind, you'll be captivated in no time.
The Rocky Horror Show is at Theatre Royal Brighton until 7 January, then touring
Photo credit: David Freeman (previous cast)