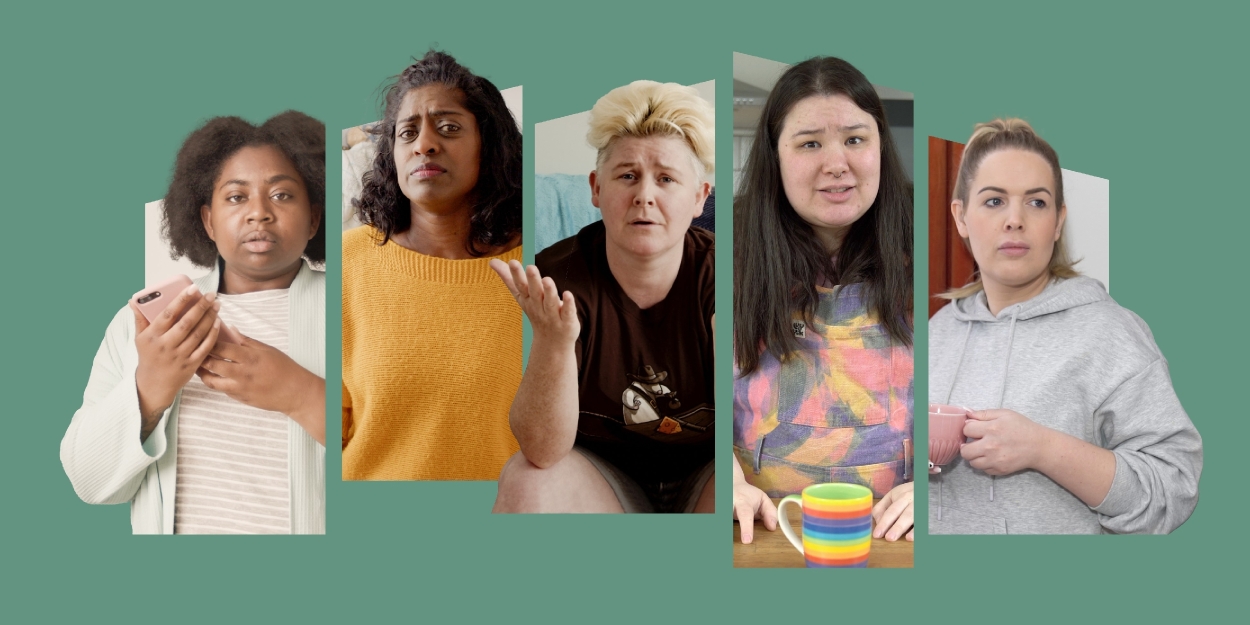 Review: TALKING HANDS, Streaming
Online short films in British Sign Language for the deaf
Actions can speak louder than words - a proverb that's especially relevant with the new release of Deafinitely Theatre's final two films of its Talking Hands series.
Performed in British Sign Language, the short Talking Heads-style monologues (made in association with the terrific Paines Plough) convey different ways a variety of people in the deaf community dealt with lockdown and its aftermath.
Samantha Pearsall writes and performs The Woman I Am. She's eagerly waiting for a delivery and has left a note on the door for the delivery driver to ring the bell (with special flashing lights for the deaf), rather than knock.
Pearsall is excellent in an upbeat, biographical coming-of-age story. Through photographs, she recalls memories of feeling different from everyone else when growing up. Pearsall suffers from depression and eating disorders, and eventually navigates (spoiler alert) the transgender transition from Richard to Samantha.
The joyous parts of the tale for me were Pearsall discovering a love of art, which she then studies. And her move from a rural area to the city of Manchester where she goes out and has a wonderful time seeing drag acts and dancing.
She also speaks of feeling lonely during lockdown, but writing her feelings down helps her cope. Her efforts culminate in her book, The Woman I Am: My Journey from Richard to Samantha. The film, directed simply but effectively by Paula Garfield, reaches its climax with the delivery of the much-anticipated box of her books. A revealing film portraying how someone perseveres to become the person they really are.
The second film, Life, It Goes On, covers a lot of content warning-scattered ground. Everything from deafness, gender and ADHD, to sexuality, racism and domestic abuse.
Writer Abigail Gorman's abundant mix of messages is presented by Dara (played enthusiastically by Bea Webster) in her kitchen getting everything ready for her first dinner party since the pandemic kicked off.
Dara says that at times lockdown was like being in A Christmas Carol, but without the ghosts. She expresses the desire for a ghost to visit - at least it would have kept her company.
Dara's excitement at having friends around is also tinged with nervousness about how to conduct herself socially after being alone for so long. She jokes about using cue cards - "How's the weather?" - something some of us probably considered when easing ourselves out of solitary confinement. Post-lockdown positives include not taking simple things - hugs, smiles, a cup of tea - for granted. Connecting socially is important.
There are a lot of themes thrown at the audience in a short space of time. I wonder if some of the material could have been used in a follow-up film, as it's quite dizzying following Dara's thought patterns.
My other concern about the films is that education can take precedence over entertainment. These can sometimes feel like Central Office of Information films banging us over the head with bullet points Big Brother wants us to take away.
Deafinitely Theatre is the first deaf-launched and deaf-led theatre company in the UK that produces bilingual theatre in British Sign Language and spoken English. It gets Arts Council England funding (no mean feat while a number of other arts ventures have just lost theirs), and should be applauded for its efforts.
However, I hope being an ACE funding recipient these days doesen't mean didactic, box-ticking theatre reminiscent of late-night Open University viewing, instead of marvellous can't-take-your-eyes-off-the-stage moments. I fear that politics is nudging the likes of Deafinitely in the first direction, while the latter's being ignored.
All five films in the Talking Hands series are available on Deafinitely Theatre's website:
Photo Credit: Deafinitely Theatre