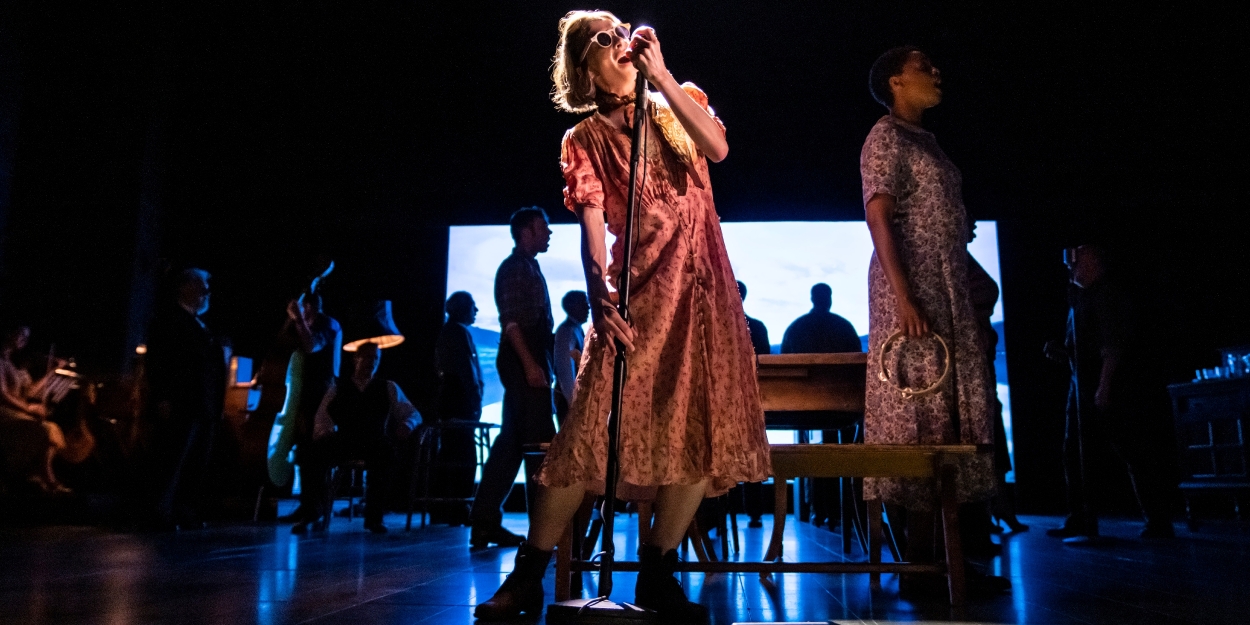 Review: GIRL FROM THE NORTH COUNTRY (UK TOUR), New Wimbledon Theatre
Dylan goes theatrical.

If John Steinbeck had been asked to create a musical, it may have looked something like this. Soundtracked by the songs of Bob Dylan, Girl From The North Country is, at heart, a bleak meditation on untimely death; not just physically due to illness, murder and suicide (though that's here too) but also spiritually due to the death of ambition, the death of hope and, most cruelly, the death of love.
Written and directed by Irish playwright Conor McPherson, this production debuted at the Old Vic in 2017 and has pulled in at New Wimbledon Theatre on the last stop of its 2022-23 UK tour. McPherson was hand-picked by the erstwhile Robert Zimmerman for this show and repays the faith by weaving in many of the latter's songs and setting it in the Nobel Prize winner's era and place of birth of Depression-era Duluth, Minnesota. Rae Smith's simple and mobile set design gives us enough to hang a kitchen sink drama around but McPherson's script has considerably more teeth than a Sixties potboiler.
Girl From The North Country presents a plethora of characters, most of them living on their wits and little else. When not sleeping with the widow Neilsen (Maria Omakinwa), Nick Laine (Graham Kent) runs a guest house and looks after his dementia-ridden wife Elizabeth (Frances McNamee) and their two children, pregnant Marianne (Justina Kehinde) who Laine tries to marry off to the much older Mr Perry (Teddy Kempner), and the mortally depressed Gene (Gregor Milne) who has eyes only for Kate (Eve Norris).
Also lodging at the Laines' home are the Burke family (James Staddon and Rebecca Thornhill as Mr & Mrs Burke and Ross Carswell as their son Elias) who are hiding a dark secret. One stormy night, black boxer Joe (Joshua C Jackson) and white bible salesman Marlowe (Eli James) bounce in looking for shelter and become involved in a deeply moving story narrated by local medic Dr Walker (Chris McHallem).
This musical couldn't be accused of short-changing the audience: as well as the huge cast (see above), around twenty songs from Dylan's back catalogue are rolled out in a show which has a running time of over two hours plus interval. Even with all that stage time, though, McPherson underwrites the characters as well as overwriting what could be loosely called a plot but would be more accurately described as an unwieldy collection of vaguely connected subplots.
Where McPherson succeeds in spades is in painting a vivid and broad portrait of desperate times and desperate folk struggling against the crippling effects of alcoholism, poverty, mental illness, unemployment, racism and injustice. No punches are pulled in this grim diorama which is unafraid to show the brutal emotional price of just surviving from one day to the next, something as applicable in today's economic crisis as it was in the one that followed the Wall Street Crash of 1929.
Dylan was a genius songwriter but he had a voice only a mother could love (see also: Leonard Cohen) so here his hits get something an upgrade. McNamee is especially sparky as the no-filter Elizabeth who is just as happy to brandish a gun, knife or cutting quip and her showstopping renditions of "Like A Rolling Stone" and the haunting finale number "Forever Young" are two very good reasons in and of themselves to see this show. Norris and Milne combine beautifully for "I Want You" and, with Joe's backstory being (let's say) a homage to that of real-life wrongly incarcerated boxer Rubin Carter, it's no surprise and all pleasure to see Jackson knock "Hurricane" out of the park.
This pitch-black musical is more than a tad overstuffed as a drama but, to paraphrase Henry Wadsworth: when it's good, Girl From The North Country is very, very good.
Girl From The North Country continues at New Wimbledon Theatre until Saturday 18 March.
Photo credit: Johan Persson