Michael Grandage Introduces His Revival Of RED At Wyndham's Theatre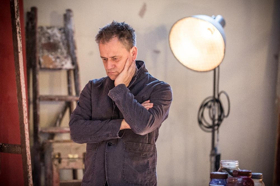 Director Michael Grandage is reviving Red by John Logan. It opens at the Wyndham Theatre on 15 May and sees Alfred Molina reprising his role as Mark Rothko, with How To Get Away With Murder star Alfred Enoch playing his assistant Ken.
We were recently invited to snoop around the rehearsal room while Grandage disclosed his relationship with the show and why it's crucial to bring it to the stage now more than ever.
"It's the West End premiere of the play - it's a big deal for us", the director explained, saying that while it's been performed many times across the United States, it was only produced once as a new piece at the Donmar Warehouse back in 2009.
"Part of the job is to show you not just a particular time in Rothko's life from 1958 to 1959 - the two years he was commissioned to paint murals for the Four Seasons restaurant in New York - but also to show an artist's studio in more detail than in any other stage play."
And the audiences will get to see a lot more than just acting at the Wyndham's Theatre: "During this play you see canvases being primed, you see paint being mixed, you see frames being made, you smell the workings of an atelier in the mid 20th century.
"I think for an audience that's quite exciting! It's like when you go to the theatre and see food being cooked on stage. It's very peculiar - we do it every day in our lives and yet it becomes transfixing!" he said as he gestures towards the many brushes, accessories, and vast artworks propped against the walls or hanging in their rehearsal room at Union Chapel in Islington.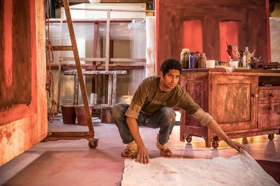 The set design by Christopher Oram is a very close representation of Rothko's actual workshop. Located on the first floor of 22 Bowery in New York, the painter moved into what was an old gymnasium in the late 1950s.
"All around the studio he had canvases he was working on all the way up the roof - he even had an easel that worked on a pulley system," Grandage explained.
Rothko used to prime his paintings before he started working on any of them, and that's the main focus of the show. "You don't go to many shows where you get to see two men actually priming in real time and for real. So these guys have to learn how to do it properly."
But that's only the outside coat of the piece: Rothko and Ken argue through the politics and the background of being an artist, which is what the director is most determined to show.
"Why I want to do this play now, perhaps even more so than when I first did it, is because the central theme is why art matters. And I don't just mean painting as art, I mean all art, music, literature, plays - the lot. With the cuts we have in our country, there's a big debate on how you make art in society."
Grandage wants the audience to react to Rothko's discussion about his central ethos. Curiously, he points out that there's a parallel argument to it, and compares the painter's passion for having people experience his art in a certain way to his own company's eagerness to bring a new audience to the theatre.
"We want to try and make sure that we reach out to a demographic that's as wide as possible. We have a strong policy that makes sure that 25% of every single house, wherever we are, is to be set at £10. Deliberately to try to bring the age limit down so that the West End audience is a young one for us. And 25% is a lot of seats. This parallel of why art matters to him and why art matters to us plays in tandem."
Nine years after it first premiered at the Donmar, Red's conversation is even hotter: "I think it's a more pertinent story right now. People try to survive now in different ways, so a debate right now about why it matters is sort of central to what's going on, and that's why I wanted to do it."
Grandage also underlined how, like all great drama, the temporal limitations of the piece come in favour of the production, as "it's slightly better to be set in another time, because it means you can relate and use that time to see now, 2018, through the prism of that period".
It's no secret that Rothko was a very peculiar character in real life and wanted things done his way. The show and design reflects his strong will, with extra lighting placed directly on the stage just like the artist did in his own space to create a specific atmosphere in which to see the paintings.
"The studio was very dark and claustrophobic. The audience comes into an environment where they can watch what's going on up on the stage and feel very much like they're voyeurs in this very claustrophobic world that he operates in."
Grandage admitted he couldn't imagine casting anybody other than Molina for this production. While the role of Ken demands the vibe of a "young, new kid on the block", he feels like he founded the play and the role with Molina, so changing that would be almost a disservice to his take.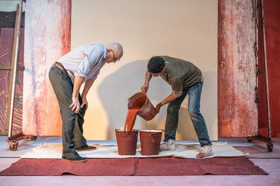 He anticipates that the art that will be shown on stage is going to be different, as legal and copyright matters came into question during initial talks for the play: "We had to paint our Rothkos in the style of Rothko rather than having one copied, because a copy would be potentially a forgery.
"When we were talking originally to all the people connected to Rothko, it was made very clear that our story's a fictional piece of work about this man set against the factual timeframe. It gives you an idea of a Rothko rather than giving you a copy - which goes hand in hand with what we're trying to do with the piece."
As his ultimate wish, Grandage would love his audiences to take away some hope, as well as starting a bigger conversation on art and how it can change lives. "I think when you sit in the auditorium watching this play you should see a little bit of yourself, sometimes in Rothko, sometimes in Ken.
"And either way you relate to it, it means you walk out of the theatre thinking about yourself a little bit more, as well as the people in your life and the much bigger story about art and society."
Red runs at Wyndham's Theatre 4 May to 28 July.
Check back soon to read Alfred Molina and Alfred Enoch's take on the play!
Photo credit: Marc Brenner
Related Articles