Guest Blog: Lydia Monks On Bringing WHAT THE LADYBIRD HEARD To Stage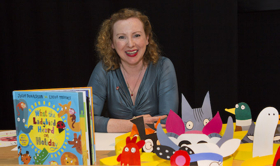 Acting as a Design Consultant on What the Ladybird Heard Live is my first experience of theatre design, and I was thrilled to be asked by Kenny Wax to be involved.
I was teamed up with Bek Palmer, a fantastic theatre designer, and together we came up with ideas for translating my illustrations to the stage, which Bek then brilliantly transformed into a reality.
We set out with the intention of creating a set that reflected the book's illustrations as closely as possible. Kenny wanted the fans of What the Ladybird Heard to feel as though they were walking into the pages of the story.
The space limitations of a stage made the idea of fitting 11 animals, four actors and a whole heap of farm buildings somewhat unrealistic, so we had to be selective. We picked just the most important buildings: the cottage, the barn and the dog kennel. I created tiny models of these that Bek then scaled up on to fit the Lyric Theatre's stage.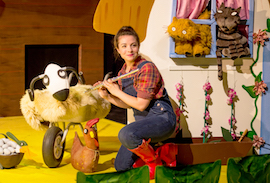 Another important element was Lanky Len and Hefty Hugh's van, which also transforms into their secret den filled with their tools and swag. I drew and cut out a tiny van, with doors that opened to reveal the robbers' lair inside. The next time I saw it Bek had worked her magic and it was full-sized on stage, looking fantastic.
One of the most challenging (and important!) aspects of bringing What the Ladybird Heard to life on stage was creating the animals. We needed to create many different animals, all of varying sizes, that also needed to be able to move around the stage.
We decided to refashion farmyard tools that the actors would build and be able to move around the stage: the hairy hog is made out of a barrel, the goose from a watering can, and the dainty dog from a broom. Once we added eyes to the objects they were transformed and amazingly really do resemble my illustrations from the book.
The Ladybird herself appears as I drew her, lit up in the trees, although she also appears as a small red light as she flits about the stage carrying out her clever plan.
It was an absolute pleasure to be involved with the transformation of What the Ladybird Heard into the stage production and to see the story brought to life.
What the Ladybird Heard is playing at Lyric Theatre until 10 September
Picture credit: Adam Bennett, Michael Jean-Marain
Featured BroadwayWorld Events
Check out these concerts...
Related Articles