Review: THE JUNGLE, Playhouse Theatre

Joe Murphy and Joe Robertson's play had such a good reception during its run at the Young Vic back in the winter that it has transferred across the river to the Playhouse Theatre in the West End, bringing its cast with it (along with some additions). It is based on Murphy and Robertson's experience of being out in Calais, witnessing the refugees' plight first-hand. While they were there, they set up 'Good Chance', which allowed residents to express themselves through the arts - its key words are disrupt, explore, innovate, welcome, connect and create.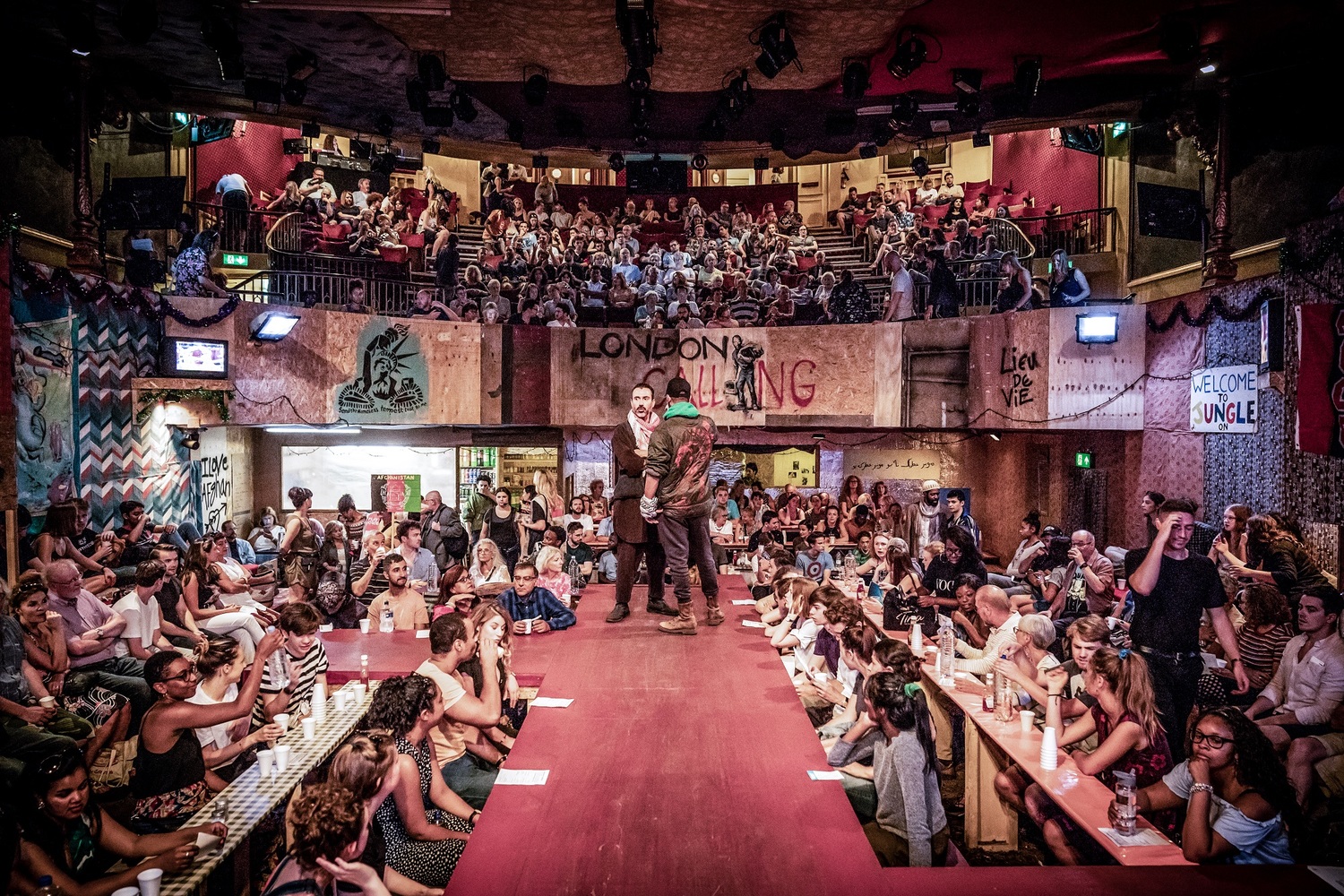 One of the vital things about the play's transfer was maintaining the setup it was afforded at the Young Vic; there is no stage, instead the audience can sit in the Afghan Café or take a more voyeuristic approach by choosing the dress circle (renamed the White Cliffs of Dover).
The Playhouse Theatre has been completely transformed so that Miriam Buether's detailed design and Stephen Daldry and Justin Martin's direction can be retained, and is now entirely unrecognisable when you head into what was the stalls. It's a triumph of imagination and integrity, and a real breath of fresh air in the often stuffy West End.
We meet the residents at one of the high points in their time in The Jungle, playing music, mingling with the audience and offering cups of chai from Salar's restaurant - but all this is about to end. One tragedy strikes, in the form of a child's death on the motorway, though it never rains but it pours; despite a promise to stop squeezing the camp, another eviction notice has arrived and the police mean business.
Rewind several months, and the camp begins life as just that: a group of tents pitched up by a host of nationalities, who rapidly decide to keep their own countries grouped together under their own flags. Before long, the well-meaning, but inexperienced, British volunteers turn up and try to bring their own sense of order to proceedings - it is a fractious start, but they all learn to live and work together in an increasingly more stable environment than before.
If you followed the story on the news, you'll know that this delicate harmony couldn't last, even in a work of fiction. With refugees still trying to survive in Calais, in between attempts to cross the English Channel to what they hope is safety, and President Trump's UK visit rapidly approaching, there couldn't be a better time for this piece of theatre to grace the stage again.
Even if you've read or heard a lot about the refugees and some of the shocking things they've been through, nothing will prepare you for being in the thick of it as the characters pour their hearts out right in front of you - the emotions are raw and they are real.
This is thanks to some stellar work from the entire company. The large ensemble helps to create the atmosphere of the bustling camp, and makes scenes with only one or two actors feel all the more stark and intimate by comparison.
Ammar Haj Ahmad is quietly authoritative as Safi, who ends up as mediator more often than not. John Pfumojena holds the audience in suspense as Okot recounts his journey from Sudan to Calais, listing his numerous "deaths" as the tears roll down his cheeks. By contrast, Ben Turner's Salar is more animated and a bit of a firebrand - a proud Afghan and fiercely protective of Norullah, who has become like a son to him.
There's no mistaking that this is one of the most vital pieces of theatre ever to grace the stage, at once dispiriting and inspiring - the human capacity for hope in adversity is quite an extraordinary thing. If you only go to the theatre once this year, make this your trip. There's nothing else quite like it.
The Jungle is at the Playhouse Theatre until 3 November
Picture credit: Marc Brenner