Review: MIRACLE ON 34TH STREET, Bridge House Theatre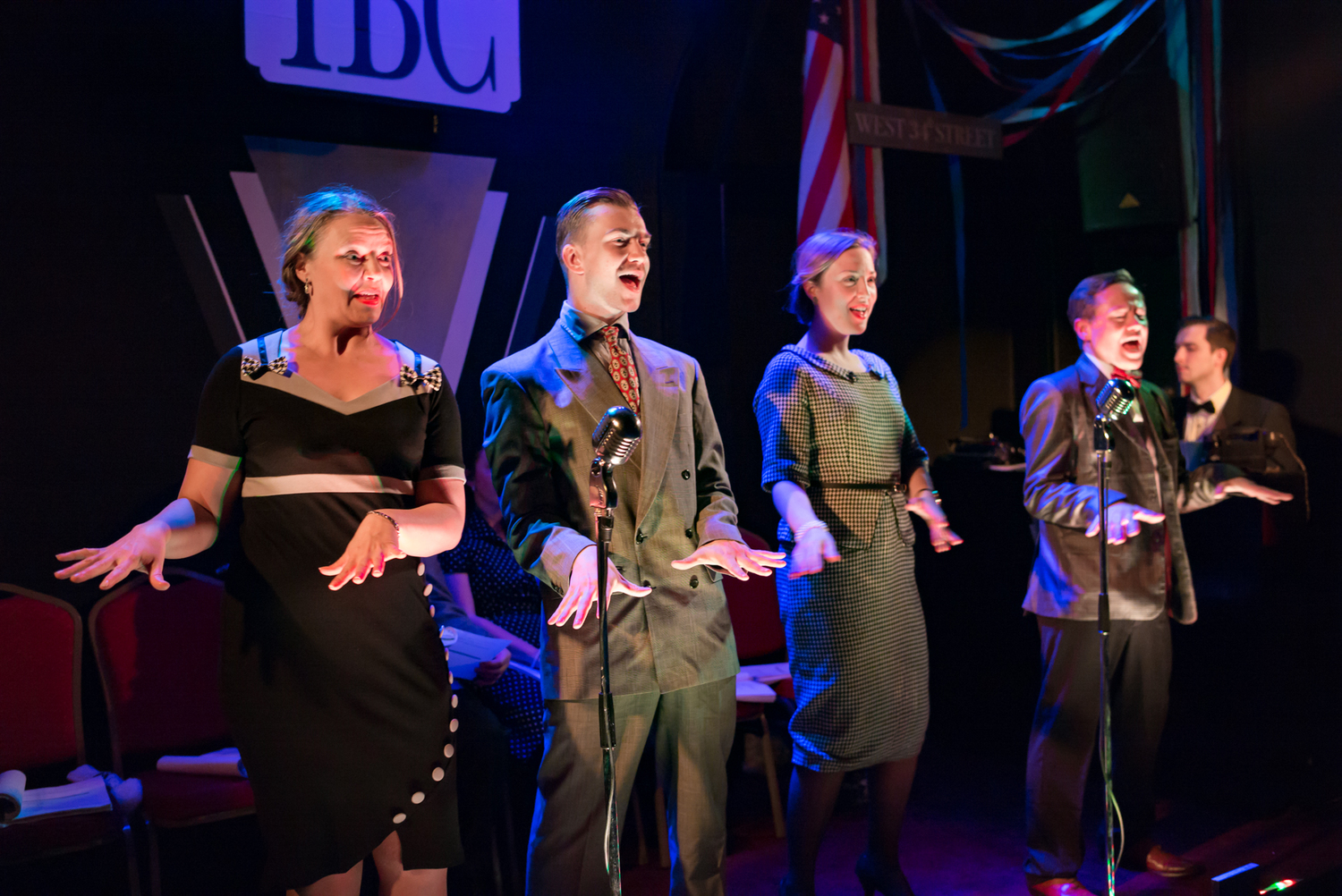 As usual, come the festive season, there is a plethora of shows on offer to begin the merriment - and if a pantomime or version of A Christmas Carol isn't for you, there is still plenty of choice. A popular venue in London is Penge's Bridge House Theatre, and this year their Christmas treat is a stage version of the perennial film favourite, Miracle on 34th Street.

Transformed into a musical radio play, it is brought to the airwaves by IBC in 1947, 'broadcasting' live from Penge. IBC brings some of the finest actors from stage and screen together to perform a live retelling of the film that had come out earlier that year, including renowned Shakespearean Sir Vincent Corbyn Stevans and Hollywood idol Daniel Williamson.
The story they have come to tell will be familiar to many. Kris Kringle is hired as Macy's new Santa, to replace the previous one when he showed up drunk for the Thanksgiving Day Parade. Following his success, he becomes the resident Santa at the 34th Street store and starts to make waves - and enemies...

It's clever to use this format in fringe venue, as the smaller space (and, inevitably, smaller budget) work to its advantage. The fact that they're imagining it's being broadcast on radio means there is less of a need for costumes and props, though of course there are just enough to get by, and there is the additional comedy that comes from seeing the sound effects being made.
The small performance area is ideal for the piano that's used as backing for the musical numbers, and having that alone allows the vocals to be crystal clear. The radio format also demands intermissions, which are humorously tailored to the local area, and the presence of an announcer (played by Jamie Ross) enables the usual pre-show messages to be delivered within the confines of the show.
The songs are a combination of Christmas carols (rearranged in a jazzy style, and with multiple harmonies) and original songs by Jon Lorenz, as well as a singalong rendition of "Have Yourself A Merry Little Christmas" at the end. This captures both the feeling of the era in which it's set and the festive season, as well as setting it firmly as a musical. There is nice detail in Fiona Martin's design; the stage is in a recognisable format for a recording, with microphones and even an 'on air' sign that lights up during the performance.
The cast are all very funny, showing great comic timing & fantastic facial expressions - the latter obviously wouldn't come across had it actually been a radio broadcast, but there is always something the studio audience knows that listeners at home are clueless about!
Amy Reitsma and Lewis Rae are kept on their toes, taking on the bulk of female and male bit characters, and Ellis Dackombe and Lowenna Melrose make a brilliant leading couple as Fred Gailey and Doris Walker, alongside a sparky Emily Carewe as Doris' practical daughter Susan. Richard Albrecht is every inch Kris Kringle, exuding warmth and an innocent joy in the Christmas festivities.
If you're looking for some good old-fashioned fun in a cosy, friendly setting this Christmas, then this is the show for you. Whilst it does take slightly longer to reach its conclusion than strictly necessary, it's a well put together production from Guy Retallack - and the festive spirit is hard to resist!
Miracle on 34th Street is at the Bridge House Theatre until 23 December
Picture credit: Nick Rutter