Review: KING LEAR, Chichester Festival Theatre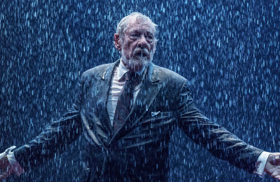 "We that are young
Shall never see so much, nor live so long..."
2017 has been dubbed a year of Hamlets (too many, even), with Andrew Scott and Tom Hiddleston both taking on the role. If one play has experienced a renaissance, however, it would surely be King Lear.
Indeed, it seems the UK stage will "never see so much" King Lear as it has in the last 12 months (Timothy West, Antony Sher, Glenda Jackson and Kevin McNally all playing the eponymous King/Queen). Jonathan Munby's production at Chichester Festival Theatre is the latest, which sees Ian McKellen revisit the role he played a decade ago at the RSC.
A monarch in his twilight years, King Lear decides to resign his power. Bestowing his care upon his daughters, this is not solely over the land but himself too. In doing so, disorder reigns and everyone's positions come into question. After all, "Change places and handy dandy: which is the justice, which is the thief?"
A ruler on the verge of a breakdown. His sway given to his children, now too involved in the politics of this land. A country divided. When we consider the politics at play in the dramatic world, it's no surprise that King Lear has received a resurgence in a world of Brexit, elections and resignations. One of the biggest laughs comes as Lear advises a blind Gloucester, "Get thee glass eyes;/And like a scurvy politician, seem/To see the things thou dost not".
In a time so bleak, a Fool should provide some moments of levity for both Lear and the audience. Armed with a ukulele, Phil Daniels' Fool is "full of song" but struggles to find the humour of the straight text. Sinéad Cusack is more successful in the traditionally male role of Kent. Imbued with a sense of freedom in her disguise, her Kent acts out, allowed at last to be "one of the lads" in the King's train of 100 men.
No other production has been able to convey the sheer scale of this train so well. Dining at Goneril's house, the knights are so many that their banquet table stretches backstage and beyond. Seeing just how many of these men there are, we then feel more sympathetic to the sisters' pleas, "What need you five and twenty, ten, or five?" It's this and other small details which make Paul Wills' set work so brilliantly.
Initially covered with a decadent red carpet, the circular stage soon becomes stained. Spurned by his father, Edgar rips it open, revealing not dirt but dust, a symbol of "nothing". Spurned by his daughters, Lear runs out into the storm as rain pours down onto the stage. It's a striking moment, quite literally for those in the front two rows or "splash zone".
The world of Munby's King Lear feels big, its rotundity encompassing and drawing in audiences. From the King to the "poor naked wretches", we see their stories and weather the storms with them. The strength of this production comes from its impressive ensemble, led by an incredible but not infallible McKellen.
This Lear is full of so much love at the start: dancing with Tamara Lawrance's ethereal Cordelia, they rejoice in her union, an arranged marriage sometimes played with a sense of resignation. But this extreme of love brings with it its antithesis. Betrayed by Cordelia, Lear almost throws a chair at her in hatred. This is a complex Lear, perhaps a man more sinning than sinned against. To an extent, his lack of emotional connection lessened my own investment in the final scene.
Regan seems to revert to a childlike state when her father shouts thus, played pitch perfectly by Kirsty Bushell. Fiddling with her dress nervously, she recoils and runs to hold Goneril's hand. Her childlike impulses break forth at other points, shrieking in delight during the infamous and revolting eye gouging of Gloucester.
There's a tendency to play this character in a particular way: a victim, a Polonius figure, a bumbling fool. Danny Webb's Gloucester is none of these, a considered and controlled man even in death. Ironically, Damien Molony's bastard Edmund takes after his father. His actions planned meticulously, this Edmund is an individual with a desire only for power. His relationship to the sisters is an important feature in other productions; here, he uses them as much as they use him. In his lamentations as Edgar and Poor Tom, Jonathan Bailey moves the room to silence.
There have been five productions of King Lear in the last year. You can probably make that six. Munby and McKellen surely make for a West End transfer.
King Lear at Chichester Festival Theatre until 28 October
Picture credit: Manuel Harlan