BWW Review: DEAR BRUTUS, Southwark Playhouse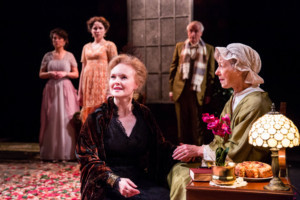 In a quaint little 1917 English village, a weird old man invites eight strangers to say at his house. His choice of guests is anything but casual, as they all have something in common, even though they don't know what it is.
When a mysterious wood appears on Midsummer Night, their lives take an unexpected turn. As directed by Jonathan O'Boyle, J.M. Barrie's Dear Brutus is compelling and elegant, with a text that's still fresh and modern.
Presented in the traverse, O'Boyle has his cast orbiting each other, trying to understand their fate. While nature and a fairy-tale vibe are ever present - subtly at the start with small potted plants and then in an explosion at the first act change - the carpeted and finely furnished stage is grounded in the real world, just like the characters are.
The two opposing elements mirror their state, and even if the set design is static, it helps to bounce them back and forth from reality to dream. Gorgeous lightbulbs descend from dusty lampshades and appear behind walls while petals fall, transforming the room into a magical landscape.
Anna Reid's collaboration with Peter Harrison (set and lighting designer, respectively) is a key element for the production, as the theme of light and darkness runs through it from its very start.
His contribution is subtle but effective, warm and welcoming tones take a different twist when they become scattered, incandescent bulbs, adding an eerie touch to the scenes.
Max Perriment's sound design tops O'Boyle's production with whimsical tunes. His sharpness goes from sneaking under the cast's lines, almost imperceptibly punctuating their words, to overwhelming and swallowing them at once.
The company's strong performances are coronated by Edward Sayer as John Purdie. His overacting to convey the character's dramatic penchant is the source of much of the play's comedy; where the role could result stagnant in its reactions, his efficient delivery makes it an interesting and well-rounded element of the piece.
Impressive work is done by all the women involved on stage: Helen Bradbury (Lady Caroline Laney), Charlotte Brimble (Joanna Trout), Emma Davis (Alice Dearth), Josie Kidd (Mrs Coade), Bathsheba Piepe (Mabel Purdie), and Venice van Someren (Margaret) have a steady and substantial chemistry.
Each one of them conveys little tics and quirks that come out whirling when they interact amongst them. Kidd and Davis reveal a whole array of experience, forgotten dreams, and secret fears as the more mature figures, questioning a woman's decision and displaying strength in their vulnerability without directly addressing the issues.
"It's not accident that shapes our lives" ponders Jack after his adventure in the wood. Dear Brutus is a play about second chances, and the possibility of being the ones who decide our own fate: when their longing to have another go at life is satisfied, they understand what matters most and, above all, what they need to change in themselves.
The way they interact with each other changes, and their apppreciation for life and their companions does too. Once they're stripped away of everything they take for granted, they come to the realisation that they're the makers of their own fate.
Selfishness and desires are introduced to the audience in a witty and indirect way, and Barrie succeeded in creating fascinating characters without stereotyping or reducing them to their motives.
A hundred years after its first premiere, the piece is still resonating with the crowd, asking tough questions while at the same time exciting curiosity in its spectators.
Dear Brutus runs at Southwark Playhouse until 30 December.
Photo credit: Mitzi de Margary