BWW Review: BUTTONS: A CINDERELLA STORY, King's Head Theatre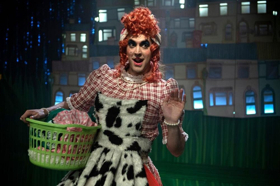 Some things never change. A random guy pulled out of an Islington audience turns out to be an M&A lawyer and the Charles Court Opera Company delivers a pantomime unlike any other (if you don't count their dozen or so previous productions).
Buttons loves Cinderella and she loves him in return, but he's a teddy bear and she's being pursued by an evil Prince Charming and his shady sidekick, Dandini. Meanwhile Betty, Cinders' mother, is angling for meek PC Pumpkin, who is on the lookout for a magical murderer stealing the fairy dust of beloved fairytale characters. But when Don Vito Corleone arrives in Cinders' bedroom (do keep up) and grants the gift of life to Buttons, he must woo Cinders and defeat the evil Prince.
If you're thinking that we've been dropped somewhere between four or five panto plots, then you're right, but, as ever, it doesn't really matter. The story is just a vehicle for the outrageous double entendres, the outrageous costumes and the outrageous breaking of the fourth wall. Whatever your doubts about panto, you certainly have to leave them er... "Behind you!"
John Savournin has reworked his 2013 Christmas show with the same wit but more money spent on the costumes, especially his own ensembles, most of which would give Dame Edna pause. We also get the familiar mix of new songs and old songs (with reworked lyrics), David Eaton back in his usual seat at the piano. They're all sung by big operatic voices, the standout (again) being Matthew Kellett's poignant and perfect "Creep" - Thom Yorke as a cuddly toy anyone? And, in case you didn't know, we get an answer to the question, "Is this the real life, or is this just fantasy?"
It's still early in the run, so the indefinable chemistry and semi-scripted ad libs that spice up the best pantos haven't really bubbled to the surface yet, with the cast still a little stiff in their delivery, but that looseness will soon come.
Eleanor Sanderson-Nash is a winning Cinderella (plenty of agency for her in 2018) and Jennie Jacobs a sexy, villainous Prince, who was (as should always be the case) still being booed at the curtain call.
Towering over the chaos in every sense is Savournin, whose shameless punning and shameless stockings dominate proceedings whenever he totters out on heels or waddles about in wellies. Like all dames, he seems to enjoy the licence to transgress at least as much as we do - and why not?
There are adults only evenings and shows for young kids within the run and the cast does rotate through to January, so make sure you check you're in the right performance for you. Whatever your choice, you're guaranteed lots of traditional playing along with the cast, fine songs beautifully sung and, of course, lots of laughs.
Buttons: A Cinderella Story continues at the King's Head Theatre until 5 January, 2019
Photo Bill Knight