BWW Interview: Lara Rossi Talks THE WRITER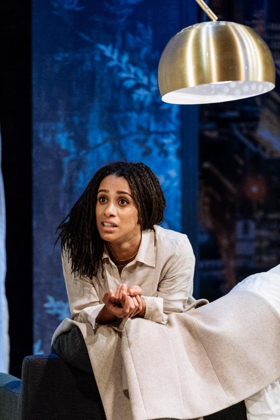 Lara Rossi is currently one of four cast members in Ella Hickson'sThe Writer at Almeida Theatre. She's done work across film, theatre, and television, including Misalliance at the Orange Tree Theatre, Persuasion at the Royal Exchange Manchester, and TV series Crossing Lines.
How did you become interested in theatre?
From a young age, I joined a school drama club. We ended up taking a play to Belgrade, Serbia. It was called Funteovejuna, by the Spanish playwright Lope De Vega.
It was an extremely vivid time for me. I think I realised back then it could be a viable career.
What made you decide to pursue acting as a career?
I love the freshness of the medium of live theatre - that really drew me in. When I started out, it wasn't really about television or film, but I still get enjoyment and fulfilment from both.
What was it like being on Crossing Lines?
That was an amazing time. I learned so much on that job and really discovered for myself how different screen acting is compared to theatre. It was wonderful also to work with William Fichtner and Donald Sutherland. That was pretty special.
What's the best thing about each medium?
My favourite part of live theatre is the immediacy. TV or film has its own certain magic when "Action!" is called. For screen, you're generally doing shorter scenes with great attention to detail in those smallest moments. Close-up camera acting is a complete world away from theatre.
How would you describe The Writer?
The Writer is a manifesto.
Does it feel timely, in terms of Times's Up and #MeToo?
Yes. Many themes of The Writer are very relevant at the moment. Ella wrote it some time before the Weinstein story happened though.
Tell us a bit about your character.
She is fed up, passionate, angry and spiritual.
Do you prefer creating a new role like this or crafting a new portrayal of an older character, like you did in 2017 with Anne Elliot in Persuasion?
Each has their own merits, and I draw different experiences and get equal satisfaction from both.
What's it like working with such a small cast of only four people?
It's been perfect. Most of the scenes are duologues, so you're always rehearsing with one other actor - in that respect it's quite intimate. We didn't really rehearse as a full (four-person) company until the final week of rehearsals.
What do you think of the critical reaction to The Writer? Have any responses really surprised you?
I wasn't surprised by the critics' reaction. I think we all knew the play was always going to split opinion; that is what art should do.
Why do you think people should come and see The Writer?
The show has a good deal to say and definitely challenges attitudes. It feels like we've been waiting for this piece for a while.
Any advice for aspiring actresses?
Stop smoking, decide on your politics and be uncompromising.
The Writer is playing at the Almeida until 26 May.
Photo credit: Manuel Harlan