Studio Theatre Announces 40th Anniversary Season; IF I FORGET, ADMISSIONS, and More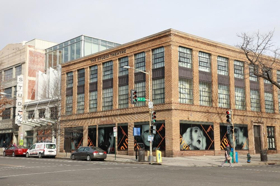 Studio Theatre celebrates its 40th anniversary in the 2018-2019 Season with the announcement of seven projects, all new to DC, that feel particularly alive to this political and cultural moment. From the revolutionary activism of students in South Africa to a story of rapid gentrification of its own neighborhood, Studio's anniversary season celebrates its legacy with an ambitious and thought-provoking slate of plays.
"When we were planning our 40th anniversary season, we considered going the nostalgia route, remounting one of our most memorable past productions, or producing our most-produced playwrights," says Studio Artistic Director David Muse, "but we decided the best way to honor our past is to keep doing what we do best. So this is a season that is especially now: stories about 14th Street real estate and the mechanics of American politics, the latest audacious comedy from the writer of Bad Jews, and a boundary-breaking summer performance series. They're plays with the characteristic thoughtfulness and style of Studio work-with a little more oomph for a year of celebration."
The Main Series begins with the DC premiere of Steven Levenson's If I Forget, set at a tipping point in the nation's capital-the year 2000, as the Oslo accords are failing, real estate on 14th Street is booming, and the Fischer family is falling apart. Bethesda native Levenson (Dear Evan Hansen, Masters of Sex) traces the fault lines of contemporary Jewish identity in this political and deeply personal play. Cry It Out by Molly Smith Metzler continues this exploration of social dynamics, as two new mothers from different socioeconomic backgrounds forge a friendship over the absurdities of parenting infants, and discover that hard choices can look very different from one family to the next.

Studio will also welcome back Joshua Harmon, the playwright of the 2014 hit production Bad Jews, which extended for eight weeks, shattered Studio box office records, and was remounted in the 2015-2016 Season. In his latest scathing comedy, Admissions, Harmon takes aim at white liberalism and hypocrisy at a New England prep school.
Studio will premiere Queen of Basel, Hilary Bettis's bold adaption of Miss Julie, August Strindberg's iconic play about class and sex-adding race and immigration status to the mix. Set in the storage kitchen of a Miami hotel during Art Basel, Julie is the daughter of a hotel magnate, hiding from a party where she was just dumped and dependent on Venezuelan cocktail waitress Christine and her Afro-Cuban fiancé, John, for support. Queen of Basel is supported by Studio R&D, Studio's incubator for new plays.
Studio X begins the 2018-2019 Season with a pair of timely works that confront questions of race and privilege-and how to take action while facing the weight of history. The Studio X season kicks off with The Fall, a vibrant, music-filled piece written by University of Cape Town student activists who helped topple a statue of imperialist Cecil Rhodes during the 2015 #RhodesMustFall movement-only to face questions of how to build a movement after a symbolic victory, offering a telling parallel to America's struggles with its Confederate monuments. In Tearrance Arvelle Chisholm's comical, in-your-face world premiere P.Y.G. or The Mis-Edumacation of Dorian Belle, a white Canadian pop star seeks the guidance of two black Chicago hip-hop artists to give him some street cred-a shaky experiment captured on reality TV. This world premiere is supported by Studio R&D.
The Studio X season will also feature Alexandria native
Sarah Burgess
diving deep into the weeds of DC politics with Kings, a razor-sharp comedy about lobbyists, lawmakers, and the destructive web of money, power, and influence in government.
Over the summer of 2019, Studio will present SHOWROOM, a new curated performance series. Serving up a stirring and surprising range of entertainments from the US and beyond-alongside specialty drinks and snacks-SHOWROOM will transform Studio's Milton Theatre into a tricked-out, laidback hangout for the summer. Additional programming information will be announced.
MAIN SERIES
Studio's Main Series is the core of its programming, offering a repertoire of provocative new and contemporary writing and inventive stagings of modern classics.
If I Forget
It's July 2000-the Oslo Accords are falling apart and in Tenleytown, a modern Jewish family is fracturing over what to do with their 14th street real estate. Their mother has died, their father will need full-time care, and as their adult children debate what do to next, no topic is off limits: American Jews and their relationship to Israel, who's already given enough to this family, a sibling's parenting choices. A political and deeply personal play about history, responsibility, and what they're willing to sacrifice for a new beginning, told with vicious humor and unflinching honesty by Bethesda native Steven Levenson.
Cry It Out
by Molly Smith Metzler
Jessie is a corporate lawyer in a Manhattan firm. Lina is a nurse and born and bred Long Islander. They don't seem to have anything in common, but marooned at home with infants, they strike up a fast friendship. In the yard between their houses-as far as their baby monitors will reach-they bond over sleep deprivation, unreliable childcare, and "having it all." A candid comedy about who gets to make which hard choices in the tinderbox of parenthood and class in the United States.
Queen of Basel
a new play by Hilary Bettis
World Premiere
supported by Studio R&D, Studio's New Works Initiative
It's Art Basel, Miami's weeklong party for the rich and famous where socialite darling, Julie, reigns over the blowout her real-estate mogul father is throwing at his South Beach hotel. But when her fiancé dumps her in front of the crowd, Julie hides from her humiliation-and her father-in the hotel's barely used storage kitchen. Her companions are Christine, a cocktail waitress who recently fled war-torn Venezuela, and Christine's fiancé John, an Uber driver from the Miami slums. This explosive elixir of power, class, and immigration status is a bold and contemporary take on Strindberg's Miss Julie by vibrant rising voice Hilary Bettis (The Americans).
Admissions
by Joshua Harmon
Bill and Sherri are the white, progressive-and-proud headmaster and dean of admissions at Hillcrest, a mid-tier New Hampshire boarding school. Over the last fifteen years, they've worked tirelessly to diversify the school's mostly white population. But when their high-achieving son's Ivy League dreams are deferred, his reaction blasts open a deep rift between the family's public values and private hypocrisies. A no-holds-barred satire on privilege, power, and the perils of whiteness from the author of Bad Jews, the best-selling play in Studio Theatre history.

A fifth Main Series production will be announced at a later date.
STUDIO X
The work of Studio X is purposefully eclectic, encompassing plays enhanced by particularly intimate or immersive stagings, presented work, and some of Studio's world premiere projects.
Studio presents the Baxter Theatre Center at the University of Cape Town's
The Fall
created by Thando Mangcu, Kgomotso Khunoane, Ameera Conrad, Cleo Raatus, Oarabile Ditsele, Sihle Mnqwazana, Sizwesandile Mnisi, Tankiso Mamabolo, and Zandile Madliwa
As the statue of imperialist Cecil Rhodes was dismantled at the University of Cape Town, seven students wrote The Fall, charting their experiences as activists who brought down a statue and then grappled with decolonizing what was left standing in its wake: the legacies of race, class, gender, history, and power 24 years after the official end of Apartheid. Political and deeply personal, vibrating with song, dance, and the energy of youth, The Fall comes to DC with the urgency of history being told as it's created, resonating with America's debates about falling monuments, rising tuition, and "appropriate" ways to fight for long-promised equality.
P.Y.G. or The Mis-Edumacation of Dorian Belle
a new play by Tearrance Arvelle Chisholm
World Premiere
supported by Studio R&D, Studio's New Works Initiative
Belle is a big deal. He's the latest pop sweetheart from Canada-and he's ready to be taken seriously. So his people hire his favorite hip-hop artists-Black and Alexand, the "bad boy" rappers of Petty Young Goons-to help toughen up his image. They're black, he's white. They're from Chicago, he's from Canada. It's all on reality TV. What could go wrong? Inspired by Shaw's Pygmalion, this world premiere is a blistering and entertaining look at cultural and racial appropriation in a fictionalized exchange of ideologies, vernacular, and alleged street cred.
Kings
by Sarah Burgess
Representative Sydney Millsap rode a Blue Wave into DC. She arrives armed with her ideals and sense of duty, and refuses to play by the rules of special interests-or her own party. Kate's a lobbyist who backs winners. So when she crosses paths with Representative Millsap, she dismisses her as a one-term neophyte...but ends up hearing a call to conscience she thought she'd left outside of the Beltway. A lacerating comedy about money, power, and what democracy actually looks like by Alexandria native Sarah Burgess.
SHOWROOM
a new summertime series
A new curated performance series in the summertime spirit-with spirits. SHOWROOM will transform Studio's Milton Theatre into a tricked-out, laidback hangout for the summer, serving up entertainments from the US and beyond alongside snacks and specialty drinks. Artists to be revealed throughout the 40th anniversary season.
Related Articles View More Washington, DC

Stories

Shows
More Hot Stories For You