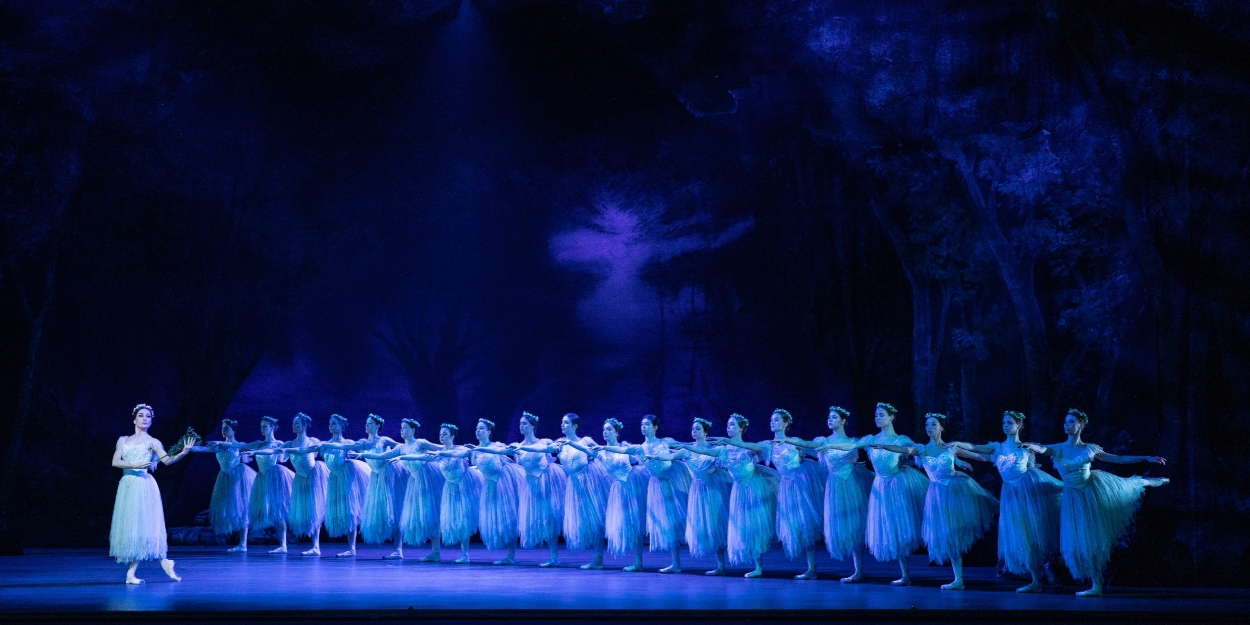 Review: GISELLE at Opera House/Kennedy Center
A new company in a classic ballet
Giselle, like Hamlet for actors, Carmen for mezzo-sopranos, and Mrs. Lovett for musical theatre singer/actors of a certain age, brings audiences to the theatre to get to know the skills of the latest acclaimed ballerina. (Previous Giselles include: Makarova, Fracci, Julie Kent, Gelsey Kirkland, Alonso, Markova, Misty Copeland, Fonteyn, Virginia Johnson, Pavlova.) Ukrainian-Russian choreographer Alexei Ratmansky, former director of the Bolshoi Ballet, current artist in residence for American Ballet Theatre, soon to be artist in residence for New York City Ballet, has brought three ballerinas to dance Giselle with a company of exiled, excellent Ukrainian dancers to the Kennedy Center through February 5.
In the title role at Wednesday's performance, Cristina Shevchenko danced and acted with equal, glorious power. Giselle demands a dancer/actor to go from sweet peasant girl who loves to dance to woman deeply in love to lady driven mad by that love, and, after dancing herself to death, to a non-human entity--a Wili, the mythological spirit of a female who has died before marriage. (Take a breath and step away from "political correction"--the second oldest ballet still performed, Giselle premièred in Paris in 1841.) Shevchenko movingly did all that while miming the balletic sign language that served as dialogue in 19th/20th century choreography and dancing through the slow-moving and therefore very difficult choreography. Ballet was in its childhood in 1841; one tour jeté could stop a show. Giselle has an achingly slow developpé in Act II. Just one: and Shevchenko's caused small gasps in the house. A hundred years later, Mr. B. would fill that duration with at least five steps, never before invented. Shevchenko's Albrecht (aka Count Albert), Oleksei Tiutiunnyk, also handled masses of mime, character work, and choreography with distinction; jumping slowly and following the jump with absolute stillness, much harder than it looks, marked his skill. And Maria Shupilova and Vladislav Bondar danced the Peasant Pas de Deux with lively precision. There's a grape harvest in Act I in the village in the middle of the love story, and the set and costume designs of Hayden Griffin and Peter Farmer rolled out the (wine) barrel and adorably decorated all the peasants' vests and skirts with images of grapevine leaves.
Their costumes for Act II do much to set the changed tone at Giselle's grave. The women of the corps de ballet wear white to portray the Wilis, dancing as sylphs in the wedding gowns they never wore as women. As Myrtha, Queen of the Wilis, Elizaveta Gogidze commanded the corps and tried to command Giselle and Albrecht, but she can't stop their love no matter how many times she tries. This ballet has a villain; the Wilis punish him in a choreographic rendering of "what goes around, comes around"--the ballet's only moment of realism in two and a half hours of Romanticism.
Ukrainian conductor Viktor Oliynyk led the Kennedy Center Opera House Orchestra in Adolph Adam's outstanding score. Adam was using leitmotifs for narrative purposes a year before Wagner's first opera (Rienzi). Inexplicably, all the onstage tambourines were set on mute during the Act I divertissements for the full corps; they were surely in the pit, but hard to hear. When the grieving Albrecht arrives at Giselle's grave in Act II, Adam accompanies him with an oboe solo that almost steals the scene. And there's an entire fugue for the fine strings of the KCOHO joining Giselle as she feels the pull of her lost love. Giselle wouldn't be Giselle without Adolph Adam.
The United Ukrainian Ballet have performed Giselle in the Netherlands, where they are based, and in London. The world has a fine new company, and perhaps they will add to their repertoire and tour some more. Better will be when they get to return to home; Slava Ukraini!
(Photo by Mark Senior)