Photo Flash: Wayside Theatre's MAN OF LA MANCHA
Wayside Theatre Artistic Director Warner Crocker announced the 2009-2010 Season Opener, cast and performance schedule, Man of La Mancha. Man of La Mancha runs June 6 through July 4th. The musical is written by Dale Wasserman, Music by Mitch Leigh and Lyrics by Joe Darion. The production is sponsored by Anytime Fitness-Strasburg.
According to Crocker, "Our 48th Season is opening with the winner of 5 Tony Awards including Best Musical and Best Musical Score. Man of La Mancha tells the story of the "mad" knight Don Quixote, as a play within a play, performed by Cervantes and his fellow prisoners as he awaits a hearing with the Spanish Inquisition. This tale tells the romantic and noble journey of a knight who sets out to right all wrongs and win the heart of the woman of his dreams. The Everyman's dream - The Impossible Dream - tilting at windmills or saving his Lady is Mankind's great adventure. This classic retelling is filled with soaring music, romance, fantasy and heartfelt gallantry. Memorable songs from the musical are Man of La Mancha, Dulcinea, Golden Helmet of Mambrino, Little Bird, Little Bird, I Really Like Him and Impossible Dream."
Crocker announces the cast, "Don Quixote is played by Tom Simpson (Dracula and The Christmas Schooner) the central character. His partner Sancho is portrayed by R. Scott Williams (Black Coffee) other Wayside Theatre veteran actors are: Thomasin Savaiano (Southern Crossroads, A Christmas Carol, The Mousetrap, Always...Patsy Cline, Smoke on the Mountain series ), Vaughn Irving (Southern Crossroads, A Christmas Carol, Buddy- The Buddy Holly Story, It's A Wonderful Life, A Live Radio Show), Ricky Hesson (The Comedy of Errors, Romeo and Juliet), Gus Glatzel (A Christmas Carol), and Sun King Davis (A Christmas Carol). Newcomers to Wayside Theatre are: Nancy O'Bryan, (she is paying Aldonza), Jason Belew, Aviva Pressman, Dave Sucharki, Cody Murphy, and Mike Resegarten." The production is directed by Warner Crocker, Music Direction by Steve Przybylski and Chorography by Vaughn Irving. The set designed by Til Turner, costume design by Tamara Carruthers and lighting design by Paul Callahan..
Man of La Mancha will begin performances on Saturday, June 6 and. Opening Night is Sunday, June 7 at 6:30pm. The remaining performance schedule lists performances on Thursday, Friday and Saturday evenings at 8:00 pm and Saturday and Sunday's at 2:30pm. Man of La Mancha Saturday, July 4 performances are at 1:00 PM and 7:30 PM. There is No performance on Wednesday, July 1, 2009 of Ticket prices are $25 and $30 dollars with tickets for children 17 and younger set at $10.00. Discounts for students, seniors and groups are available with information available at the box office, (540) 869-1776.
Wayside Theatre is the second oldest professional theatre in the Shenandoah Valley of Virginia and is celebrating its 48th season of presenting high quality, professional entertainment. Single tickets, subscription packages and group packages can be obtained by calling the box office at (540) 869-1776. Additional information can be obtained on the theatre's website at www.waysidetheatre.org. Wayside Theatre is located in Middletown, Virginia on Route 11, Main Street, just north of the intersection of I-66 and I-81.
Photography by Westervelt.

Tom Simpson, Thomasin Savaiano, Gus Glatzel, Rick Hesson, R. Scott Williams, David Sucharski, and Aviva Pressman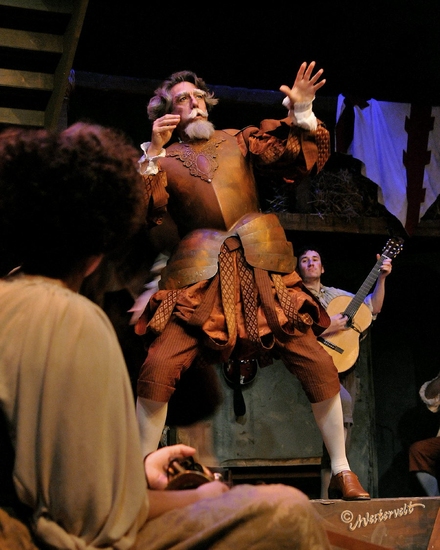 Tom Simpson and Mike Rosengarten

R. Scott Williams, Nancy O'Bryan, and Tom Simpson

R. Scott Williams and Nancy O'Bryan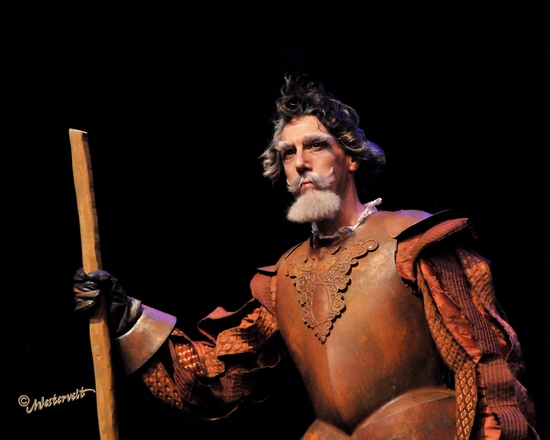 Tom Simpson
More Hot Stories For You