Click Here for More Articles on REGIONAL - DC Metro Area Virginia
BWW Review: THE HUNCHBACK OF NOTRE DAME at The Arlington Players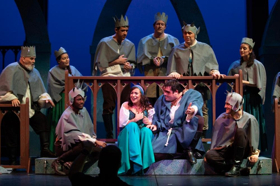 Here is the scenario. Imagine going to a community theatre in Arlington, VA to see a show that requires a good size choir and a fourteen-piece orchestra. I imagine some of you might think that the company was crazy. I'm here to tell you that, in the case of The Arlington Players' 68th season opener The Hunchback of Notre Dame, you would be totally wrong. Never assume anything until you witness it. The production indeed features a twenty-member choir and it utilizes Michael Starobin's full orchestration but besides that, the production overall is as good as I've seen from some professional theatre companies. Yes, you read that right folks.
Peter Parnell's stage adaptation is based on the original Victor Hugo novel and features a score by Alan Menken (Music) and Stephen Schwartz (Lyrics). The team expanded their score from the original Disney animated feature to accommodate a full staging.
Jehan (Daniel Larkin) is the brother of Dom Claude Frollo (Adam Strube), the high bishop of the Cathedral of Notre Dame in Paris. Jehan is excommunicated from the church for having a romantic relationship with a gypsy woman. To make matters worse the two had a child together. When Jehan loses her to illness - and is on his deathbed himself - he asks Frollo to care for the child who was born with a crooked spine. Frollo - who hasn't seen his brother in years - says that the baby's physical disfigurement was Jehan's punishment from God and names the child Quasimodo (translation: monster). As Quasimodo (Alex Bryce) becomes older Frollo puts him to work as the bell ringer for the cathedral. His living conditions are less than stellar as he is forced to live in the bell tower. The constant ringing of the bells is detrimental to his hearing.
Quasimodo makes "friends" with the stone gargoyles in the tower. They talk to him, but his contact with the outside world is pretty much non-existent. One day a year, things go "Topsy Turvy" in Paris at the Festival of Fools where the much hated gypsies are allowed to party. Frollo has been trying to end this festival for awhile now, but Quasimodo is desperate to attend. He does. Quasimodo becomes part the celebration as he is pushed onstage by the gypsy girl Esmeralda (Adelina Mitchell) and crowned the King of Fools. The crowd taunts and humiliates him. Esmeralda feels sorry for him and goes to the tower to apologize. I think you know where this is going. Meanwhile Frollo is controlling as ever. He exerts control over the head of the cathedral guard Phoebus de Martin (Matt Calvert) who - despite being a tough military type - has a real soft spot for Esmeralda. Things get pretty complicated from there as you might imagine.
Ok, I've given you enough plot synopses and now it's time to explain what makes this production so damn good.
First off, Director Richard Farella didn't compromise in his casting or production design concept. There is not one voice onstage that is out of place and all of the characterizations are top notch throughout.
As the tortured gypsy Esmeralda Adelina Mitchell's performance is heartbreaking and moving. Her rendition of "God Save the Outcasts" will rip your heart out and then some. The program states she is pursuing a BA in theatre at George Mason University and I hope that she continues to perform after college. She has true star quality.
Adam Strube, as the manipulating rich bass voiced Dom Claude Frollo, commands the stage with his close to act one closer, "Hellfire." When he tries to convince Esmeralda to surrender to his wishes in exchange for her life, I just wanted to smack him. Did I mention Strube's "day gig" is singing with the U.S. Army Chorus?
Matt Calvert as Phoebus de Martin has great chemistry with Mitchell in their duet "Someday." His character's transformation is beautifully executed.
Shakil Azizi delivers in spades as the head of the gypsies, Clopin Trouillefou. His lead vocals on "The Bells of Notre Dame" start the show off right.
I saved my thoughts on Quasimodo for last and it's for a good reason. You see there are two actors portraying Quasimodo. Alex Bryce does all of the acting and Alden Michaels provides his voice. This is because Alex Bryce is a Deaf actor. Yes, this totally works and is never jarring to the audience - in fact, it serves the character well. I find it very hard to believe that Bryce only has one other acting credit listed because he truly carries the show. He usually builds sets.
Michaels' ringing tenor on "Out There" is a vocal pleasure to be sure. He also blends extremely well with Mitchell on "Top of the World."
The production elements are also first-rate.
Dan Widerski's unit set captures the essence of Notre Dame's beauty with a stained glass window hanging up stage and moving pieces to create the cathedral's arches. Paige Wakefield's choreography is energetic and robust in such numbers as "Topsy Turvy" and "In a Place of Miracles." I am also very impressed by Joan Lawrence's costumes and Ryan Desmond's moody lighting design.
Mark V. Deal leads an excellent, tight sounding fourteen-piece orchestra making Michael Starobin's orchestrations and Rob Berman's dance arrangements sound as glorious as ever. Deal's work with the twenty-member choir and his ensemble knocked me out. All of Michael Kosarin's vocal arrangements are sung with perfection - Latin and all.
I want you also to consider that Disney passed on taking The Hunchback of Notre Dame to Broadway so you have two options. You can fly to Stuttgart, Germany or save $800 in airfare and check out The Arlington Players' production.
With topnotch everything, your opinion of what community theatre is will be altered forever with this production.
Running Time: Two hours and 20 minutes with one intermission.
The Hunchback of Notre Dame runs through October 20, 2018 at the Thomas Jefferson Theatre, which is located at 125 South Old Glebe Rd in Arlington, VA.
For tickets, click here.