Review: ME…JANE THE DREAMS AND ADVENTURES OF YOUNG JANE GOODALL at Kennedy Center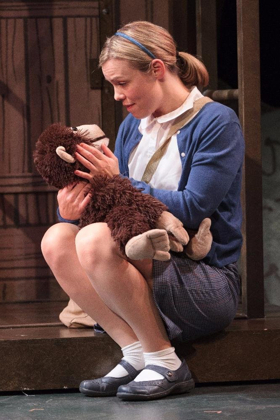 What happens when the crème de la crème of the DC theater community come together to create a brand-new theater for young audiences musical at the Kennedy Center? The answer is theatrical magic, that's what.
Director Aaron Posner has assembled a powerhouse ensemble of performers and designers to bring Me...Jane The Dreams and Adventures of Young Jane Goodall to life and boy did they ever. Picture a production that features performers such as Erin Weaver, Tracy Lynn Olivera, and Sam Ludwig, and a design team that includes set designer Paige Hathaway and sound designer Justin Schmitz. ...all in one place. Sometimes the theater gods smile upon all of us.
Based on the Patrick McDonnell's book, Me ...Jane The Dreams and Adventures of Young Jane Goodall follows the story of Young Jane (Erin Weaver) who has a big dream and constantly is telling her mom (Tracy Lynn Olivera) about it. Her dream is to go to Africa and work with animals in their own habitat. Jane has a particular love for chimpanzees as evidenced by the stuffed one named Jubilee that she takes everywhere. Seeing as Jane lives on a farm, her mother suggests that if she wants to follow her dream, she should start exploring how animals behave right here at home. Thus begins a wonderful musical journey.
First stop is the hen house for a lively production number called "Be a Chicken," which features Sam Ludwig, Awa Sal Secka, and Eymard Cabling doing some delightful choreography by Christopher d'Amboise.
Next up is a group of squirrels preparing for their "Spring Feast." These squirrels have really good appetites as the feast not only includes the usual nuts and berries, but a pepperoni pizza with extra cheese.
Last, but not certainly not least, is a situation with Jane's dog Rusty (played by Cabling) and a manipulative professor named Scroop (played by Ludwig). While Scroop is book smart and possesses many advanced degrees, he only knows what he reads in those books and observes in a lab. He tries to convince Jane that Rusty is "Just a Dog" without any feelings. This presents a dilemma for Jane. Does she trust her instincts that Rusty is just like a person with feelings or believe the professor's theory? You'll have to see the show to find out.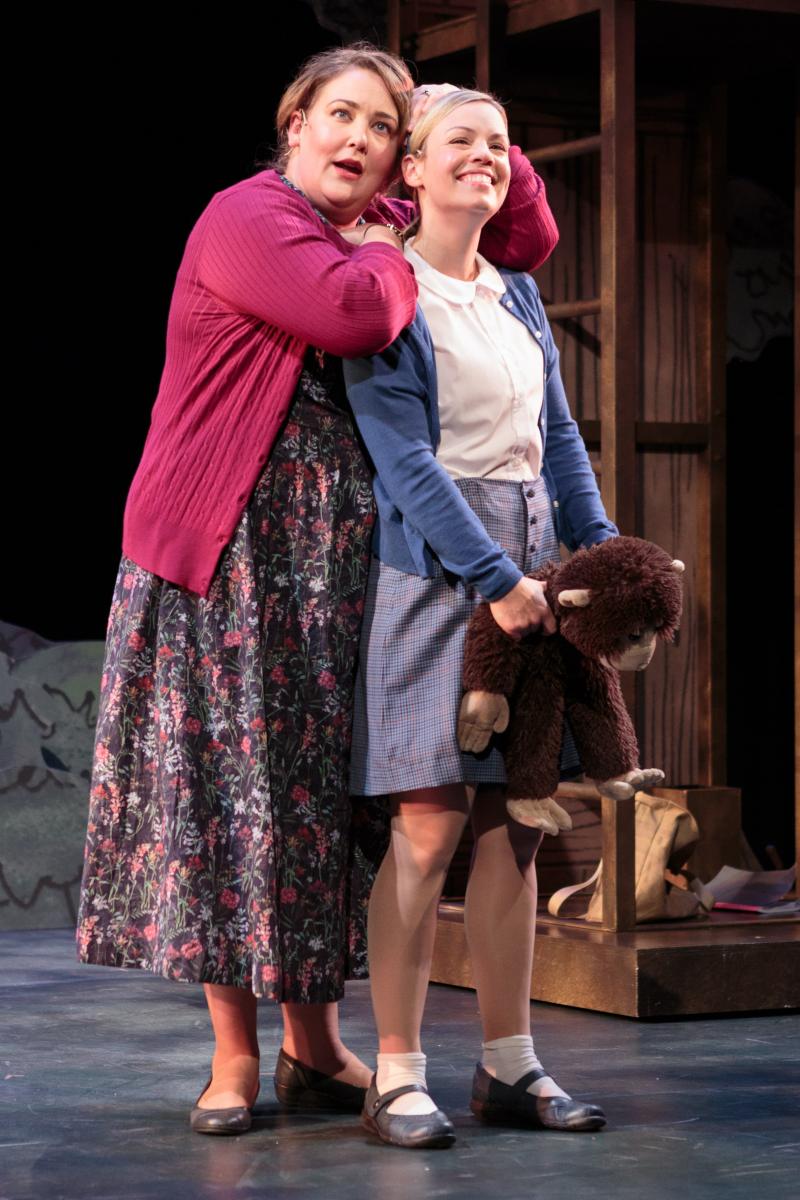 Director Aaron Posner co- adapted McDonnell's book with him along with composer/lyricist Andy Mitton. True to form, Posner does a yeoman's job of moving the material from page to stage. From beginning to end the material is fully engaging and keeps both kids and adults interested in what happens next.
Andy Mitton's score features several big numbers, including the very catchy production number "Animals, Animals, Animals." It's one of those songs that will have you leaving the theater singing it. That's a rarity these days. Other musical standouts include "Trust Your Instincts" and "What are You Going to do Today?" If anything in the score needs to be improved it would probably be the actual musical track that the singers perform to - the basic rhythm section sound actually does the strong score a bit of an injustice by not allowing it to be realized to its full potential. The score was co-arranged by Mitton and musical director dynamo William Yanesh.
And speaking of sound, Justin Schmitz's environmental soundtrack once again proves why he is one of the fastest growing designer names in the DC area. You know a good designer when his work enhances rather than intrudes upon the action.
Paige Hathaway's top drawer set design features places for the company to climb around as the animals and a tree house-like structure for Jane to be alone with Jubilee and read.
Andrew Cissna's terrific lighting breaks the fourth wall of the Family Theater and turns the auditorium into Jane's jungle.
Helen Q. Huang's imaginative costumes range from squirrel head pieces to all black for the naysayers - Jane's neighbors.
Olivia Sebesky's projections don't overpower, but rather enhance Hathaway's scenic elements. With projection taking the place of real scenery more and more in theater, it's great to see a balance between the two.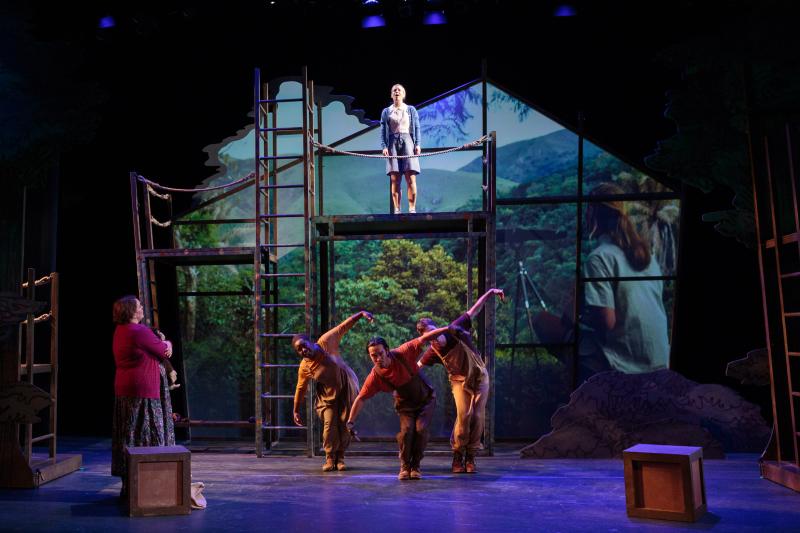 I also don't think you'll find a better group of performers for this material.
As Young Jane, Erin Weaver again proves why she is one of DC's brightest stars. She fully embodies her character with all of her inquisitiveness and a true love for all animals. In other words, she captures a young Jane Goddall perfectly.
Tracy Lynn Olivera, as Mom and a rather hungry squirrel, never ceases to amaze. Her always powerful voice and strong acting is something many of us treasure every time she steps on a stage. This show is no exception.
Sam Ludwig shows great versatility in his many roles as does Awa Sal Secka. Together as the Crouch's, two naysayers who scoff at Jane's optimistic outlook for her future, the pair delivers the certain upper crust snark that you just hate.
Eymard Cabling as Rusty just makes you say "AWW, that's adorable."
Me...Jane The Dreams and Adventures of Young Jane Goodall is a fantastic non-holiday, holiday attraction. If you want big musical numbers, you've got those. You want fine acting and production values, you've got those. You want something with some substance, it's got that. You want to see director Aaron Posner keep up his winning track record of never putting on a bad show, well then get yourself and your whole family to the Kennedy Center before this show swings away.
Running Time: 60 minutes with no intermission.
Me...Jane The Dreams and Adventures of Young Jane Goodall plays through December 10, 2017 in the Family Theater at the Kennedy Center. The venue is located at 2700 F St NW, Washington, DC. For tickets, click here.