BWW Review: FINDING NEVERLAND at the National Theatre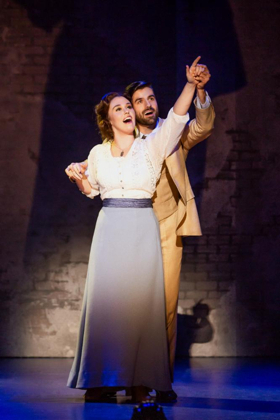 The non-Equity production of James Graham (Book), Gary Barlow, and Eliot Kennedy's (Music and Lyrics) 2015 Broadway musical Finding Neverland is unlikely to be remembered as one of the most memorable touring productions that has graced the stages of DC this season. Yet, much like the Broadway production, the news is not all bad for the show, which will play the National Theatre through March 3, 2019.
Based on David Magee's film of the same name as well as Allan Knee's play, and developed at Diane Paulus' (Original Direction) prestigious American Repertory Theater in Cambridge, MA, this musical traces how the playwright J.M. Barrie (Jeff Sullivan) came to write Peter Pan. Mr. Barrie, we quickly learn, is experiencing a bit of a writing rut. Charles Frohman (Conor McGiffin) is in dire need of a hit to fill seats at the theater, but Mr. Barrie can't seem to deliver something that will satisfy. Everything he writes sounds so much like what he's written before as Sylvia Llewelyn Davies (Ruby Gibbs) - a widowed mother of four who he meets at Kensington Gardens - is quick to point out. J.M. Barrie takes a liking to her four sons Peter, George, Jack, and Michael (Seth Erdley, Paul Schoeller, Josiah Smothers, and Brody Bett at the Tuesday night performance), particularly Peter. Peter is an aspiring writer, but following the tragic loss of his father he's more determined to be a mature and steady support system for his hardworking mother than an imaginative child embracing his creative tendencies.
The adventures that the boys create, with some help from their famous new friend, serve as fodder for J.M. Barrie's play. While the creative juices are at work and he's busy trying to get the actors on board with his concept, J.M. Barrie also realizes the importance of being there for those you love. A budding relationship with Sylvia is threatened by illness, and Mr. Barrie must reconcile the world of make believe and real life. Can they co-exist? Should they?
As written, the story is bound to attract the attention of Peter Pan-lovers everywhere and, let's be fair, it's a pretty safe show to take the kids to see (but maybe not suitable for babies, of which there were several on opening night, but I digress). It has some pleasing songs (albeit not well served by a decision to cut the orchestra size for touring), and a charming story about the power of imagination and belief, as well as the importance of human connection above all else. Theater nerds, such as myself, might relish in some of the antics that J.M. Barrie must cope with as he tries to get his work to the stage. Still, the story meanders a bit too much to really make the audience invested in the plight of all involved. There's also a question of who it's aimed at due to the varying tones.
Cast-wise, the energetic ensemble, the enormously talented kids, and even a scene-stealing dog (Porthos, played by the very adorable Sammy) do their very best to deliver a fun evening of entertainment for all under the direction of Mia Walker who recreated Paulus' work.
Conor McGiffin makes the most of his character's larger-than-life personality and sells the snippy remarks about children. Ruby Gibbs, bar none the strongest soloist of the bunch, is wholly believable as someone who has been through the wringer, but is determined to face whatever obstacle to do what's best for her kids. Her rendition of "All that Matters" is emotionally on-point and delivered with a high degree of technical proficiency. Jeff Sullivan embraces J.M. Barrie's willingness to embrace his inner child and is at his best when interacting with the children. Unfortunately, he's not a particularly strong singer (his vocals were nearly consistently nasal and pinched on the night I attended), and does not appear to have the emotional range to convincingly play the leading man in all scenes. At the end of the show, I felt absolutely nothing when J.M. Barrie made the decision to bring his play to those he loved most, which is unfortunate especially because Gibbs and the four children sold that crucial scene. A strong leading man he is not - at least in this show - but Ruby Gibbs is absolutely worth seeing.
The technical elements, particularly Kenneth Posner's lighting and Hudson Scenic Studio's flying effects, highlight the musical's fantasy element. Scott Pask's scenic design is appropriate for a period show that features a play within a play even if does rely too much on projections (Jon Driscoll) and backdrops for my taste (alas, such is the nature of musical theater today....). Mia Michaels' choreography and Suttirat Anne Larlarb's costumes add layers of visual interest that also serve the story.
Overall, this tour is not an epic fail, but it doesn't let us fully escape to the wonderful, perfect world of theater either.
Running Time: 2 hours and 30 minutes with one intermission.
FINDING NEVERLAND plays at the National Theatre - 1321 Pennsylvania Avenue, NW in Washington, DC - through March 3, 2019. Visit the National Theatre website for tickets and information: http://thenationaldc.org/events/category/series/neverland-19/.
Related Articles View More Washington, DC

Stories

Shows
Jennifer Perry is the Senior Contributing Writer for BroadwayWorld.Com's DC page. She has been a DC resident since 2001 having moved from Upstate New York (read more...)