BWW Review: ADMISSIONS at Studio Theatre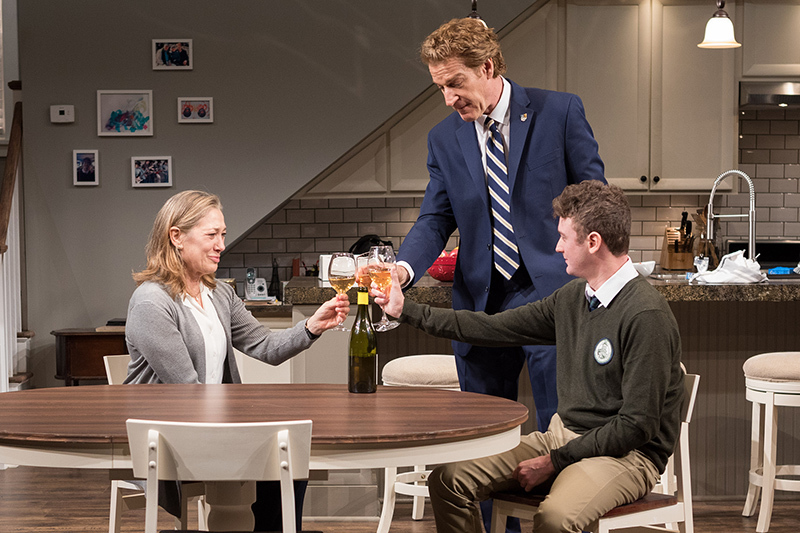 Directed by Mike Donahue, Joshua Harmon's Admissions follows Sherri (Meg Gibson) and her husband Bill (Kevin Kilner), the Dean of Admissions and the Headmaster of Hillcrest, a second-tier boarding school in New England, throughout the 2016 admissions season.
Publicly, Sherri and Bill are the white and proud champions of diversity at Hillcrest, but when their spoiled son Charlie's (Ephraim Birney) application to Yale is deferred, a behind-closed-doors conversation on the open stage shines a bright light on the family's hidden hypocrisies.
In the opening scene, Sherri confronts Roberta (Sarah Marshall), a legacy Hillcrest employee, over the lack of diversity in the coming year's admissions catalogue. The dialogue between the two women is cringe worthy. Sherri must explain to Roberta why photos of people of color even need to be included in the catalogue. This conversation sparks a debate between the two women about whether or not one biracial student even looks biracial in the photo. Of course, Sherri is more than happy to discover multiple photos of Charlie in the catalogue.
The play hinges on the revelation that Charlie's best friend Perry, a biracial Hillcrest student, does get into Yale. Instead of celebrating his friend's achievement, Charlie launches into a lengthy racist and sexist monologue, the gist being that Perry only got in to Yale because of the color of his skin.
Bill is disgusted by his son's outburst, but Sherri prefers to dismisses it as the ravings of a disappointed teenager. Nevertheless, they do not hesitate to use their pull to ensure that Charlie gets the future to which they believe he is entitled. Eventually, Perry's mom, Ginnie (Marni Penning), and Sherri have it out after Sherri implies that Perry's skin color helped his application to Yale.
In the coming months, Charlie takes his parents public-facing beliefs to heart and authors an editorial for the school newspaper that not only addresses the falsity of his earlier rantings, but also publicly challenges Sherri to put her money where her mouth is and in doing so, may jeopardize his own future.
Gibson spends the entire play onstage and gives an emotionally expansive, if at times stilted performance. Kilner has a powerful and calming stage presence that is well juxtaposed against Birney's impressively frenetic teen energy.
Scenic Designer Caite Hevner's set is bottled in Sherri and Bill's open-planned living area, that doubles as Sherri's office. This intimacy of the set drives home Admissions' preoccupation with the frank and politically incorrect conversations that happen behind-closed-doors, when we think no one is watching. Therein lies the brilliance of Harmon's particular brand of black humor. At Studio Theatre, all of DC is watching Sherri's family.
If I am shocked by Admissions, it is not because I am unfamiliar with Charlie's frustrated delusions or because I have never met a parent or student touting Ivy League connections, but because Admissions has the audacity to premiere in late January to a predominately white, upper-middle class audience whose children are undoubtedly preparing to face the same elitist high school and college admissions process critiqued in Admissions. And in this way, Admissions, with its smart dialogue, dynamic performances, and signature Studio Theatre flare challenges its audience to re-examine the way they think, the things they say, and the actions they take this admissions season.
Running Time: 100 minutes, no intermission.
ADMISSIONS plays through February 17 at Studio Theatre's Mead Theatre located at 1501 14th St NW, Washington, DC 20005. For tickets click here.
Photo Credit: Teresa Wood.