Click Here for More Articles on DC - Theatre Life
BWW Interview: Theatre Life with Mary Gordon Murray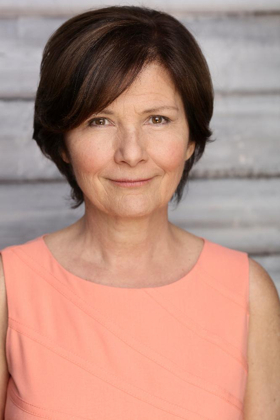 Today's subject Mary Gordon Murray is currently living her theatre life onstage at The Kennedy Center's Eisenhower Theater playing Fräulein Schneider in the national tour of Cabaret. The production plays through August 6th.
Mary Gordon Murray is a veteran stage actress with an impressive list of credits that make theater geeks like us very excited. Her list of shows includes such hits as Into the Woods, Grease, Footloose, Coastal Disturbances, and I Love My Wife, as well a few like Play Me a Country Song and Hands on a Hardbody that didn't fare as well. Off- Broadway she was in the original casts of A...My Name is Alice and The Knife. She received a Tony Award nomination for her performance in the 1982 revival of the Cy Coleman/Neil Simon musical Little Me.
You might also recognize her from Showtime's DC: 9/11 as Laura Bush or from her over 30 turns on various episodic TV shows. For you soap opera fans, you might remember Mary from One Life to Live in the role of Becky.
When not performing, Mary is a faculty member of the American Musical and Dramatic Academy (AMDA) College and Conservatory.
Think for a moment about the actresses that have played Fräulein Schneider over the years. Such legends as Lotte Lenya (Original Broadway Company), Dame Judi Dench (complete studio recording and Sally Bowles in Original London Company), Lila Kedrova (Original London Company), and let's not forget about DC's own Naomi Jacobson at Signature Theatre. Mary Gordon Murray is in the same class as every one of these performers. If you've ever seen her onstage like I have over the years, you know you are watching a consummate professional.
Cabaret is as important now as it was when it first opened on Broadway. The theme of hatred is unfortunately still all too real. This production is one of the best ways to see the show. Of course, it features Kander and Ebb's score and Joe Masteroff's brilliant book, but seeing a performer like Mary Gordon Murray onstage just makes the experience that much more special. After that last statement "What Would You Do?" The correct answer is get seats to see Cabaret. Simply put, it's "Perfectly Marvelous" and with Mary Gordon Murray onstage you'll have no reason to think "So What."
At what age did the theater bug bite you? Was there a specific show that helped you make the decision to become a performer?
When I was very young, we spent our summers at the New Jersey shore. I stayed at a hotel across the street from the Surflight Theater. At night, we could actually hear the music wafting across the space between the hotel and the theater. It would sometimes be mingled with the sound of surf - our hotel room was right on the sand. It was very magical to hear Rogers and Hammerstein and the ocean while I was drifting off to sleep. We also saw any show that was playing there during our stay. I was very young, but the first show I believe I saw was Guys and Dolls. Sometimes after the show we would see the actors out and about. One evening, I saw an actor having an ice cream sundae with his orange greasepaint make up still on and I thought he had to be the happiest person on earth!
What was your first professional performing job?
My first professional job wasn't technically "professional." I was still in college, but our professor found some way to take a production of Dames at Sea to Newport Beach in Rhode Island. I stayed at a very old Victorian house that had no air conditioning. It was brutally hot and I think I barely slept the whole summer, but I was in heaven.
Is this your first time performing in Cabaret?
I've actually done two other productions of Cabaret. One for Marcia Milgram Dodge at Reprise in Los Angeles and the other for Glenn Casale at Sacramento Music Circus. They were very, very different productions. Both were based on an earlier script of the show from the 1980s. The Sacramento production was in the round! They were both wonderful, but this is a whole different take on the show. It's been fascinating to explore these different sensibilities with all of these excellent directors.
This national tour of Cabaret is based on Sam Mendes' brilliant environmental staging that started at London's Donmar Warehouse and then was seen at Roundabout Theatre Company's Studio 54 on Broadway. I imagine that you can't turn every house you play into a nightclub. How does this tour keep Mendes' original vision intact and does the show work regardless of house size?
In Seattle, they actually took out half of the orchestra and put tables and chairs, and served drinks and food during the show! But other than that, yes, it has been a very varied experience. But the show works in a really fascinating way. Our director is always encouraging us to trust that we can treat it in an intimate way and not "play" the large space - to let the audience come to us. It's a really interesting lesson to learn because they do come to us.
You were part of the Broadway production of an underrated musical called The Robber Bridegroom. What are your memories of working on that show?
The Robber Bridegroom was my first Broadway show. I was 22 years old. I was thrilled out of my mind. It was a great learning experience for me. I understudied the lead, but the show was done with the cast on stage for most of it. I had one line in the show and sat on a barrel the rest of the time. But my parents, who lived in New Jersey, saw it 32 times. Even though I only had that one line, they could look at me for most of those two hours! Sitting on that barrel.
You were nominated for a Tony Award for the 1982 revival of Little Me. Your co-star was the great comedian/actor James Coco. What is your favorite anecdote from working with James Coco?
Jimmy was the funniest guy ever. I would lose it a great deal during rehearsal. He would keep a straight face and I would look like a complete idiot laughing my brains out.
In one scene in the show, Jimmy wore a fat suit. I was supposed to sit on his lap. But one night I slipped off and the two of us ended up rolling around on the floor. We couldn't get our balance back for what seemed like forever! We rolled around on the floor of a Broadway theater. In performance. Thank God it was Little Me. The audience just assumed it was part of the show!
You have a long and distinguished theatrical career. Since becoming a performer what are some of the changes in theater you are most happy about and are there any trends that don't seem right to you?
I have spent the last few years teaching at AMDA in Los Angeles. I'll start with the things that I think are difficult right now in the theater. It worries me that our young performing artists will find it harder to make a viable living just performing. It was easier when I started. It's very competitive now, and many of them start their careers in debt. I would hate it if the only young people who can afford careers in theater have trust funds. This is a bigger issue than the theater - it is the entire economy. I have a 21-year-old son and it is of very real concern to me.
That said, I actually think that theater, and particularly musical theater, is in the midst of a true artistic golden age. In so many ways it is a very young art form. It's specifically American in its origins and it is still evolving. I think we will look back and realize what a profound time this is.
After Cabaret concludes its tour at the Kennedy Center, what is next for you?
When the tour is over - which is in only a few weeks - I plan to sleep. A lot! I also am looking forward to spending time with my family and spending more time in New York after my many years in Los Angeles.
For those of us that remember when Broadway shows had TV commercials, here is the ad that ran in NYC for the 1982 production of Little Me with James Coco and Mary Gordon Murray.
Special thanks to Kennedy Center's theatre publicist Brendan Padgett for his assistance in coordinating this interview.
Theatre Life logo designed by Kevin Laughon.
Related Articles