BWW Interview: Jeremy Schonfeld Talks IRON & COAL at Strathmore, Songwriting, and More
I am one of those musical theater nerds that lives for albums that introduce me to the work of new, emerging, or lesser known composers. A few years ago, I picked up 37 NOTEBOOKS (because, you know, who can resist an album that features Kate Shindle, Lauren Kennedy, and Julia Murney, and more?) and was wowed by Jeremy Schonfeld's storytelling ability through songs. In less than a week, DC area music and theater lovers will have the opportunity to be introduced - or reintroduced - to the immense talents of this acclaimed composer and performer.
On May 3 and 4, 2018, the Music Center at Strathmore just outside of Washington, DC will play host to the world premiere of IRON & COAL. This theatrical concert, based on Schonfeld's concept album of the same name, is inspired by the memoir of Schonfeld's father, who spent a year in the Auschwitz concentration camp at the age of ten. It strives to find meaning in a life and relationship built in the shadow of the Holocaust. The powerful subject matter is matched by an equally powerful visual and auditory experience as the concert will feature dramatic visuals, a rock band, full orchestra, and over 120 adult and youth voices.
In the lead up to the concert, Jeremy Schonfeld took time out of his busy schedule to answer a few questions via email about the concert, his approach to music, and more.
How and when did you get interested in writing music and performing?
My Mom likes to tell people I started as soon as the light-brown, baby grand Kawaii entered the house! So, 3 or 4? Lessons began soon afterward. Mrs. Myer came to the house and taught 30-minute lessons to my father, sister, brother, and me. One by one, the others dropped off, but I stuck it out, mainly due to the writing bug. I wanted to be able to play what I was hearing in my head...
How do you approach songwriting? Music first? Lyrics first?
I think it's important to be open to the process, whatever it is, period. I would say a majority of my work comes from music and melody first, but once inspiration sparks, that process becomes a back-and-forth struggle to the finish line.
I'm familiar with your three albums and it's always struck me how 37 NOTEBOOKS, has much more of a musical theater sound while DRIFT and IRON & COAL have a much stronger rock edge with a smattering of other influences. Please discuss your stylistic journey as a songwriter.
Ya' know, there is an earlier 4th album called BLUE SKIES AND ALL for those who like to search for stuff! But back to your question... I like to describe my true passion as "telling stories through music." So, for me, the story really dictates the mood, feel, genre, etcetera of the work I create, be it a single song, a conceptual album of many songs, or a musical theater piece. I take great pride in my ability to navigate several styles, tell many different kinds of stories, authentically and specifically. I love the process, solving the puzzle. So, in a way, my evolution as a writer and growth as a musician and performer is truly dictated by the stories I tell.
When and why did you become interested in writing a concept album inspired by your father's memoir? How did it come about?
I grew up under the long shadows of Auschwitz. My father and many family members were survivors of the camps. A lot of thick, passionate accents around the shabbat dinner table! I always knew there was a piece I needed to create based on his experiences as a survivor and mine growing up as a child of a survivor, but the timing was never right. As my dad was creating his memoirs, Absence of Closure, he would share pages with me, and we would discuss the stories, his feelings about his life, etcetera. This was a big deal to me. For my father, a brilliant, well-respected scientist and physician to desire this kind of input from his modestly-successful artist son felt like a true honor, a validation. Eventually, when my father, who had been living for several years with myelofibrosis, revealed that his health had taken a turn for the worse, I felt the clock begin to tick, and I knew it was time to get to work. Dad was well aware of what I was attempting to do with IRON & COAL, and I played him several of the songs. Unfortunately, my father, Dr. Gustav Schonfeld, passed away on May 21, 2011-the day IRON & COAL was mastered.
IRON & COAL started out as a concept album. Now, it's having a world premiere theatrical concert. Have you made any changes to the songs since the concept album was released and, if so, what differences might we expect?
I set out to make an album worthy of its subject matter, of my family's story. I feel I accomplished that goal. Then, in December of 2016, I was finally able to perform the album in full in Brooklyn at National Sawdust as part of the Winteriesse Festival. The idea from there was to expand the piece, adding my father's voice, working in passages from his memoirs, and creating pieces of music that help broaden the story as a whole without losing any of the immediacy and specificity. There are new songs, songs from the album that are not part of the show, and there are two additional performers besides myself-the brilliant Rinde Eckert who plays an older version of my father and the young, talented Lincoln Clauss as a younger version of my father.
What can audiences expect from the world premiere of IRON & COAL at Strathmore?
In a way, this is my BERNSTEIN'S MASS meets THE WALL or TOMMY. We will have more than 200 performers on stage, including three choruses, two orchestra ensembles, and incredible multimedia with original animation. This will be an incredible, beautiful, and emotional premiere, beyond all goals and expectations I could have ever dreamed up. So many shout-outs, you would have to give me a separate article just to acknowledge them all!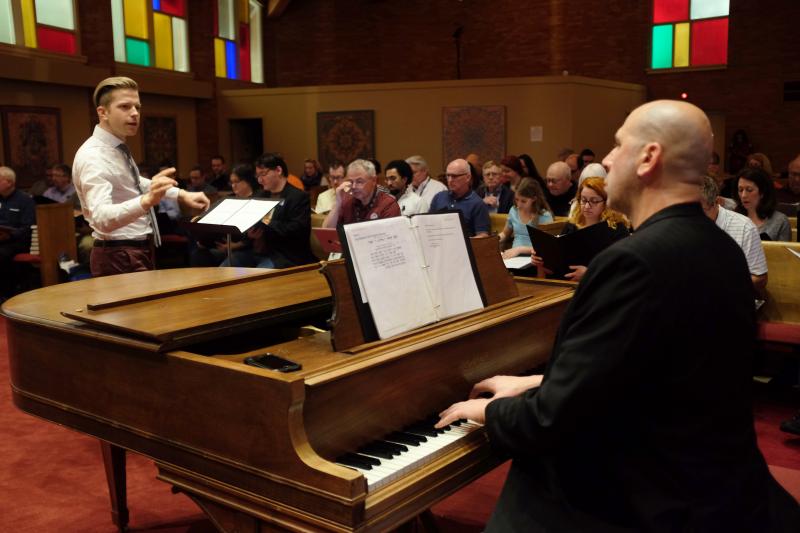 37 NOTEBOOKS features many Broadway performers singing your music. Do you have any further plans to collaborate with musical theater performers and/or write for the stage?
Actually, this has been a crazy six months for my catalogue. My show DRIFT has been in concert both in Pennsylvania (PRIMA Theatrical) and in London where it is slated to go up in 2019. My show SPUN ran in February back in Indiana at the Bloomington Playwrights Project, as we prep to bring that to New York. My show CALLING ALL KATES is in concert at the Adirondack Theater Festival this summer. I have a couple of exciting shows in the pipeline as well, so yeah, musical theater is still a part of the plans.
What's next for you?
I had a hit single for Frankie Grande called "Queen" last year, and another is on the way. There is a big show I am very excited about that I can't quite announce yet, but I look forward to bringing some of my IRON & COAL team into the mix. All the other shows are doing exciting things, too, so I'll continue to go with the flow there. Of course, we have big and far-reaching plans for IRON & COAL. Excited about that. Oh, and after 27 years in New York City, it's time to move... Beacon, here we come!
Related Articles View More Washington, DC

Stories

Shows