Middlebury Community Players Present THE IMPORTANCE OF BEING EARNEST
Performances run Saturday February 16 through February 19 at 2:00 pm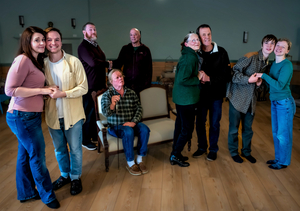 Middlebury Community Players presents its February 2023 production of Oscar Wilde's classic comedy, The Importance of Being Earnest.
Set in late-19th century England, the play pokes fun at the pretentiousness of the upper-class Victorian society that forces Jack and Algernon to create fictitious lives to avoid the social repercussions of their seemingly less attractive lifestyles. But their clever tricks become increasingly difficult to maintain when they insist on proposing marriage to the women they love.
Director Peter Kristoph, who most recently directed Edward Albee's Who's Afraid of Virginia Woolf? for MCP's Company Be, has assembled a talented cast of both veteran and newcomer area actors, featuring Asa Baker-Rouse as Algernon Moncrieff, Kevin Commins as Lady Bracknell, Adam Gould as Jack Worthing, David Harcourt as Lane, Tom McElhaney as Dr. Chasuble, Kimberlee Moyer as Miss Prism, Olivia Olson as Cecily Cardew, Michael Purdue as Merriman, and Jillian Torres as Gwendolen Fairfax.
The show is stage managed by Dora Greven and co-produced by Kristen Ginsburg and Jane Kimble. Performances are on Thursday, Friday, and Saturday February 16 through February 18 at 7:30 pm as well as a matinee on Sunday, February 19 at 2:00 pm at Middlebury's Town Hall Theater. Opening night tickets on Thursday, February 16 are $14 and all other tickets are $19. For tickets, please visit www.townhalltheater.org or call 802-382-9222.