Review: LAUGHING WILD is an Empathetic Ride at the Dorset Theater Festival
Presented by Dorset Theater Festival at the Southern Vermont Arts Center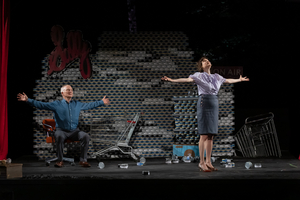 The journey to LAUGHING WILD at the Southern Vermont Arts Center in Manchester starts with a drive up to the Center's main campus through a beautiful sculpture garden and ends with laughter and empathy for the human condition.
Dorset Theater Festival is reopening its in-person performances with an outdoor theater venue designed specifically for our pandemic reopening. With lawn chairs socially distanced for each group of guests and a newly designed stage, it was a great way to return to theater in Southern Vermont.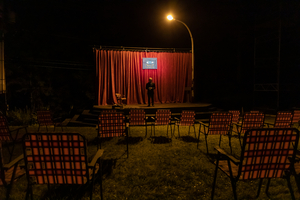 This season's LAUGHING WILD is a ride that takes you through two seemingly separate monologues that show the insight into the innermost thoughts of two people struggling through the societal morays of 1987. It touches on the way that mental illness affects people and how their self-awareness of their ability to cope (or not cope) with living life. Both of these characters were deeply human and flawed, but ultimately that is where the humor and the empathy arises.
The woman character, played wonderfully by
Mary Bacon
, is endearing and unapologetically an individual. The man character, played by
Dan Butler
, is heartfelt and vulnerable. Both of these actors knew where comedy and tragedy meet and were able to use that to great effect.
Audience members were taken on a wild ride through dream sequences that allowed these two character's inner worlds to collide. If you have ever practiced over and over again how you would redo a chance encounter, this play allows that to unfold until the ultimate result is how empathy for another person's struggle breaks open the last few minutes of the play.
This is a wild ride that will have you laughing at every step of the way.
Photo Credit: Joey Moro, Dorset Theater Festival
Morgan Donohue writes about the three topics she enjoys the most: design, travel, and theater. Each of these gives a person a sense of place. Whether a person is designing a space, traveling to a n... (read more about this author)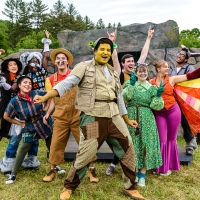 Review: SHREK THE MUSICAL at The Weston Theater Company

June 27, 2022

What did our critic think? The summer heat in Weston was no match for the high-energy performance of Shrek The Musical.
---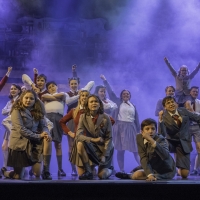 BWW Review: MATILDA at The Lyric Theatre Company is a Humorous and Heartfelt Return to Stage

April 12, 2022

Lyric Theatre Company makes a joyful return to the Flynn Mainstage with a humorous and high-energy production of Roald Dahl's MATILDA.
---
BWW Review: NEXT TO NORMAL Captivates at JAG Productions' Theater on the Hill

August 31, 2021

JAG Productions' concert staging of the Tony award-winning musical, Next to Normal, delivered a story that was nuanced and powerful.
---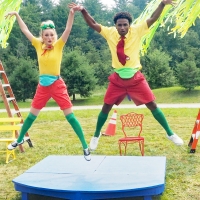 BWW Review: SUESSICAL Shows That Anything Is Possible at The Weston Playhouse

August 9, 2021

High energy and character-driven, Weston Playhouse's 2021 Young Company did not disappoint in bringing heartfelt moments to their traveling performance of SEUSSICAL. This summer, with free shows all over Vermont, this show is a bright spot for kids and families alike.
---
BWW Review: LAUGHING WILD is an Empathetic Ride at the Dorset Theater Festival

August 6, 2021

With empathy, comedy, and vulnerability, Laughing Wild is a foray into the inner workings of the human mind.
---