Katy Griffiths & Deborah Sawyerr Appointed Joint Deputy Executive Directors of Mercury Theatre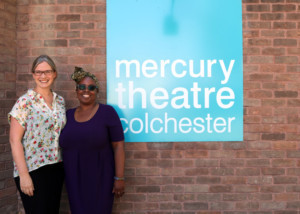 The Mercury Theatre Colchester today announces the appointment of Katy Griffiths and Deborah Sawyerr as joint Deputy Executive Directors
This Autumn, Katy Griffiths, former Director of the Corn Exchange Newbury, and Deborah Sawyerr, former Executive Director for Theatre Royal Stratford East, will jointly take on the role of Deputy Executive Director at The Mercury Theatre.
Both working parents, Katy and Deborah will divide the responsibilities of the role at this pivotal time in the Mercury's journey as the theatre prepares for a major capital redevelopment, Mercury Rising.
Katy Griffiths said:
"I am delighted to be taking on this role alongside Deborah at such a transformative time for the Mercury and for Colchester. As a working mother, joining an organisation which provides flexibility to parents and carers because it understands the value their experiences bring is hugely important to me. I can't wait to get started."
Deborah Sawyerr said:
"This is a key moment for The Mercury Theatre, and it is a real pleasure to become a part of that journey. While my ongoing work as a recruitment consultant will continue, I'm thrilled to be joining the Mercury and look forward to the work Katy and I will do together."
The Mercury Theatre is a strategic partner with PIPA, the Parents In Performing Arts campaign, which strives to empower parents, carers and employers to achieve sustainable change in attitudes and practices in order to attract, support and retain a more diverse and flexible workforce.
Cassie Raine, Co-Founder of Parents In Performing Arts, said:
"Innovating around working practices is key to future proofing business resilience in the theatre sector. By including the PIPA family friendly working statement on their recruitment material, The Mercury Theatre have been able to attract two outstanding candidates, who may not otherwise have put themselves forward for the job due to caring responsibilities.
"This engagement is undoubtedly a coup, not only for the working parents involved but for Mercury Theatre staff and audiences who will now benefit from the diverse range of skills and experience these two exceptional industry leaders bring with them."
Katy and Deborah join the Mercury in September 2018.