BWW Review: 9 TO 5 THE MUSICAL at Theatre Tallahassee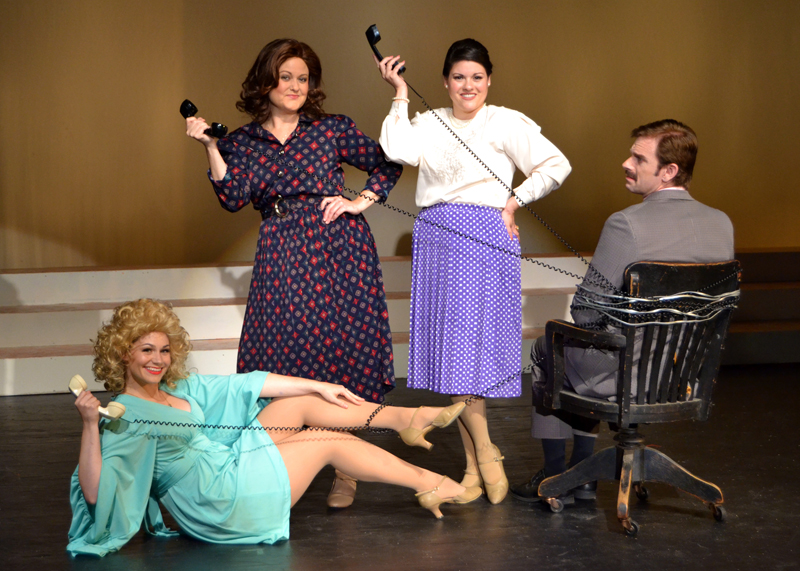 As a 9 to 5 the Musical audience member at Theatre Tallahassee, I was kind of grateful to be a "mid-life" individual. References to carbon paper, white-out and other uniquely 80s (and prior) items were not at all lost on me. I could relate to a secretary's joy over the wonder of self-regulating left margins on typewriters.
For younger audience members watching this show, even if they have never used correction tape or (gasp!) did not have to retrain themselves to use one instead of two spaces after every period when typing, this show was funny, engaging, and infectious. (And did they know the woman doing aerobics in the background of the opening number, wearing leg warmers, really did represent the fitness go-to fashion trend of the time?)
At the show's beginning, Judy (played by Cristi Izquierdo) finds herself jobless and short on marketable skills after being asked for a divorce; her arrival in a stereotypical "office pool" creates a few waves since she isn't exactly prepared to carry her weight.
Over the course of the show, Judy's discovery of her sense of self, along with the bonds she creates with supervisor Violet (played by Rachael Kage) and Doralee (played by Jilian Wesolowski) builds; watching her character escape the confines of a shattered self-esteem is a joy to see and Izquierdo's Judy has us rooting for her all the way.
Kage's vocals, especially during the "Potion Notion" number, were one of the show's assets.
Wesolowski fulfilled the Doralee role without being gimmicky - it's a bit of a caricature role but there was always a hint of vulnerability even at her twangiest.
Performing together (such as during "I Just Might"), the three women were unified and dynamic. Other times, their giggles and shared hilarity drew me in. The "Change It" number spoke to anyone who has ever needed to take a different turn in life's course.
The trio of actresses also exhibited precise timing, especially when events became a bit "complicated" with their boss, Franklin Hart Jr. (played by Jeff Hoh).
The audience was especially responsive to Roz (played by Colleen McClure) and her "Heart to Hart" number - her command of the stage and desperation to get what she wanted were notable. The ensemble in that number was superb. Her "5-9" scene in the second act was also a highlight.
Hoh's Hart epitomized "sleazy." Hoh layered the sleaze with fantastic vocals; the sleaze factor multiplied x 4 when his ensemble joined the craziness.
Lenoir Brewer's Margaret proved it's always a good idea to keep an eye on characters who seem to be minor initially.
Dolly Parton wrote the music; her influence felt strongest to me during the song "Let Love Grow."
Some numbers were choreographically a bit crisper than others, but they were all enjoyable and enthusiastically performed.
This show met its technical complexity challenges well. Various projection needs demanded more lighting options than typical shows; lighting, sound and the other details came together well (and small details, like Hart's silhouette as the stage was transitioned, were noted).
One feature unique to live theatre that only live theatre can pull off is the incorporation of local or timely references. There's a possibility this show did that around 5:01 when "work got over for the day." (You'll have to go to the show to find out...)
What was my main takeaway from the show, directed by Keith Meccia, besides gratitude that the work world in general is less populated by "sexist, egotistical, lying, hypocritical bigots" than it used to be? My main takeaway was a reminder that people can transcend the small narrow categories they may have been forced into, that someone is almost always listening when you are plotting mischief, and that great singing accompanied by energetic dancing always makes for a fun few hours, even if those hours don't completely span "9-5."
Photo Credit: Caroline V. Sturtz