Rehearsals Begin For Hayes Theatre Co's GENTLEMEN PREFER BLONDES
Performances run from 16 February at Hayes Theatre Co.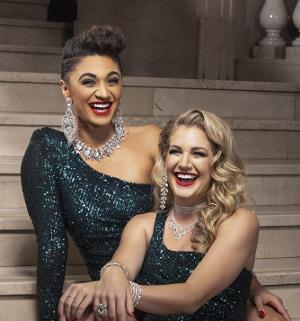 Rehearsals have begun for Gentleman Prefer Blondes at Hayes Theatre Co, adapted from the novel by Anita Loos, and starring Emily Havea and Georgina Hopson. Performances run rom 16 February at Hayes Theatre Co.
"The energy in the room is already electric on the first day - we've assembled such a multi-talented and hilarious group of performers to bring this show to life. It promises to be a riot," said Director Richard Carroll and Musical Director Victoria Falconer
"I'm so jazzed to be working with such a gorgeous group of humans. This show is gonna be camp, sparkly and delicious. Can't wait!," said Emily Havea.
Before Muriel and Rhonda; before Elphaba and Glinda; there was Lorelei and Dorothy. Jump aboard the luxury cruise liner The Ile De France as we sail across the Atlantic in the company of two of musical theatre's most dazzlingly charismatic heroines.
Gentlemen Prefer Blondes tells the raucous and subversive story of Lorelei Lee and Dorothy Shaw - two smart young single women with a burning desire for experiences that aren't supposed to be available to them within the laws and conventions of the 1920s. Armed with only their vitality, ambition, quick wits, and above all their unshakeable friendship - these thoroughly modern women play the men at their own game, and live life to the full. Champagne? Check. Diamonds? Check. Sex? Check, check, check. And as for the consequences? They'll worry about those when the ship docks.
Gentlemen Prefer Blondes made stars of Carol Channing onstage and Marilyn Monroe on film, and this new production for WorldPride Arts, part of the Sydney World Pride festival, sees a queer Australian team serve up a ship-sized slice of high-femme camp. Featuring songs like Bye-Bye Baby, I'm Just a Little Girl From Little Rock, and Diamonds Are a Girl's Best Friend, prepare for a wet and wild voyage of self-discovery through a queer lens. And remember - in international waters, all the usual rules are suspended - indefinitely.