Bangarra Dance Theatre Announces New Dancers for 2023
Learn more about the new appointments here!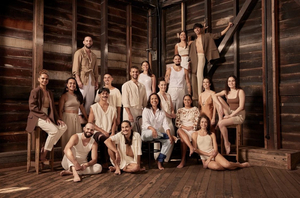 Bangarra Dance Theatre has announced the appointment of two new dancers who will make their debut with the company in 2023 as well as the welcome return of a Company Dancer.
Amberlilly Gordon will join Bangarra as the 2023 Russell Page Graduate. Amber is a proud Wiradjuri and Ngemba woman from New South Wales.
Amber studied at NAISDA College before completing a Diploma of Dance at Ev & Bow Training Centre in Sydney. She began her journey in dance in Dubbo at age 14, when she was a participant in one of the first of Bangarra's Rekindling programs. In 2022, Amber joined Bangarra, working alongside the company's Youth Program team, and now makes her stage debut with the company this February in Dance Clan, 3 - 18 February in the Studio Theatre at Bangarra, Walsh Bay.
Since 2015, the Russell Page Graduate Program has seen over twenty young artists commence their first professional engagement with Bangarra. Within the current ensemble of dancers, 9 of the 17 dancers have entered the company as Russell Page Graduates.
In 2023, Danggalaba, Gullunbrigngin and Tiwi woman, Lucy May will also make her debut with Bangarra. Lucy was born on her Country in Darwin, Northern Territory and grew up on the Awabakal country in Newcastle, NSW.
Lucy attended the Hunter School of Performance Arts before studying dance as a full-time student at her local dance school. In 2018, Lucy was accepted into the University of Music and Performing Arts in Frankfurt am Main, Germany where she continued her training for the next three years before interning at the Hessian State Ballet in Wiesbaden Germany performing works by choreographers including William Forsythe, Sharon Eyal, Gai Behar and Tim Plegge.
And also in 2023, Bangarra will proudly welcome Kassidy Waters back as a Company Dancer. Kassidy is a descendant of the Wanaruah People in the Hunter Valley, NSW and completed her studies at NAISA Dance College before training with Sydney Dance Company's Pre-Professional Year in 2017. She joined Bangarra as a company dancer in 2019 before taking leave in 2021.
Over the last two years, Kassidy has been extremely busy as an artistic collaborator and performer on numerous projects. She has worked predominantly with Janawi Dance Clan, where she choreographed and performed a part of the opening for the new Allianz Stadium, directed Janawi dancers for Lisa Reihana's recent commission for the Art Gallery of NSW's Sydney Modern, and co-choreographed with Peter Stachan, the new Janawi work, Garrigarang Badu.
Kassidy has also been involved with several creative development projects including her own new piece, Kuruwarang: Long Time Since (Art House Wyong), and works in development with Vicki van Hout, Amy Flannery, and Sydney based Dance Makers Collective. She was also the rehearsal director for Emily Flannery's children's show at the Sydney Opera House, Bulnuruwahna.
Working with Bangarra alumni, Baden Hitchcock, Kassidy co-choreographed, directed and performed in a filmed segment of Georgina Kenyon's education story about flying foxes. In September 2022, she was a dancer on the Uluru Statement from the Heart advertisement campaign, and a guest voice for the National Museum of Australia's Feared and Revered: Feminine Power exhibition which is currently showing until August 2023.
Bangarra's Artistic Director Frances Rings said, "as Bangarra enters a new era, I am thrilled to welcome Kassidy, Lucy and Amberlilly - a new generation of Indigenous dance artists whose energy, physicality and commitment to our storytelling ensures we can continue to thrive and evolve."