ROSETTA Marks Living Theatre's First Production In Asia
Performances run January 13th and 14th at the ACC in Gwangju.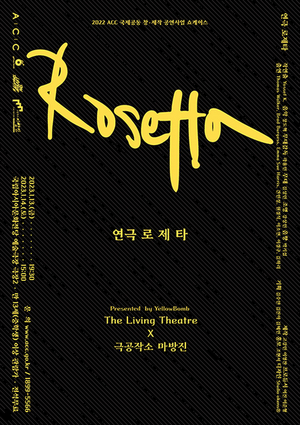 The Living Theatre, in its 75th season, is still producing a "first" in an upcoming collaboration with Yossef K. Junghan, playwright and director from South Korea on his new work, "Rosetta."
Junghan has organized a collaboration between The Living and Playfactory Mabangzen, an important Korean experimental theatre company. The collaboration is being produced by Yellow Bomb and presented by one of the largest Korean cultural venues, the ACC (Asia Culture Center) in Gwangju, South Korea. The cross continental collaboration will perform a showcase version of the piece on January 13th and 14th at the ACC in Gwangju.
"Rosetta," which is both written and directed by Junghan is about missionary Rosetta Sherwood Hall, who after graduating medical school in 1890, traveled to South Korea and trained women in western medicine at a time when they were forbidden to practice. Her work resulted in the first women's medical college in South Korea and the arrival of Braille on the continent. The play celebrates her life by casting all the performers as Rosetta throughout the play, regardless of gender, race or age.
Junghan has written "Rosetta" inspired by his experience with The Living Theatre. Living Theatre performers include Artistic Director Brad Burgess (he/him), Judith Malina's caretaker and collaborator for the final ten years of her life; Tom Walker (he/him), 50 year company member and archivist; newcomer and company dramaturg Emma Sue Harris (they/them).
The Living helped Junghan develop the idea for three months leading up to the voyage to South Korea. They met Junghan through director and professor, Michael Posnick, a long time friend of Judith Malina and Hanon Reznikov in 2010, when Junghan was a student in New York. Junghan assisted Malina on various projects and remained in touch throughout his time in NYC before returning to South Korea in 2018. Junghan is now a renowned director in South Korea who has won multiple awards including Best New Play Award from DIMF (Daegu International Musical Theatre Festival) in 2021.
In "Rosetta" Mabangzen has four performers, Minsung Kyun, Kyungsik Won, Soyeon Lee, and Hari Kim. The company has done such plays as "Legend of the Waitress & the Robber" premiere in Dixon place NYC 2022, and "I Wasn't in Gwangju" a play remembering the tragic and historic student uprising in Gwangju on May 18, 1980. The history of Mabangzen and the legacy of the city make this a fitting collaboration and location for The Living to make its debut on the Asian continent.
Also collaborating are Kyung Gu Lee, a famous dancer and choreographer known for Goblin Party and Drummer Do hyuk Jang, from progressive band "Dongyang Gozupa" selected WOMEX in 2020 and 2021.
Yellowbomb, Inc. (Producer) is a multi-national company that provides exciting, new experiences for audiences in which cultures meets cultures. With works generally based on Korean music and musical theatre, Yellowbomb has successfully produced over 100 global events and performances. Under the leadership of Y. Chan Lee, the company continues to further expand its reach as a global performance company.