by Shari Barrett - Jul 25, 2017
During the multimedia production, directed by Trevor Hay, Felder plays himself as well as the world-famous composer, along with a wide assortment of people from the many phases of Tchaikovsky's life. For each one, Felder completely changes his vocal patterns as well as his physical being, after telling the audience that in order to present his stories about all these real people, he first considers the place, then the character, and lastly the music to set the stage for each segment. And be sure to keep an eye on the picture frame displayed prominently on the ornate set designed by Felder as it changes portraits as the many characters are introduced, allowing us to see the real people he is portraying. But you would never know the music was not considered first, given the way his hands fly over the keys as he energetically plays some of the greatest works created by his favorite composer since childhood.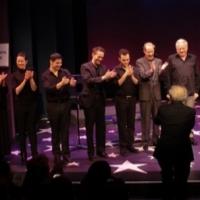 by Jessica Fallon Gordon - Feb 3, 2014
The York Theatre Company (James Morgan, Producing Artistic Director; Andrew Levine, Executive Director) continues the Winter 2014 Musicals in Mufti Series Celebrating Sheldon Harnick with Dragons with Book, Lyrics and Music by Sheldon Harnick. Directed by Maggie Harrer, and with Music Direction by Beth Ertz, the cast features David Buskin, Ed Dixon, Danny Gardner, Katherine Henly, Mary Page Nance, Camille Palmisano, Laura O. Pfortmiller, Alan Schmuckler, Gordon Stanley, Marcus Stevens, Olga Talyn, Stephanie Umoh, Bray Wilkins, and William Youmans. BroadwayWorld brings you photos from the opening below!