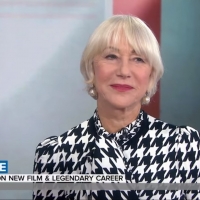 by Stage Tube - Nov 6, 2019
Dame Helen Mirren joins TODAY's Savannah Guthrie to talk about her new thriller a?oeThe Good Liar,a?? which she says a?oetakes amazing twists and turns.a?? She also talks about playing a?oeCatherine the Greata?? in a new HBO miniseries a?' and about her tattoo!

by Alexa Criscitiello - Jul 26, 2018
Today we're celebrating the life and work of decorated star of stage and screen, Helen Mirren!