Teenage Dick - 2019 - West End
As winter formal gives way to glorious spring fling, Richard - the class loser - lusts for power at Roseland High.
After years of torment due to his hemiplegia, Richard plots the ultimate rise in power: to become president of his senior class. But like all teenagers, and all despots, he is faced with the hardest question of all: is it better to be loved, or feared?
(London, )
41 Earlham Street
London,
Teenage Dick West End Cast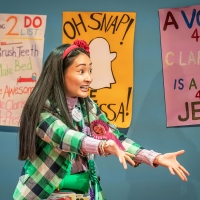 by Cindy Marcolina - December 24, 2019
Mike Lew's Teenage Dick has just opened at the Donmar Warehouse. The original take on Shakespeare's Richard III relocates the action to an American high school. We talked to Alice Hewkin, who plays Clarissa Duke, about everything it takes to move Shakespeare into Mean Girls territory.