King Charles III - 2015 - Broadway
The Queen is dead. After a lifetime of waiting, Prince Charles ascends the throne. A future of power lies before him... but how to rule?
Winner of the 2015 Olivier Award for Best Play, King Charles III is the "bracingly provocative and outrageously entertaining" (The Independent) drama of political intrigue by Mike Bartlett that comes to Broadway following a sensational West End run. Directed by Rupert Goold and deemed "the most insightful and engrossing new history play in decades" by Ben Brantley of The New York Times, this "bold and brilliant" (The Times of London) production explores the people underneath the crowns, the unwritten rules of Britain's democracy and the conscience of its most famous family.
Video preview

Photo preview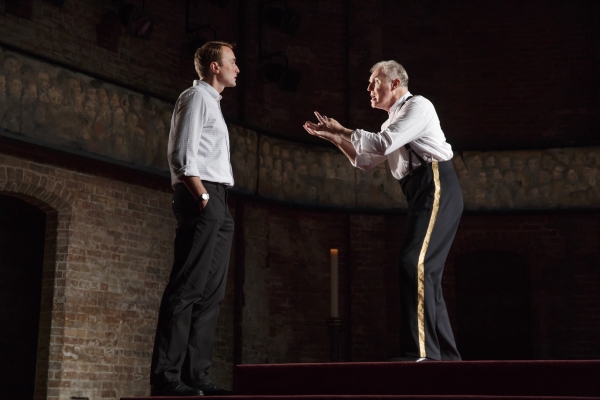 Schedule
Running Time: Two hours and 30 minutes, with one intermission
Featured Reviews For King Charles III
Review: Broadway's 'King Charles III' Ingenuous, Intriguing - Associated Press
Much like "Hamilton" uses hip-hop and R&B to retell the story of Alexander Hamilton, Bartlett borrows England's greatest writer to frame a tale about what might happen when the current English queen dies. Bartlett uses verse and iambic pentameter to spin his web, leaning on "Macbeth" and "Richard III" and "King Lear." A splendid Tim Pigott-Smith reprises his role as King Charles III, which he played in London, leading it to a best new play win at the Olivier Awards. He fiddles with his cuffs like Charles and nervously turns his signet ring, but never falls into mimicry. His descent into madness is Lear-lite and Pigott-Smith is up to the task.
'King Charles III' an entertaining new thriller - amNY
When was the last time you saw a new play that was written in iambic pentameter, or a futuristic fantasy about real-life, still-living political figures? Mike Bartlett's "King Charles III," a critical and commercial hit in London, audaciously applies the conventions of the Shakespearean history play to today's British royal family, who are portrayed immediately after the death of the currently reigning 89-year-old Elizabeth II.
King Charles III Broadway Cast