Update - Broadway Shutdown Extends To September 6 - Click Here
King Charles III - Broadway
The Queen is dead. After a lifetime of waiting, Prince Charles ascends the throne. A future of power lies before him... but how to rule?
Winner of the 2015 Olivier Award for Best Play, King Charles III is the "bracingly provocative and outrageously entertaining" (The Independent) drama of political intrigue by Mike Bartlett that comes to Broadway following a sensational West End run. Directed by Rupert Goold and deemed "the most insightful and engrossing new history play in decades" by Ben Brantley of The New York Times, this "bold and brilliant" (The Times of London) production explores the people underneath the crowns, the unwritten rules of Britain's democracy and the conscience of its most famous family.
Video preview

Photo preview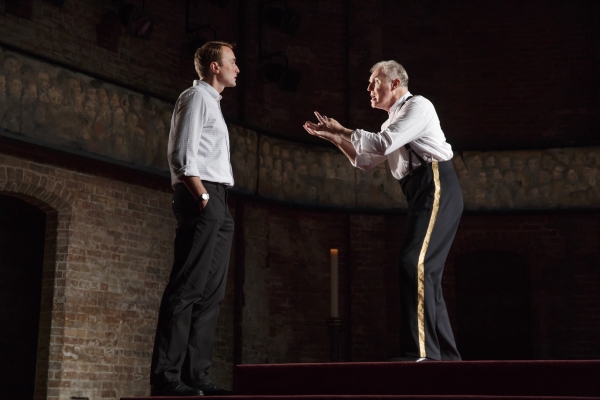 Schedule
Running Time: Two hours and 30 minutes, with one intermission
Featured Reviews For King Charles III
Theater Review: 'King Charles III' - Bergen Record
Underlying everything is the conception of duty, raised pointedly when Harry must resolve whether he'll abdicate his position - whatever that is - to marry his free-spirited girlfriend (Tafline Steen) and become an ordinary man who can enjoy dining at Burger King. (To actually care about this silly young man's decision, framed as significant drama, you have to really be into monarchy.) Ultimately, the family stages an intervention with Charles, determined to do what's necessary - and it's pretty drastic - to set things right again in Britain. "King Charles III" is quite wordy and likely more accessible across the ocean, but it's also unusually imaginative and a surprising bit of fun.
BWW Review: KING CHARLES III, The History Play Shakespeare Has Yet To Write - BroadwayWorld
As Great Britain's oldest prince to ascend to the throne (he'll be turning 67 this month), the excellent Tim Pigott-Smith combines the weary countenance of one who has been dragged through the mud for decades with the brash enthusiasm of a new ruler ready to make his mark in history; though he's aware he has comparatively little time to do so. The text fluidly explains in dialogue how Britain's monarch holds a symbolic, apolitical position and is kept abreast of parliamentary matters by the country's true leader, the prime minister.