King Charles III - 2015 - Broadway Tickets, News, Info & More
The Queen is dead. After a lifetime of waiting, Prince Charles ascends the throne. A future of power lies before him... but how to rule?
Winner of the 2015 Olivier Award for Best Play, King Charles III is the "bracingly provocative and outrageously entertaining" (The Independent) drama of political intrigue by Mike Bartlett that comes to Broadway following a sensational West End run. Directed by Rupert Goold and deemed "the most insightful and engrossing new history play in decades" by Ben Brantley of The New York Times, this "bold and brilliant" (The Times of London) production explores the people underneath the crowns, the unwritten rules of Britain's democracy and the conscience of its most famous family.
Video preview

Photo preview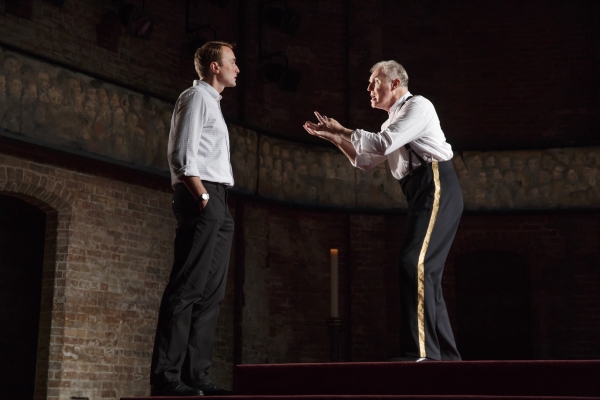 Schedule
Running Time:
Two hours and 30 minutes, with one intermission
Featured Reviews For King Charles III
'King Charles III' review: Wayward Windsors - Newsday
One of the mourners at Queen Elizabeth's funeral says "I never thought I would see her pass away," to which an aging Prince Charles, finally preparing to ascend to the throne, answers "I felt the same." Are we meant to laugh at that line, as many did at the preview I saw of "King Charles III"? Does playwright Mike Bartlett want the exchange to be a cheap joke, a camped-up wink at the tabloid-ready burdens of the royal family? ... This is just the first of many perplexing moments in the Olivier-winning London smash, times when I felt tossed around by the inconsistent tone and confusing intentions in what is cleverly subtitled "a future history play."
Ascension? It's a Royal Pain, in Suspenseful "Future History" Drama "King Charles III" - NBC New York
First, it's bracingly suspenseful for a story that hinges on a parliamentary bill. Next, there's a misandrist streak here for the ages-one departs with the notion that royal males are oafish, and the U.K. is run by emboldened women. Last, the story is told in iambic pentameter and modeled on a clutch of Shakespearean tragedies and histories. The language, though, is contemporary and straightforward: "But now I'll rise to how things have to be. The queen is dead, long live the King. That's me."
King Charles III Broadway Cast