BWW Interviews: PEACHES CHRIST on Future Projects, Drag, and Loving Yourself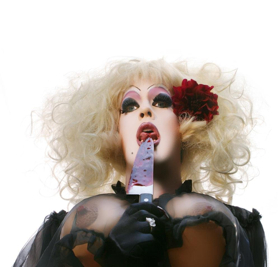 Peaches Christ, a true superstar of the West Coast drag scene, is soon to grace South Florida with the regional premiere of Mister Act. Along for the ride is returning star Willam, long-time partner Heklina, and Ft. Lauderdale favorite Latrice Royale. More than anything, this marks Peaches Christ Florida stage premiere! I got a valuable thirty minutes to speak with Peaches, who opened her soul and switched back and forth to the vulnerable Joshua Grannell, giving a powerful and captivating set of answers to anything I could throw her way.
Looking back on her two plus decades in and out of drag, looking at her next projects, and looking at her reflection. There's so much to look at, and it's something you'd never want to look away from - Peaches is an incredible artist. Her versatility comes through, and with so many upcoming opportunities , it'd be criminal for anybody to miss out on what this jack-of-all-trades has to offer. Mister Act and Drag Becomes Her are entering production, on each coast. But let's let the master of her trade speak her transgressive mind.
---
BWW: Miss Christ - you first beat your face in Jizzmopper: A Love Story over two decades ago, and along this long road you've become one of the most passionate artists in all of California, and, really, the West Coast. You've got dozens of stage shows and films tucked under your belt. You've gotten to collaborate with some of your idols (I'll say almost all of them), and you say your dream is to keep producing your events, and the occasional midnight mass type event. But what would you say is the next step in the evolution of Peaches Christ?
Peaches Christ: Well, there are a couple projects [right now]. My career has been so strange and so unique in a sense, because it's been an adult manifestation of many childhood dreams. Loving movies, being a fan of movies, discovering drag in a very young age, wanting to be both a film maker and a performer... also loving horror and haunted houses and spooky stuff - my adult career has really been a throwing all of that stuff, those obsessions into a blender and kind of spinning it back out in stage shows and movies. Both on stage and in front of the camera, as well as being behind the scenes, because I'm often the writer and director and producer of the stuff. I am really satisfied and really love what I do. There are a few more things that I would like to do if, you know, if given the time on this planet-
BWW: (laughs)
PC: I'd like to make another movie. I feel like All About Evil was the movie that little Joshua needed to make, the little boy who was obsessed with spooky horror movies. Now I'd like to make the feature length movie that Peaches Christ would make. I'm working on a drag feature film; if you like my stage shows, you'll probably like this movie!
BWW: Will it be a musical?
PC: It is a musical!
BWW: (laughs)
PC: It's a very twisted musical with original music. Actually, we're working on it now, we're putting it together, and without giving too much away - although this is gonna give everything away (laughs)... The movie answers the question, "What happens when two drag performers perform the same Grey Gardens parody for forty years?"
BWW: Oh no! (laughs)
PC: So, (chuckles) it takes place in the future. It's gonna involve a lot of prosthetics. I'm sure your readers can guess who is in it, but there might be a few surprises!
This is the Peaches Christ feature film that we just have not made yet; All About Evil was not the Peaches Christ feature film, it was the Joshua feature film. I'm SUPER proud of it, and I really learned a lot! But it's time for Peaches to make a featured film.
Another project, that's kind of a lifelong dream, I've been working on behind the scenes, is to someday have my own spectacular, fantastic Haunted House. That's something I'm working on... Those are the two things, the two big projects for the future.
BWW: Just hearing how you're talking about those projects it's part of what's so wonderful about you, what so many RuPaul('s Drag Race) viewers loved about Sharon Needles when she came out of season 4. That ability to plant your flag so firmly whenever you perform. You've called yourself "offensive and transgressive," "pissed and angry and gothic," but you're really progressive as an artist-
PC: (laughs)
BWW: What was the moment, or moments, when Peaches looked at Joshua and said, "This is who I am."?
PC: Wow that's- (pause) I would say that it wasn't one moment, that it was a series of moments... Over the course of my life. I would say that the first time that I did drag that was definitely a scary thing for me because it went against the grain of everything I grew up with socially. Of course, coming out of the closet and all the normal stuff that any queer kid takes to embrace himself. But it probably wasn't until I was in my later twenties, and realized that Midnight Mass had built an audience who needed me, in some ways, to keep making shows. I'll say that was a real recognition - that we had created something that spoke to people who wanted and needed to laugh, and be part of a group of people, and that responsibility.
I really at first didn't want, and didn't understand, but it was in my later twenties when I said, "Hey, this thing, this clown, this crazy creature you created, Peaches Christ, this is bigger than you." It was bigger than one person. All the people who work on my shows all the people come to the shows, all the people who enjoy what we've created... [I] sort of have a responsibility to deliver for them. And this is now what I'm going to do. It was really me really embracing it, kind of going "I'm gonna do this full time, this is what I want to do." I want to create a universe around this character.
They call that period of your life - And I didn't understand that at the time, but I guess every seven years, we go through a kind of a rebirth. The most intense - this is so Bay Area of me!
BWW: (laughs)
PC: I guess the most intense is when you're 28. I didn't realize it at the time, but later when I was reading about Saturn Returns, I was kind of like "holy shit! I remember that! I remember staring in the mirror, and saying, you're a clown, and you've got to love this clown, or quit drag." I chose to love the clown.
BWW: Speaking of Midnight Mass, I love the stories of your popcorn lap dances the visceral shows and the shows that are more experience than spectacle and you said horror is you bursting out of a volcano naked and can't get enough of that.
PC: (laughs)
BWW: What makes a performance truly art to you? What bridges that gap from just a show at night to an artistic event that Peaches would do?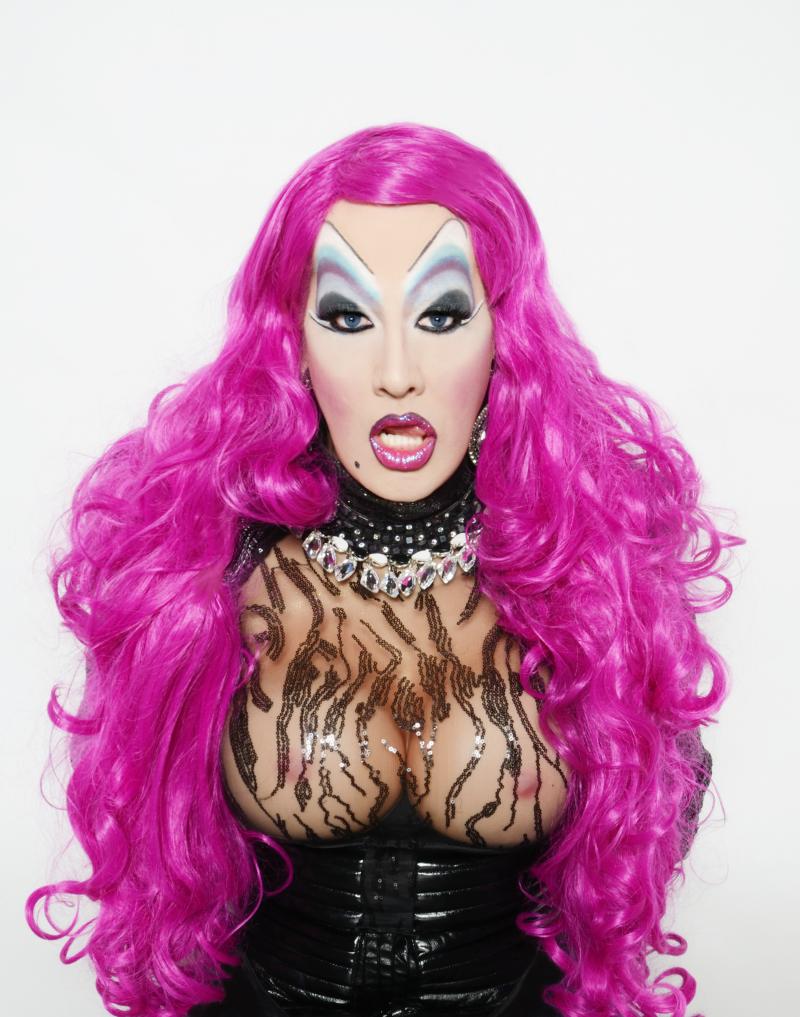 PC: Well it's funny, 'cause I'm very reluctant to call myself an artist! For whatever reason. Even though I even taught at the San Francisco Art Institute. I remember when they asked me to be an instructor there, you know, teach college students at one of the most prestigious art institutions in the country. I thought, Oh my God, I don't know if I can do this! Am I an artist, am I a real artist? They were like, of course you're an artist! You do all these things! -I guess I tend to think of myself as a showman, and an entertainer, and kind of a bit of a William Castle, kind of an impresario (sic). I work really hard to create all these things and these experiences and then people can stand back and call it art and I'm like, oh okay, well, if you say so. I tend to (laughs) I tend to not look for the art in it, but to just to follow my gut and create the best experience possible. I really love immersive theatre, I love engaging the audience. I love breaking the fourth wall. I love putting performers in the audience. So I tend to create experiences, and now more than ever, with everything going on in the world, I really want people to come to these shows and forget the daily bullshit of our lives. For ninety minutes, just be part of this weird, stupid, fantasy world that we're creating through drag and community. Just forget everything that they're doing and really have an experience. Whether, it's through something like Mister Act, where you're buying into this ludicrous scenario, or even a horror movie experience, it's all the same for me. It's just suspending reality and letting yourself go. In a way, I feel like, more than art, these days, what we do could be considered therapy.
BWW: Wow. (pause) I like that.
PC: (laughs)
BWW: I love that.
PC: Because people need to laugh, laughter is healing and right now, I'm kinda looking at what we're doing, and I'm like, God if we can make people laugh for a little while... There is this important, healthy component to it.
BWW: This past decade, we got gems like Silence! the Musical, Forbidden Broadway, all those Off-Broadway satirical gems. Then you also have immersive theatre like Natasha, Pierre and the Great Comet of 1812, the new Sweeney Todd production at Barrow Street Off Broadway. Can fans keep fingers crossed for Peaches Christ to finally hit the Great White Lane and blend these styles?
PC: (laughs) That kind of brings me back to this project I'm working on! Me and a business partner (his name is David Flower, he's a longtime party producer who became a professional Haunt producer on the East Coast) he and I have joined forces. We love things like Sleep No More and, I got to see the Hammer Horror immersive events in London (which was amazing), but we also love old school, old fashioned haunted houses with mazes and jump scares and drop panels and all of that. The project we're working on is from us, so of course it's gonna have our sensibility. It will have a sense of humor to some degree, and also scare you but it will be a more fully immersive experience where you're walking through a production and you're in the production. As you can imagine, it's very, very expensive.
BWW: (laughs) Yeah.
PC: We have to find the right amount of investment and convince people that we have an audience for this thing. It is moving forward, and like everything else I've been able to do, you just kind of live as if it's gonna happen. I'm kinda like, the poster child for that book The Secret! I didn't even read it! I've always been like "Yeah, we're making a movie, we're gonna make a movie, we're making a feature film, it's gonna be great, yeah, this person is gonna be in it, that person's gonna be in it." I had no idea it was really gonna happen, I had no reason to believe it was gonna happen, other than to believe in it. That's the way we've done everything. At this point we're telling people, "Oh yeah, we're doing a giant haunted house, that's happening," and it's gonna be part theatre, part horror experience and fully immersive. Hopefully, coming soon!
BWW: Well I look forward to that, you, I read all the interviews in the past and you've said you're a huge fan of RuPaul's Drag Race, even though it can't completely give awareness to that entire spectrum of drag. With new generations starting to rise up who are some queens or what are some art styles you're seeing that you hope more people get a chance to experience?
PC: I think Drag Race has done a phenomenal job of turning drag into televised entertainment. Really brilliant. I remember doing a show with RuPaul at my old Midnight Mass event, we were screening her movie Star-Booty, and I was just such a big RuPaul fan. I was so excited to do a show with her, and she was so lovely. On stage, she said, "I'm actually doing a reality show and it's gonna be - imagine if Top Model would sort of merge with Project Runway and I was the Tyra Banks and it was all about drag queens." I remember us all saying that sounds, "That sounds too good to be true!"
BWW: (laughs)
PC: It'll never happen. When I started doing drag, you couldn't imagine, you could not have imagined a world where Drag Race would become this popular, or that something like Drag-Con would exist. I grew up going to horror conventions. I am continually blown away by the phenomenon of Drag Race and what it opened up. And outside of Drag Race and because of Drag Race! I think things like Dragula, becoming its own TV show - it has really been satisfying. The Boulet Brothers have been very, very clear that Dragula was inspired by early Trannyshack, and the kind of community I was a part of, twenty-something years ago. Ben Santos, Squeaky Blonde, and me pulling Heklina's guts out of her stomach with a chainsaw! So I LOVE IT! Some queens, some older queens who have been doing this a long time, feel like, "Hey, why am I not getting the credit or acknowledgement that I deserve? I did this better twenty years ago!" I say, if you are gonna have that attitude, you should reach higher. This whole new generation is going to leave you in the dust! My take on it, I wanna work with this bitches! I wanna get inspiration from them I want to create stuff with them, together, and that's kind of how I've approached this whole new world of drag. Especially in the last six or seven years.
Sharon, (back to Sharon Needles) was really a water-shed moment, for the whole thing. Back in season 4, it wasn't just Sharon - it was Willam, it was Latrice, it was Chad Michaels, it was every amazing kind of drag style was represented in that season. It was just amazing. That's when it just kind of reached a much bigger audience. It's still cult! Young people ask, "Oh what do you think about drag being mainstream?" "It's not mainstream!" It's not American Idol yet. This drag does not appeal to Trump assholes. This is still a niche thing, it's just that the cult is much, much bigger than it's ever been before.
BWW: Yeah that's a great attitude for it. So i got one final question for you, and I'm just gonna start off by stating for the purpose of clarity that I personally am not a queer individual and never will understand that journey that queer youths have to take but I've heard how you talk about how Peaches taught Joshua to love himself and it's an inspiring tale of self-discovery so to the young queer artists or even artists just grappling with themselves and having difficulties accepting things about themselves, how can they find their inner Peaches Christ, how can they find what they need to create?
PC: I think the - this is so RuPaul. It's really something RuPaul's been saying for years since the early 90s, when she came out with 'Supermodel.' As cheesy and hokey as it sounds, learning to love these parts of yourself that other peers, or family members, or churches or institutions have told you are rotten, or wicked, or evil, or ugly, or gross, or, even more subtly, just different. That's absolutely the best way to get moving and get going and creating great stuff. If you still can tap into your frustrations, your anxieties (and certainly Peaches Christ was born of frustration as a child growing up in the Catholic Church and being told that I was a sinner), and you can still use all that energy... but the first thing you gotta do is give a big F.U. to anyone judging you. Embrace yourself and love yourself. I know it sounds so cheesy, especially for Peaches Christ, the wicked queen of horror(!) to embrace that motto that way. I just totally stand with RuPaul in that way, where you just have to learn to love yourself. From there, so much awesome stuff is gonna be unlocked. I think that's it.
I heard RuPaul say that 10 years before I ever understood what it meant. It's not an easy concept to embrace immediately- you have to unwrap a lot of shit sometimes. I was doing drag and still kind of internally homophobic about it! (laughs) How does that work? It's a lot of brainwashing you gotta untangle.
BWW: Thank you so much for these wonderful answers! Is there anything you want me to include?
PC: If anyone ever wanted to see Latrice Royale tackle Whoopi Goldberg... I promise you, she delivers the goods. It is very satisfying!
---
Peaches Christ's next productions are Mister Act in Ft. Lauderdale on Feb. 2nd (Tickets may be purchased online or at the door) and Drag Becomes Her in San Francisco on March 10th (Tickets may be purchased online or at the door).