Click Here to Visit the College Center

Blogs are the opinions of the authors and do not necessarily reflect the opinions of BroadwayWorld. BroadwayWorld believes in providing a platform for open and constructive conversation.

Student Blog: How to Find Connection After Almost Two Years of Isolation
Being isolated for the past year and a half has taken its toll on everyone. In college, I have found a way to regain the sense of connection that I was missing.
Coming back to school this year was a difficult transition. I felt a little bit cheated out of my freshman year, as I am sure so many can relate to. Between online classes and limited activities and clubs, meeting people and feeling connected was difficult.
This year, I decided I wanted to seek out hope and connection through my passions. One way I did this was by taking an electronic music class. I am learning about music production techniques as well as the history behind these techniques and of pioneers in the field of electronic music. This is something I have wanted to learn how to do for a while, and I am so glad I finally get to. I have found connection through this class by bonding with my classmates over our shared passion of mixing and composing music.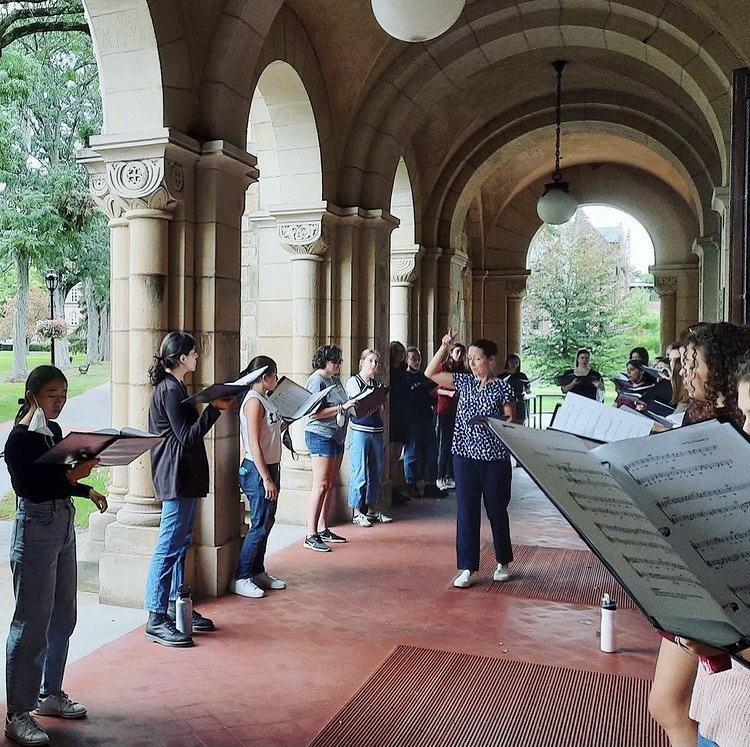 Singing has always been the thing I turned to when I had emotions I needed to let out. Music is therapy for me, and not being able to participate in that over the last year and a half was extremely difficult. Joining the Vassar College Women's Chorus has given me not only a way to continue engaging in my passion, but an amazing group of people who share that passion. I have met so many great people through Women's Chorus, and being a part of this ensemble has improved my college experience so much. I finally feel the sense of connection that I haven't had in over a year.
Even just watching live theater again has brought a lot of happiness into my college life. On October 28, I had the privilege of seeing a production of In the Green, a one-act musical by Grace McLean, that was put on at my school. The production was so well done, the performers were so talented, and the direction and musical direction were executed very well. One of my friends was the music director, and two of my friends were performers. Not only was the show amazing, but some of my close friends were involved with it, so I was also able to be really proud of my friends, which enhanced the experience even more. The incredible show as well as the pride I felt for my friends contributed to my feeling of connectedness that I have been looking for and has given me so much hope for what's to come.
So here is my advice for anyone struggling with feelings of belonging and connectedness: follow your passions. Identify the things you are the most passionate about, and find somewhere you can explore those passions and bond with others who share your passion. Whether it comes in the form of a class, a choir or show, a team, a club, a job, or anything else, just focusing on the things that interest you and bring you joy, even for just a few hours a week, will improve your overall experience.
I struggled a lot socially and emotionally freshman year. Part of that came from the unfortunate circumstances, but part of it was my lack of effort to concentrate on the activities that make me happy. I am so happy I decided to turn things around this year, and I only wish I had done it sooner.