BWW Review: A FOX ON THE FAIRWAY at Elmwood Playhouse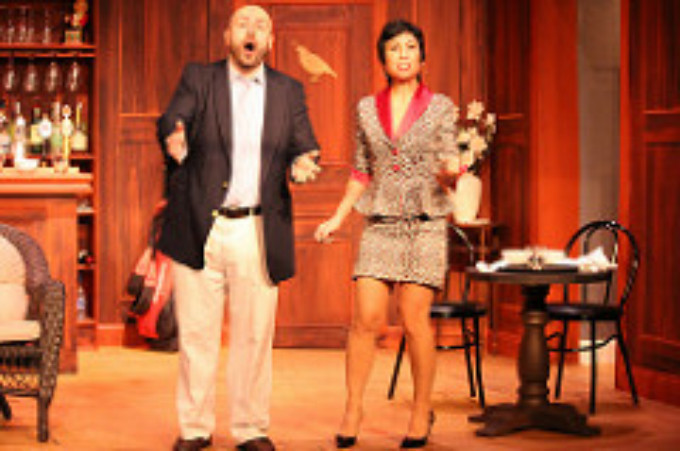 Ken Ludwig had a worldwide hit with "Lend Me a Tenor," which was a throwback of sorts to the madcap physical British stage comedies of yesteryear. According to all the press materials for his play, "A Fox on the Fairway," this play is another tribute to the great English farces of the 1930s and 1940s. And truth be told there are many valid comparisons, but the comedy is of a far less polished and elegant form in his play (the female love interest actually says she needs to kiss her paramour's "balls" for luck). This kind of low brow humor is found everywhere in "A Fox on the Fairway."
That's not to say it's not funny - at least a good portion of the time. A hyper-energized cast is uniformly first-rate, delivering yuk after yuk in rapid fire fashion and the action never lets up. A lot of the jokes feel like you've heard them somewhere before in one of the countless books on golf humor, but strung together in one evening they do make for a lot of laughs.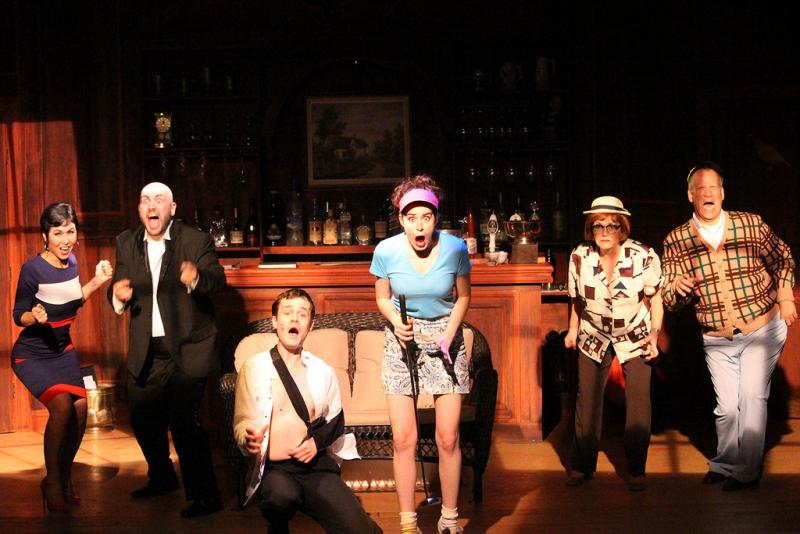 The tone is set right at the opening where characters rush onstage quoting golf one-liners like: "Golf and sex: the only things you can enjoy without being good at them," or "Bury me on the golf course, so my husband will visit!"
The plot focuses on a bet between the owners of rival country clubs, on an annual golf tournament between them. Both are convinced of their chances this year because both believe they have a ringer - however he turns out to be the same ringer and he's gone over to the dark side.
After losing his ringer, Bingham, the manager of Quail Valley Country Club (played with great gusto by Staavros Adamides) discovers, rather conveniently, that his new assistant, Justin is actually a golf prodigy. However - he's a mess, who can't play at all if he gets too excited or upset. Russell Holland as Justin, the unwitting golf pro and ardent fiancé of Louise, disintegrates from "aw, shucks", to a shaking bowl of jello when things get rough. Throughout the first half of the tourney, he kicks but and Quail Valley is on the verge of victory when a rain delay throws a wrench into the works. And when Justin's girlfriend (frantically played by Amelia Marino) accidentally flushes her family heirloom engagement ring down the toilet during the rain delay, well, you can guess what happens.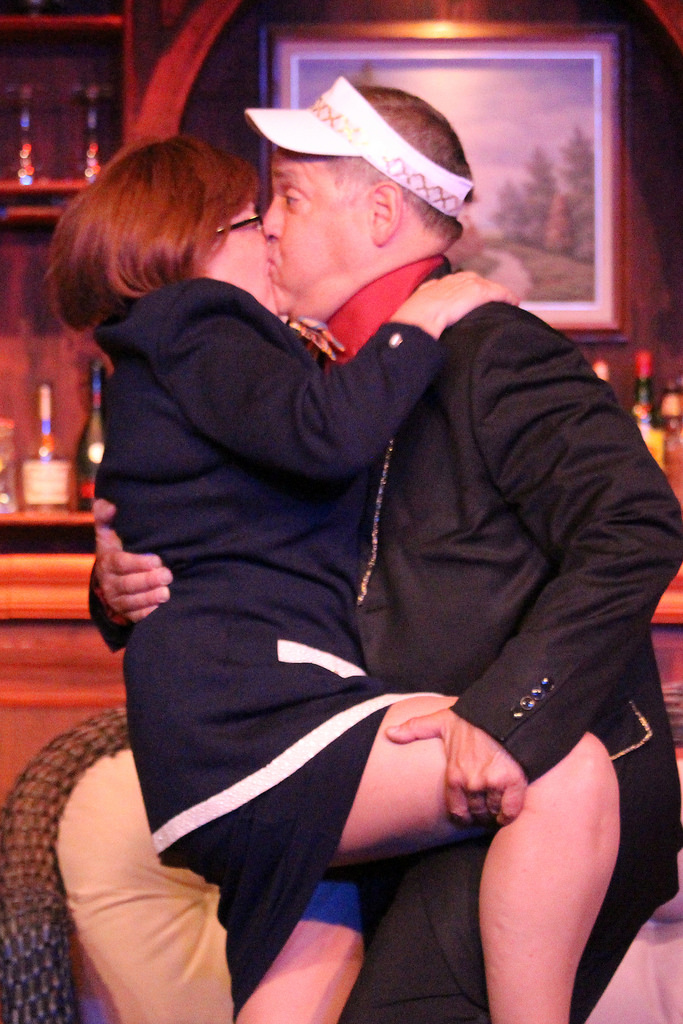 There are several subplots that keep the stakes high, like a budding romance between the married Bingham and a hard-drinking, club VP Pamela - played with great verve by Elaine D'Addezio - and lengths they will go to (or sink to) to win the tournament and the bet. A malfunctioning PA system unwittingly gives the couple the play's most uproarious moment.
The others in the strong cast include Jimmy Lugo, who delivers a spot on performance as Dickie, the sleazy president of the rival club, who is also trying to steal Bingham's wife's antique shop, in order to demolish it and build condos. Mariann Felice is absolutely hilarious as Muriel, Bingham's domineering wife, and Dickie's unlikely love interest - the creepy attraction between Muriel and Dickie is just priceless, and provides some gut-busting laughs.
Director Peter Garruba keeps a lot of balls in the air and the action moves along at a brisk pace, with all the subplots meshing together cleanly. Bill Mentz's unit set of the clubhouse tap room is both gorgeous and pitch perfect club house chic.
You don't need to be a golf nut to follow or appreciate "A Fox on the Fairway," the story and the humor are more human foible than sport acumen based. It ain't Chekov, but it's a lot of fun, and the opening night audience was rolling in the aisles.
A FOX ON THE FAIRWAY
Written By Ken Ludwig
Directed By Peter Garruba
Friday May 11th 2018 - Saturday June 2nd 2018
Elmwood Playhouse, Nyack, NY 10960
https://elmwoodplayhouse.com/show/the-fox-on-the-fairway/
Photos: Omar Kozarsky
Related Articles View More Rockland / Westchester

Stories

Shows
Peter Danish is an award-winning author and playwright. He is also a Media Marketing Consultant and Classical Arts Presenter. He is a founding member of (read more...)