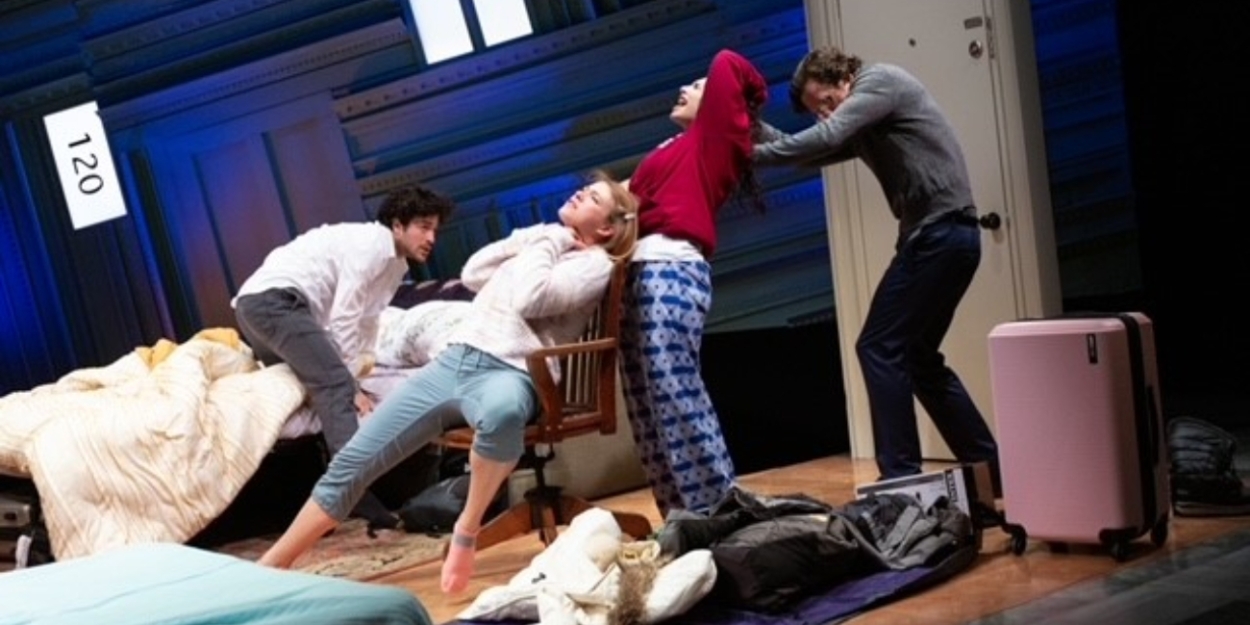 Review: BAD JEWS at Gamm Theatre
Production Runs through March 26th
I thought my family was dysfunctional...
When a beloved grandfather passes away, leaving behind a sentimental family heirloom, what would your family do to possess it? Chances are, not to the extent of this family!
Joshua Harmon, best known for his wonderful "Admissions", which also worked to bare the dark truths of family life, pens this raunchy but incredibly humorous and dark take on three siblings, a girlfriend and the fight for who deserves the heirloom the most. Their dearly-departed grandfather leaves behind his beloved Chai necklace, pronounced "Hi" and means living, and the three siblings have their own plans for what will become of the heirloom and who should possess it. Sarah Corey plays an incredible Daphna Feygenbaum, cousin to brother Liam and Jonah Haber, a devote Jew with an invisible Israeli boyfriend, whose humor keeps the play light during even the darkest of intervals. "I can't get a tattoo. I'm Jewish. It's against Jewish law". Her plan is to take the heirloom with her to Israel to live. Older cousin Liam Haber, played with such strength and anger by John Hardin(the veins busting out of his forehead seem permanent at times), is detached from his faith with little effort paid to go to his grandfather's funeral, dating a Catholic girl named Melody, played by Nora Eschenheimer, working hard to make everyone just get along. "Why does it matter where people come from. People are people." Liam feels the heirloom is his to do as he pleases. Rounding out the superior cast is Liam's submissive younger brother Jonah Haber, played by Hillel Rosenshine, who will surprise you when it matters the most.
The 100-minute production without an intermission is a tour-de-force of family emotions, mostly anger and resentment-and the search for a peaceful middle ground which is nearly impossible to find even for less dysfunctional families. Is there a definitive answer for who gets the rarest of family heirlooms with a gut-wrenching history? Likely not. Daphna and Liam especially feel entitled to it-we never find out what the hell Jonah wants, only what he doesn't.
Bad Jews is one of those plays that just touches you in many ways. It's hilarious at times but will also make you angry. Good luck finding a character to like, it'll be a tough one but that's all because the acting is that incredible. There were a few times when I wanted to tackle each character for their flaws and there were many of them. But you'll be leaving this production feeling better, hopefully, about your own family, and grateful that nothing like this ever came up to pit each of you against the other. How would you have rated if you had? Who knows.
On the Sunday, March 2 performance, audience members didn't let the picketing outside the theatre stop us from enjoying this raunchy yet humorously dark romp through a family's troubles that just may crush whatever relationship they had. When I turned into the parking lot and moved beyond the picketers, I asked my companion if he knew anything about it. "They probably haven't even seen the play or read it," he noted, which was true. When Artistic Director Tony Estrella came to greet the crowd to start the performance, he congratulated the audience for seeing two plays in one that day. When an audience member asked if he invited any of the crowd outside into the play, he said he had, "but they had no interest in seeing it". Gamm Theatre is definitely doing their share to stand against "immoral and destructive forces of discrimination" but feel any form of censorship is wrong. And we are all better for it.