SIX, HADESTOWN, MOULIN ROUGE! and More Set For Tanger Center 2023-24 Broadway Season
The season kicks off with Chicago this September!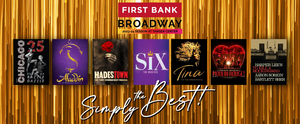 In partnership with Nederlander and Professional Facilities Management (PFM), the Steven Tanger Center for the Performing Arts has announced the First Bank Broadway, 2023-24 Season at Tanger Center. In honor of blockbuster hit Tina, Tanger Center has named this the "Simply the Best" third Broadway season, with seven direct-from-New-York shows making stops in the Piedmont Triad.
The First Bank Broadway, 2023-24 Season at Tanger Center includes:
CHICAGO: Sept. 19-24, 2023
Disney's ALADDIN: Oct. 31 - Nov. 5, 2023
Hadestown: Feb. 13-18, 2024
SIX: Mar. 5-10, 2024
TINA - The Tina Turner Musical: Mar. 26-31, 2024
Moulin Rouge! The Musical: April 16-28, 2024
Harper Lee's To Kill a Mockingbird: May 14-19, 2024
In addition to the seven Broadway season shows, two special Broadway 'add-ons' have been announced as well:

Dr. Seuss' HOW THE GRINCH STOLE CHRISTMAS: Nov. 21-26, 2023
My Fair Lady: Jan. 26-28, 2024
Broadway add-ons are currently only available to Broadway Season Seat Members for the 2023-24 season.
"We are excited to bring this extraordinary third Broadway season to the Triad," said Nick Scandalios, Executive Vice President of The Nederlander Organization. "After two outstanding seasons, we are thankful to the Triad community for their support and the ability to continue bringing the best of Broadway to the Tanger Center."
Lynn Singleton, President of PFM, noted, "Along with our partners at Nederlander and the City of Greensboro, we are thrilled about this third season lineup. The Triad community is 'simply the best!'"
"Our third Broadway season promises to be our most spectacular season to date," said Greensboro Coliseum Complex Managing Director Matt Brown. "Our partners at Nederlander and PFM have delivered an incredible lineup of acclaimed, award-winning shows. Our first two Broadway seasons have generated record-setting numbers and we expect to exceed those numbers in season three."
"We have had such a wonderful experience partnering with the Tanger Center to bring the First Bank Broadway series to Greensboro and we are very excited about the next installment of exciting shows," said Adam Currie, First Bank's Chief Banking Officer. "Continuing to show our support of the arts in the Triad and surrounding communities is important to us and who we are as a North Carolina-based bank. We're excited for the new season!"
The following information outlines the purchasing process for the First Bank Broadway, 2023-24 Season at Tanger Center:
Current Broadway Season Seat Members have first access to seats by renewing their current subscriptions by April 17 at FirstBankBroadway.com and clicking on "Renew Here."
The public on-sale for Broadway season memberships will be Tuesday, May 23 at 10 a.m. at FirstBankBroadway.com
Patrons can register to become a Tanger Center Insider for updated news and information or sign-up for early access to Season Seats here.
Please note that the on-sale dates for individual tickets to each shows is to be announced. Season Seat Members will have first chance to guarantee their seats to all seven Broadway season shows, as well as "Grinch" and "My Fair Lady."