Interview: Tony-Winning Lighting Designer Tyler Micoleau On PlayMakers Repertory Company's HAMLET
A Tony-winning Broadway lighting designer comes down to the Triangle area to work on a local production.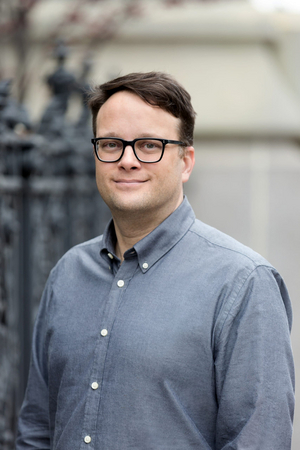 From January 25h-February 12th, PlayMakers Repertory Company will be presenting William Shakespeare's famous tragedy, HAMLET. I had the great pleasure of interviewing the lighting designer for the production, Tyler Micoleau.
He's designed extensively throughout New York as well as regionally and internationally, for world premiere plays, musicals, and operas as well as outdoor spaces and touring pieces. Among his Broadway credits are THE BAND'S VISIT (which won him a Tony Award), BE MORE CHILL, AMERICAN BUFFALO, and the recently concluded revival of INTO THE WOODS.
---
To start things off, how are rehearsals going?
TM: I work remotely. I'm in Brooklyn and the rehearsals are in North Carolina. Although I keep tabs on them daily through reports from the stage manager. I actually come down next week to start watching rehearsals and then we'll get to technical rehearsals for the play next Friday.
How did the opportunity to work on PlayMakers' production of HAMLET come about?
TM: I'm an old friend of Vivenne Benesch, the artistic director of PlayMakers Rep. She's been trying to get me to come down and design a show with her for some time now. This finally worked out schedule wise, and it's an opportunity for me to work on Shakespeare, which I haven't done in a long time. Particularly HAMLET, which I've never done before. I designed a couple shows at PlayMakers on the main stage over 12 years ago.
How would you describe your approach to the lighting with this particular play?
TM: HAMLET is very complex. It has multiple locations, interiors, exteriors, and different times of day. There's also a psychological aspect to the play where through monologues, we get more of an interior sort of psychological take on the characters. So my approach is trying to sort of accommodate all those. The complexity of the script sort of helps us define and understand when we are in an interior space and in a psychological space. I'm gonna do that hopefully with color and angle light.
Going back to the beginning, how did you first get started in the theatre?
TM: I started in public school. I was part of a drama club, and then I continued on in college where I started to design lights for productions there. From that point I started meeting professional lighting designers and realized that you could actually do this for a living. So I apprenticed with several professional lighting designers and ultimately that brought me to New York. I started assisting Off-Broadway and Broadway shows while trying to manage design work at the same time. Then eventually I made enough of a name for myself that I was in demand as a designer, not as an assistant. I did hundreds of shows Off-Broadway and then regionally and then continued on.
Your first Broadway credit, THE BAND'S VISIT, won you a Tony Award for Best Lighting Design of a Musical. What do you remember of that night from not only your win but also how well the show itself did overall?
TM: Yeah, it was a very exciting night. It was sort of a shocker, but I was grateful to be part of such a strong collaboration where all of us sort of rose to the occasion and came up with some really terrific work. Thankfully, we were recognized by the Tony voters. I remember being very nervous and running up onto the stage of Radio City Music Hall, which is enormous. I ended up running on the wrong set of staircases and turned around. So that sort of kicked things off with my nerves, but it was such a remarkable night. After my speech, I got to spend time backstage with other winners. Bruce Springsteen was backstage too. Then you go through a whole press con after that. It was quite a night.
You also got to work on the most recent revival of David Mamet's AMERICAN BUFFALO starring Sam Rockwell, Laurence Fishburne, and Darren Criss. That production was about to begin previews in March of 2020 before all of Broadway shutdown due to COVID-19. Luckily, the show managed to return last year. What was that whole process like for you?
TM: That was pretty nerve-wracking. We basically moved into the theater and I was pointing the lights where I wanted them. We were getting ready to start technical rehearsals with the actors when all of a sudden somebody came in and told us all to go home. When we came back two years later, the set was still there. We almost picked up just like time hadn't passed at all. So it was very surreal.
Your most recent Broadway credit, INTO THE WOODS, just completed its run. That production had quite a success story. It all started at New York City Center, which was a big hit. Then it quickly moved to Broadway for what was originally going to be a two-month run. Yet thanks to strong grosses and word of mouth, it extended twice. Now, the show is about to go out on the road.
TM: Yes! We're very excited about that. I saw the closing performance on January 8th, which was a crazy night. Everyone was just so excited. The fact that it's got a future on the road starting in February is very exciting. City Center is where it started out and it comes together very fast. You put together the show in about four or five days. So once you're on that train, it's sort of like you get sort of swept up in it and then you don't realize what you have until you're already in front of an audience. The audience was ecstatic about it. We had some incredible performances coupled with the musical itself, which is a really strong Sondheim work. Then to have it suddenly move to Broadway almost weeks after we came down at City Center is kinda jaw dropping.
For those who'd like to have a career in the theatre, where do you think would be a good place to start?
TM: I would try to reach out to professionals and meet with them just to buy them coffee or something and pick their brains a bit about what it's like to have a life in the theater. The work is very rewarding, but it's also very challenging. We all freelance and so we don't necessarily know where our next paycheck is coming from each gig to gig. So I would say reach out to people close to home. You don't necessarily have to go to New York right away to start out your career. Obviously starting in college or high school. Then also look to your community theaters. I did a lot of work in my community theater for the first year or so outta school
Before we go, do you have any other upcoming projects that you'd like to share with us?
TM: No. I'm really concentrating on obviously HAMLET coming up and getting the INTO THE WOODS tour going. I'm not sure yet what's coming up in the fall and I'm trying to sort that out as we speak.
Tyler, I thank you very much for devoting your time to this interview. It was great getting to talk to you.
TM: Thank you so much, Jeffrey!
---
Be sure to catch PlayMakers Repertory Company's production of HAMLET from January 25th-February 12th. For more information, please visit:
www.playmakersrep.org/show/hamlet/