Review: KODACHROME: A Photographic Journey of Being Human, at Portland Center Stage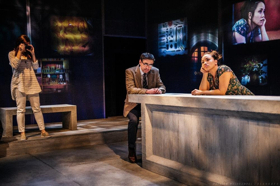 Colchester is a small town full of people just like me and you - people with hopes, dreams, and fears. They've loved and lost, or never loved at all, or want fervently to love and be loved. And they've been accepted or rejected, or sometimes both.
This is the setting of Adam Szymkowicz's new play KODACHROME, now in its world premiere production at Portland Center Stage. If it sounds familiar to you, it's because KODACHROME was part of the 2015 JAW festival, where it was presented under the title Colchester. (As a side note, nearly 70 plays have made the jump from JAW to a full production, giving Portland some serious street cred as an incubator for new work.)
KODACHROME is a guided tour of Colchester through the eyes, or rather, the lens, of a character known as the Photographer, who serves as the narrator. Her camera and her stories capture moments in the lives of the town's denizens, including the Hardware Store Owner who hasn't healed from the death of his wife, the lonely but unfailingly optimistic Florist, the Young Woman who has no idea what she really wants, and the Waitress whose daily routine has been exactly the same for the past 20 years. Put together, these moments encapsulate what it is to be a person navigating the rocky waters of love. There are some surprises along the way, but most of the characters' struggles, hopes, and fears will likely feel familiar, because they're your struggles, hopes, and fears as well. It's tender and poignant and awkward and funny all at the same time - you know, just like life.
There are 16 characters, which can be played by a cast of five to 16 actors. For this production Director Rose Riordan went with seven.
In the center is Lena Kaminsky as the Photographer. Kaminsky's approach is open and approachable, which makes the journey less like watching a play and more like taking a walk with a very chatty friend. The narration does occasionally become cumbersome, but only when the script moves from her giving voice to the characters' internal thoughts to her narrating the characters' actions in real time (If you've read my reviews in the past, you'll know this is a particular pet peeve of mine). Fortunately, this happens only occasionally.
Much of the play revolves around interactions between two characters who are somewhere on the continuum between falling in love and falling out of it. The scenes that work this space most effectively are the ones between Sharonlee McLean and John D. Haggerty, who are paired up as both the Florist and the Perfume Maker and as the Mystery Novelist and the History Professor. But I was most moved by Ryan Tresser as both the Gravedigger, an odd duck with a kind heart and a special gift, and the Young Man, who believes he can learn how to love perfectly by reading the right books.
The backdrop for the excellent performances is Daniel Meeker's beautiful set, which consists largely of photographs projected onto the walls. The pictures change as the Photographer snaps new ones, making the physical space come alive.
Overall, I highly recommend KODACHROME. You'll leave Colchester with a newfound determination to stop putting off whatever it is you've been putting off and, in the words of Harold Hill, "make today worth remembering."
KODACHROME runs in the Ellen Bye Studio at Portland Center Stage through March 18. Details and tickets here.
Photo credit: Patrick Weishampel/blankeye.tv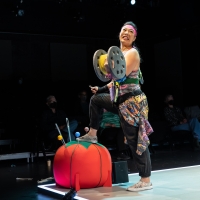 Review: KRISTINA WONG, SWEATSHOP OVERLORD at Portland Center Stage

November 18, 2022

Amed with fabric, scissors, and a sewing machine, Kristina Wong goes to war against COVID with her squad of mask-sewing Aunties. Catch her show KRISTINA WONG, SWEATSHOP OVERLORD at Portland Center Stage.
---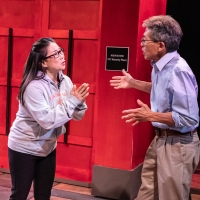 Review: KING OF THE YEES at Profile Theatre

November 9, 2022

KING OF THE YEES combines biting humor, keen social commentary, and the thrill of discovery into a touching and also wildly entertaining package.
---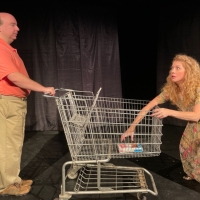 Review: LAUGHING WILD at 21ten Theatre

October 19, 2022

Through two unnamed characters – lonely people struggling to find purpose and connection – the play explores how fundamental empathy is to our existence. I give this production my absolute highest recommendation.
---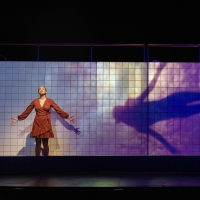 Review: THE RIPPLE, THE WAVE THAT CARRIED ME HOME at Portland Center Stage

October 18, 2022

This beautiful play wraps a history lesson about the social justice movement of the 1960s in a poignant family drama. Also, the final scene is one of the most beautiful expressions of joy I've ever seen on stage.
---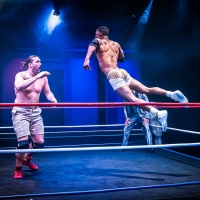 Review: THE ELABORATE ENTRANCE OF CHAD DEITY at Profile Theatre

October 14, 2022

Kristoffer Diaz's play is one of those rare treats that is a heck of a lot of fun and also has something meaningful to say.
---