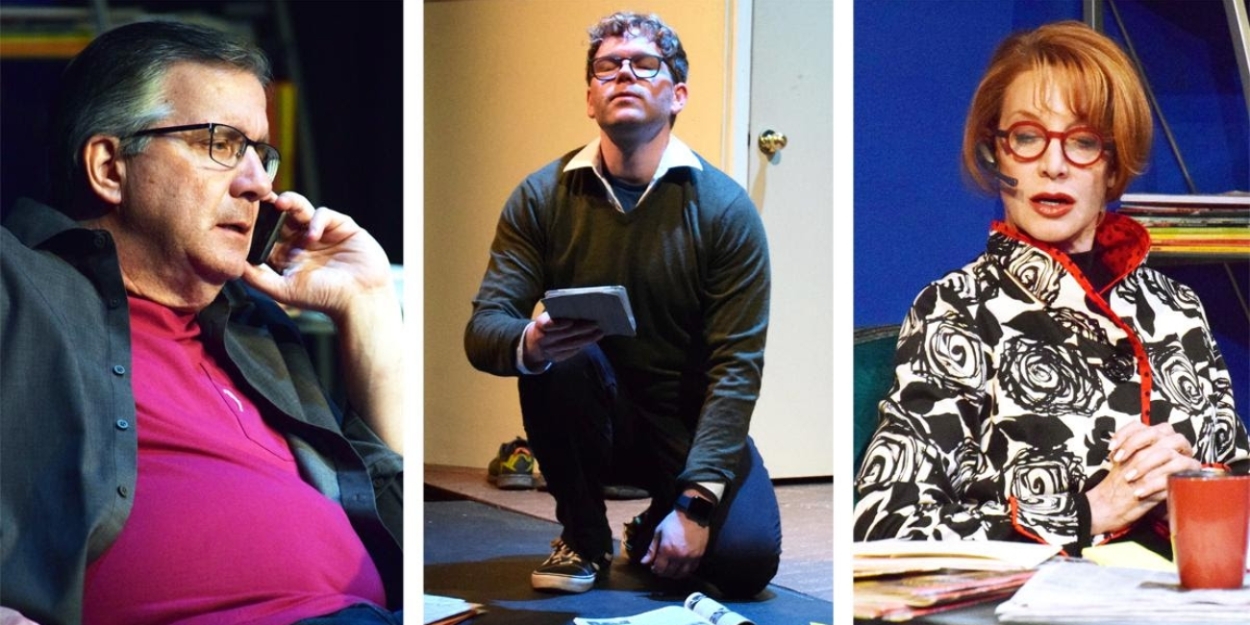 Review: THE LIFESPAN OF A FACT at Theatre Artists Studio ~ A Work of Timely Importance
The production, directed by Richard Powers Hardt, runs through February 5th at Theatre Artists Studio in Scottsdale AZ.
In the matchup of principles and wits that is at the core of THE LIFESPAN OF A FACT, literary license vies with accuracy, embellishments obfuscate truths, facts struggle to surmount fictions. A writer holds fast to his assumed authority as a story-teller. A young intern seeks to uphold the sanctity of facts. A publisher aims to do the right thing.
This is an important play, to be seen not only for the quality of the production and the outstanding performances of its cast but equally importantly for the relevance of its themes to our maddening times.
It is an important play because it places front and center the struggle that we daily confront to discern what is true in a media environment that is loaded with manipulation and misinformation...in a landscape where too many journalists, essayists, and politicians play fast and loose with the facts.
In this case, the story is that of a fact-checker's close encounter with the author of an article about the suicide of a boy named Levi Presley who, in 2002, jumped to his death from the observation deck of the Stratosphere Hotel in Las Vegas.
Playwrights Jeremy Kareken, David Murrell, and Gordon Farrell were inspired by John D'Agata and Jim Fingal's eponymous book that recounted the real-life seven-year ordeal of Fingal's fact-checking of D'Agata's essay, entitled What Happens There. (The play opened to critical acclaim at Studio 54 on Broadway in 2018 and featured Bobby Cannavale, Cherry Jones, and Daniel Radcliffe.)
On the stage of Theatre Artists Studio, the work's words become powerful weapons in the hands of their combatants. In the hands and out of the mouths of an extraordinary ensemble of actors, tautly directed with the clear-eyed vision of Richard Powers Hardt, they assume provocative power and raise unsettling questions.
Tom Koelbel delivers a commanding performance as the irascible and self-indulgent author. His D'Agata is as relentless (and smarmy) in rationalizing his embellishments of facts as Jake Nichols's Fingal is in in exposing them.
When Fingal discovers one discrepancy after another, starting with the article's first sentence, the play on words and intentions begins.
D'Agata has written that, at the time of Presley's fall, there were thirty-four licensed strip clubs in Las Vegas. Fingal's fact-checking finds there were 31. A minor variance, perhaps, but nevertheless false, and yet, D'Agata's justification is that "the rhythm of 34 works better in that sentence than the rhythm of 31."
And so it goes with each unearthing of the author's willful misstatements in the name of literary license. Accuracy is subordinated to some kind of literary aesthetic. However, that compromise comes at a terrible cost when Fingal reveals that another suicide-by-fall occurred on the same day and that D'Agata had altered the death to be a suicide-by-hanging. D'Agata's egregious rationale: "Because I wanted Levi's death to be the only one from falling that day. I wanted his death to be more unique."
Debra Rich delivers a taut and stirring performance as Emily Penrose, the no-nonsense publisher on a deadline who charges Fingal to complete the fact-checking within a weekend. She is determined that the story be accurate because her financially-challenged publication needs a winner. If D'Agata's story isn't fit to print, the feeble alternative will be one on Congressional wives. When D'Agata and Fingal are at each other's throats, she enters the fray as negotiator, only to be encumbered by the overarching question of the play ~ How negotiable is a fact?
As the play progresses, so too does the development of the characters.
Koelbel's irascibility softens under the continued pressure of the fact-checker.
Nichols emerges a force on stage, seemingly timid and uncertain at the play's commencement and eager to prove himself, but by play's end a force of strength, quixotic idealism and virtue.
Rich is outstanding as the embattled voice of conscience and reason, struggling to make a profoundly important choice ~ to publish or not to publish. That, for the audience, too, is the unresolved and thorny question.
Praise be to this cast whose chemistry galvanizes the dialogue and sharpens the edge of every minute of their performance and to director Hardt for creating a taut, fast-paced and intense dramatic experience, infused with moments of irony and humor.
A thought-provoking play on a subject of critical importance to a free society, THE LIFESPAN OF A FACT runs through February 5th.
Theatre Artists Studio ~ 4848 E Cactus Rd #406, Scottsdale, AZ ~ https://www.thestudiophx.org/ ~ 602-765-0120
Photo credit to TAS: Top row, L to R: Koelbel, Nichols, Rich