Review: Cybill Shepherd And James Brolin Give ROSE Its Radiant Bloom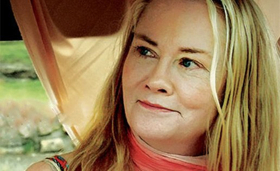 What do you do with the rest of your life when there's not much of it left? When the unexpected diagnosis lays claim to your mortality?
For Rose Jones ~ an ex-cop, a widow, and a mother estranged from her son ~ the answer is to embark by wheelchair on the open road (destination, uncertain!), leaving the comfort (and solitude) of her home and the camaraderie of her friends, a sidearm her protection and a few joints her relaxation.
It might seem that this could be the introduction to a comedy, but Rod McCall's ROSE is instead a rich and bittersweet drama that bundles themes of life and death, loss, love, reconciliation, and legacy into a single beautifully crafted film.
Cybill Shepherd (she of The Last Picture Show and The Heartbreak Kid, of Moonlighting and Cybill) returns to the screen in a captivating performance as the woman on the final adventure of her life. Despite the misgivings of her friends, Rose is determined to live her last days to the fullest, even if that amounts to hopping from one spa to another and toking at rest stops along the way.
Travels with Rose are at once quixotic and yet so remarkably grounded.
The road has its risks ~ a surly thief (Mark Vasconcellos) who learns to his chagrin that Rose is not one to be assailed.
The road has its unanticipated and generous encounters ~ Lilly (Pam Grier, in a spirited return to the screen, evoking a lovely mix of empathy and sisterhood), a spa mate who becomes a kindred spirit; Ernesto (Julio Cedillo), a forgiving and sympathetic highway patrolman whose history ironically converges with Rose's.
The road has its crucial challenge ~ a strained attempt at reconciliation with her son Will (Erik Fellows), a despondent, angry, and unforgiving young man.
And, the road delivers love to Rose in the form of Max Hightower, a quiet self-reliant Marlboro Man of a man with a heart of gold. James Brolin plays the role with perfection. A controlled manner, steely eyes, rugged determination ~ Max persists in winning Rose's heart, despite her anxiety and resistance. If there's a match to be made before heaven, Rose and Max are it ~ for as far as it can go and as long as it can last.
If there's a match to be made of actors, Shepherd and Brolin fit the bill. The two bring a marvelous chemistry to the film. Shepherd carries the weight of Rose's life on her shoulders, in her eyes, and with an enigmatic and transfixing Mona Lisa smile that is somewhere between mournful and serene, wondering and wise. Brolin mirrors Rose's stoicism, bearing his own pain ~ going through a divorce, reckoning with the emotions of his own daughter (Aimee Williams) ~ but he's a romantic at heart (a sometimes artist) and dogged in his pursuit of this unique woman.
Brian Ralston's scoring and arrangements ~ replete with acoustic guitars, mandolins, and flutes ~ imbue Rose's narrative with moods that range from melancholy to hopeful, from meditative to ethereal. The cinematography of Colemar Nichols captures the landscape of Rose's journey and rounds out an exquisitely directed film.
At the end of the trail, the mutual fidelity of the film's collective of characters denotes an enduring message about the value of loving and having been loved as the ultimate evidence of one's presence on earth. It is that special something we leave behind as a reminder that we were here.
There is, too, Mr. McCall's resonant message that "sometimes, love takes the backroads."
ROSE was one of the featured films at this year's Sedona International Film Festival ~ and, attesting to the power of the story, the performances, and the overall production, it tied for the Best Feature Film-Drama in the Directors' Choice Awards.
The film will continue to make the rounds at festivals throughout the country ~ so, my recommendation is to watch for it and enjoy.
Photo credit to Tesoro Pictures