Review: BLK BOX PHX Presents I AM MY OWN WIFE ~ Seth Tucker's Performance Is A Tour De Force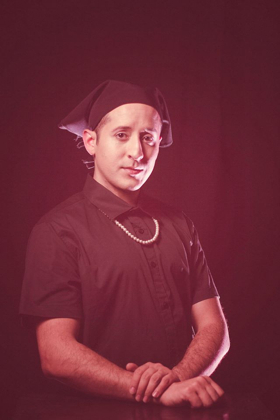 "It seems to me you're an impossibility. You shouldn't even exist."
With these words, Doug Wright (the playwright whose handiwork includes Quills, War Paint, and Hands on a Hardbody) declares his fascination with Charlotte von Mahlsdorf, the iconic hero(ine) of I AM MY OWN WIFE, his 2004 Pulitzer Prize and Tony award-winning play.
The one-man drama is, in part, a profile of a person of courage, whose distinctive attributes ~ a transvestite, a romantic, and an antiquarian with a devotion to the collection of kitsch ~ make her story of survival during the worst of times (the horrors of the Third Reich, an abusive Nazi father, and the Soviet occupation of East Germany) the stuff of legend. In part, Charlotte's story is wrapped in a mystery about the extent of her alleged role as a collaborator with the Stasi, the ruthless secret police of East Germany.
Perhaps, the challenge of reconciling the different versions of Charlotte gives the play the precise kind of tension that makes it so compelling. For Wright, the verdict is summed up in his character's acquiescence to the good side of the story: "I need to believe that things like this are true."
In an astonishing display of jaw-dropping artistry, Seth Tucker becomes Charlotte.
Tucker registers ~ with posture, subtle gestures and facial expressions ~ the depth and range of his character's style and moods ~ the delicacy with which Charlotte touches her prized artifacts or the pearls around her neck, the deliberateness with which she carefully weighs each word, the telling glances that suggest motive. Tucker shifts, as well, seamlessly, into the voices of over thirty characters (reporters, officials, parents, confidantes) that affect Charlotte's life. All told, Tucker's two-hour performance amounts to a tour de force.
Elaine "E.E." Moe superbly crafted direction of the play is enhanced by an attention to detail that is evidenced in Tiana Torrilhon's set design, Daniel Davisson's dramatic lighting, and Petey Swartz's amazing accumulation of pertinent props.
With the advent in the Phoenix area of new small theatre companies devoted to showcasing diversity of work and talents, such plays as Wright's are getting proper exposure. Thanks to cultural creative Daniel Davisson and his brainchild, BLK BOX PHX, I AM MY OWN WIFE is on stage and Seth Tucker's range and versatility are on display.
I AM MY OWN WIFE, a definite must-see, runs through March 16th at The Phoenix Theatre Company's Judith Hardes Theatre in Phoenix.
Photo credit to Reg Madison
Blk Box PHX ~ https://blkboxphx.com
Venue: The Phoenix Theatre Company
https://www.phoenixtheatre.com
1825 N. Central Avenue, Phoenix
Box office: 602-734-5734 or http://blkboxphx.com