BWW Interview: HAMILTON's Ta'Rea Campbell Talks Starring as Angelica Schuyler in the National Tour's 'Philip Cast'
The Hamilton 'Philip Company' is performing in Jacksonville, Philadelphia, Providence, Buffalo, Ottawa, Dayton and more.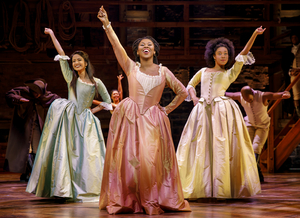 The Philip Company of Hamilton has stepped back on stage after a long intermission without live theatre to bring one of the biggest Broadway shows of all time to venues around the country. Featuring a stellar cast, the national tour will be making stops in Philadelphia, Providence, Buffalo, Ottawa, Dayton and more!
BroadwayWorld spoke with Ta'Rea Campbell, the Hamilton Philip Company's own Angelica Schuyler, to discuss stepping back on stage after a year and a half, how she's changed as a performer, her favorite things about Angelica Schuyler, and more!
---
What were your first thoughts when you got the call that you would be starring as Angelica in the national tour of Hamilton?
Oh, it was literally almost four years ago. I got this call summer 2017, and Hamilton hadn't been on my radar. I'd seen it at The Public, the first performance, I saw opening night on Broadway, and I just thought that it was the most amazing show. And I said, "Ugh, that cast is just so perfectly cast I can't imagine anyone else playing any of those roles." And lo and behold, a few years later I got my turn to audition, and it was a very quick process, and I got the part of Angelica, and I was floored. I was really happy. I was actually in St. Louis doing a show at The Muny, I was sitting on something backstage, some kind of piece of equipment, and that's where I got the news. I was beside myself.
And what about this time, knowing that you were going to be able to return to the role after the last year and a half? How did that feel?
Hamilton, as I'm sure it is all of the shows, never let us think that the roles wouldn't be there for us when we came back. It was just a matter of when we were coming back. The world still is in a pandemic, and it is still scary, and there are still risks, so I'm just doing all I can to minimize my risks so that I can continue to bring this story on stage every night. It's hard to live in a bubble and not go out or not do all the things that you want to do, but if we want theater to continue, if we want the world to continue, we have to all do our part. So, I'm happily obliging.
Like you said, the tour has kicked off, you're back on stage, you're traveling, you're performing, you're being careful, of course. How does it feel to be in front of a live audience in so many states? Having the pleasure of doing that again after all this time?
We had an invited dress where we were able to invite family and friends, but the majority of the audience was filled with First Responders. And it was wonderful, it was electric. The energy from the audience was unlike anything I'd ever experienced before, because people were hungry for it, people needed it. And we needed to give it. It's really difficult to put into words what it felt like, but for lack of a better word, it actually felt like magic. It felt like we were on the verge of something great again. And we hadn't felt that in a really long time.
I know the last year and a half has changed us all as people, but did you find that it changed you as a performer in any way?
Well, yes, absolutely, because I am a performer, it's who I am, but the last year and a half made me be more grateful for every single moment, and that translates everywhere. That translates when I'm a little frustrated because it's raining outside, and that's okay. It translates when I get to perform in front of an audience. That translates when I get to see young girls walking out of the theater in their little Schuyler sister dresses. Because of COVID, we aren't able to do stage door autographs and pictures, but I still see them all, and my heart still flutters just like it would before, when we were able to meet and greet the people. So, I am taking nothing for granted. I am super grateful for every single moment, every single thing that life is giving us, because we still have life. We lost so many people from this horrible pandemic, and every day that I get to breathe in and out is a blessing within itself. So, that translates in my life and onstage.
And how has it been working with the incredible cast of the Philip Company of Hamilton?
The Philip Company of Hamilton, write this down, is amazing. My company is so good, I feel so honored to work with such amazing performers and crew members, and the leadership team. Our cast and crew are amazing, and so talented, and so giving, and everyone just wants to be here so bad that the bond is even stronger.
You are a Philadelphia native, and the tour is making a stop at the Academy of Music in Philly from the end of October to the end of November. How does that feel for you, knowing that you are going to be starring in the national tour of Hamilton, doing that in front of a hometown audience?
It's beginning, the text messages are coming and the phone calls are coming and my family is so proud, my friends are so proud. I'm excited. The last time I was in Philadelphia on stage was when I was starring in Sister Act as Deloris Van Cartier, and I got to perform at the Academy of Music as well. But, the funny thing is, is the time before that when I was onstage at the Academy of Music, was when I was graduating from high school. That's where we had our high school graduation. So, to be back in Philadelphia with Sister Act, and then to come back to Philadelphia with Hamilton, it's the gift that just keeps on giving. I'm so blessed to be able to show my family and my friends and my city what we do, what we are, what Hamilton is, what the Philip Company is.
What would you say is your favorite part about getting to play Angelica Schuyler?
I think Angelica Schuyler is a strong woman, and I think the women in Hamilton don't get as much attention as the men - it is about the founding fathers, not about the fabulous sisters - but, I think that she is complex, and she is strong, and she says what she wants, and she says what she thinks, and she doesn't back down, and she's vulnerable, and all of those things make up who I am, make up strong women, make up the majority of women that I know. We aren't just one thing. If you see a strong woman, you better believe there are ten other things about her, and not all of them surround being strong, some of them surround being vulnerable. Vulnerability or a softness does not indicate a weakness. And I think that the beautiful thing about Angelica Schuyler is that she is so complex, and it is so wonderful to play. As an actor, what a gift to be able to play a complex character, what a gift to play someone that's more than just one note. And she gets to sing the best song in the show, so, come on!
---
Up next for the tour is a stop at Philadelphia's Kimmel Center [Academy of Music] from October 20th - November 28, 2021.
HAMILTON is the story of America then, told by America now. Featuring a score that blends hip-hop, jazz, R&B and Broadway, HAMILTON has taken the story of American founding father Alexander Hamilton and created a revolutionary moment in theatre-a musical that has had a profound impact on culture, politics, and education.
For more information visit: HamiltonMusical.com