Latest News on Timothy Huang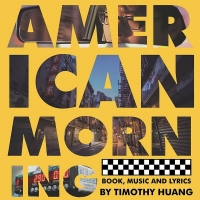 BWW Exclusive: Listen to Josh dela Cruz & Raymond J Lee Sing from AMERICAN MORNING!
by BroadwayWorld TV - Jun 17, 2020
On Friday, June 19, Kate Hall & Gary Lynch and The Lisa Cleff Kurtz and Michael Kurtz Foundation, in association with Less Than Rent Theatre, will release the studio cast recording of American Morning, with book, music and lyrics by Timothy Huang.
STAGE TUBE: Trailer For INSPIRED 4: A BENEFIT CONCERT, Starring Kerrigan & Lowdermilk, Bobby Cronin and More
by Stage Tube - Mar 19, 2014
Kerrigan & Lowdermilk, Bobby Cronin, Timothy Huang, Lyons & Pakchar, Leanna Renee Hieber, William Demaniow, Amanda Taraska star in INSPIRED 4: A Benefit Concert for Eleventh Hour Rescue NJ & The Low Cost Vet Mobile NYC, on Monday, March 31 at 7pm at Stage 72, NYC. Scroll down to watch the trailer!
STAGE TUBE: Promo for THEATERSPEAK's WRITE OUT FRONT - J. Stephen Brantley Writes a Play
by Stage Tube - Aug 4, 2012
THEATERSPEAK will present an installation of more than 70 award-winning and emerging playwrights writing new plays in the storefront window of the Drama Book Shop during store hours, August 13th - September 1st, In each two-hour time slot, a different playwright will write their play on a laptop, while the screen shot of their computer is visible to the street, opening their process up to the passerby on the street. Below, check out a video promo for the event, featuring J.Stephen Brantley of Hard Sparks writing a play