Latest News on Lena Gabrielle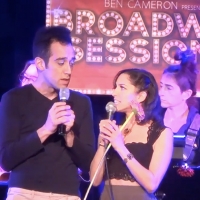 BWW TV: EMOJILAND Cast Smizes Through the Latest Broadway Sessions!
by Ben Cameron - Jan 29, 2020
This past Thursday at Broadway Sessions we were joined by cast & band members from Emojiland and just had an absolute blast! Performers included Heather Makalani (Aladdin), George Abud (The Band's Visit), Lena Gabrielle (Emojiland Music Director), Jacob Dickey (Aladdin), Tanisha Moore (Charlie and The Chocolate Factory), Jordan Fife Hunt (A Chorus Line), Ann Harada (Avenue Q), Laura Schein (Co-Writer and Star of Emojiland) with guest performers Isabel Stein and Zach Herman.  

VIDEO: Get A First Look at The John W. Engeman Theater's AIDA
by Alan Henry - May 17, 2019
The John W. Engeman Theater presents AIDA! Performances began on Thursday, May 9 and run through Sunday, June 23, 2019. Check out videos from the production below!