Stage Credits
  [Broadway]
Original Broadway Production, 1909
Bill Webster
Spread Eagle
  [Broadway]
1907
Brother Doless
Stage
Performances
  [Broadway]
Original Broadway Production, 1909
Bill Webster
Spread Eagle
  [Broadway]
1907
Brother Doless
Sam Lucas News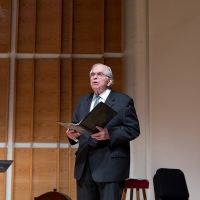 Veteran Actor Of Screen And Stage - Jordan Charney - Will Appear At PREformances At Merkin Hall
by A.A. Cristi - Feb 13, 2020
For over half a century Jordan Charney has been a forceful presence in the world of entertainment as a performer, writer, director and teacher.
BAFTA Los Angeles Grows 2019 Newcomers Program Ranks
by Kaitlin Milligan - Nov 8, 2019
The British Academy of Film and Television Arts Los Angeles (BAFTA Los Angeles) today announced the 2019 participants for its prestigious Newcomers Program. Since last year's expansion to include international talent beyond the U.K., BAFTA Los Angeles has become a hub for international rising talent in the U.S., and the program continues to further deliver BAFTA's mission to promote cultural exchange and strengthen global collaboration, with its most international group yet. This year, participants hail from across the globe, with representation from the U.K., Australia, China, France, Hong Kong, India, Israel, Nigeria, Poland, South Africa and Turkey.
Jodie Whittaker, Hugh Grant Among BAFTA's 2018 New Members - See Full List
by Kaitlin Milligan - Dec 12, 2018
BAFTA has revealed the intake of new members for 2018.

On Her Shoulders presents PAULINE HOPKINS, 3/15
by A.A. Cristi - Feb 19, 2018
On Her Shoulders is pleased to present a staged reading of PECILIAR SAM by Pauline Hopkins, directed by Arminda Thomas on Thursday, March 15, 2018. Doors open at 6:45pm for a prompt start at 7:00pm with The Play in Context Introduction by Celia Braxton, who situates the script in its historical time and place,. Admission is by Donation. Running time, including a post-performance Q&A is approximately 100 minutes. The performance is at The New School, Wollman Hall, 65 West 11th Street, New York, NY. R.S.V.P. to OnHerShouldersReservations@gmail.com.
BREAKFAST AT TIFFANY'S, THE MATRIX, & More to Be Added to National Film Registry
by Tyler Peterson - Dec 19, 2012
The excitement of national football; the first black star of an American feature-length film; the visionary battle between man and machine; and an award-winning actress born yesterday are part of a kaleidoscope of cinematic moments captured on film and tapped for preservation. The Librarian of Congress James H. Billington today named 25 motion pictures that have been selected for inclusion in the National Film Registry of the Library of Congress. These cinematic treasures represent important cultural, artistic and historic achievements in filmmaking.
Sam Lucas Frequently Asked Questions
How many Broadway shows has Sam Lucas been in?
Sam Lucas has appeared on Broadway in 2 shows.
How many West End shows has Sam Lucas been in?
Sam Lucas has not appeared in the West End