BWW Exclusive: In Honor of National Puppet Day, Meet Off-Broadway's Puppet Master Andy Gaukel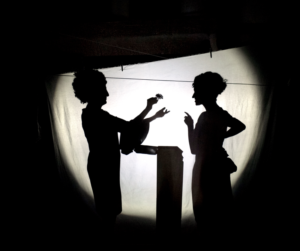 By Cat Reynolds
Damon Runyon and Andy Gaukel are unlikely collaborators. The 20th-century writer of short stories is best known for capturing a colorful Prohibition-era Broadway. Gaukel is a modern-day artist who tells poignant narratives through puppetry.
Seventy years after Runyon's death, the world premiere of the play Three Wise Guys -- a delightful new comedy written by Scott Alan Evans and Jeffrey Couchman produced by TACT/The Actors Company Theatre -- unites the talents of these two using shadow puppetry to help tell a story inspired by two of Runyon's short stories.
In pivotal moments throughout Three Wise Guys, the authors envisioned the use of shadow plays to illustrate the memories and anecdotes of the characters. Evans, who is also the show's director, searched for a puppet designer with whom to collaborate and Gaukel was the clear choice. "Andy's talent and creativity shine brightly through this medium," says Evans, "and his imaginative work now complements the overall production with stunning visuals that enhance the play's storytelling and help create its overall look and feel."
An acting graduate of the University of Kentucky with an MFA from Trinity Repertory, Gaukel first started puppeteering with the Madcap Puppets, a Cincinnati-based theater company, where he learned the basics of this art by working with Muppet-style puppets. Years later when playwright Paula Vogel was developing and premiering The Long Christmas Ride Home, a play that infused acting with puppetry, Gaukel begged to be allowed to audition. Armed with his unique talents and puppeting experience, he made the cast. "The rest," he says, "is puppet history."
Gaukel was destined to work in showbiz, the natural ability for the arts rooted in his history. "My life in the theatre began with my family," he says. "My grandmother was an actress in the 1940s and my grandfather worked for Singer Sewing Machines. They ran a theatrical supply business called Theatre House that sold props, lights, makeup and costumes. So theatre and the arts have always been in my life."
Gaukel comes to TACT after working with famed New York City puppeteer Basil Twist, a MacArthur genius grant recipient in 2015, on the acclaimed underwater puppet show Symphonie Fantastique. Most recently, he also premiered work of his own in France and toured Europe as a bonafide puppet master.
When reading the script for Three Wise Guys for the first time, Gaukel says he tried imagining the story done completely with puppets, especially shadow puppetry. Now, thanks to the talents of the play's seven actors, the elements Gaukel first envisioned that day spring to life at the Beckett Theatre.
Taught by Gaukel how to tell a story by manipulating certain materials held between a source of light and a translucent scrim, the actors -- most of whom have no puppetry experience -- use cut-out figures and handheld lights to help tell of the story.
Gaukel says his approach in creating any piece is to give the puppeteers or, in this case, the actors, "the opportunity to play. I give them free reign to come up with their own styles and movement so that they have complete ownership. It's a wonderfully collaborative experience between designers and actors."
Three Wise Guys runs through April 14th at the Beckett Theatre in Theatre Row, 410 W. 42nd St. For more information about the show or to purchase tickets, visit www.tactnyc.org.