BWW Review: MY FAIR LADY at Te Auaha - Tapere Nui (Big Theatre), Wellington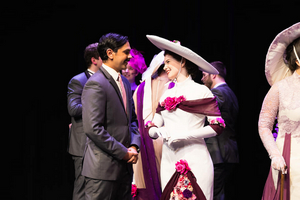 Reviewed by Lindsey Rusling
Mark Steyn called My Fair Lady the "perfect musical" with the 1956 Broadway production winning a number of Tonys and setting records for the longest run of any show on Broadway up to that time. It has since been followed by numerous revivals including a popular film version starring Rex Harrison and Audrey Hepburn in 1964.
An adaptation of George Bernard Shaw's Pygmalion (a complex social comedy about class and gender) the story follows Eliza Doolittle (Catherine Gavigan-Binnie), an Edwardian, London flower girl who seizes the opportunity to better her standing in life by taking elocution lessons from the irascible and self-absorbed, phonetician Professor Henry Higgins (Ed Blunden).
Lerner and Loewe's score is iconic, giving rise to hits such as "I Could Have Danced All Night" and "I've Grown Accustomed to Her Face" and it is the combination of brilliant lyrics, well-integrated score and incisive source material that creates such a heart-warming, popular and charming musical that is impossible not to enjoy and Sue Windsor and her orchestra deliver.
Director, Michael Stebbings, does well to bring the musical up-to-date by giving Eliza strength of character, control and placing the main focus of the production on her journey to self-improvement. The suggestion of romance between the two leads was anathema to Bernard Shaw and, although, it is the popular outcome, Stebbings and cast ensure that the audience are aware that Eliza and Higgins have both been transformed and enriched by learning from each other on their journey rather than being purely romantically linked.
Catherine Gavigan-Binnie's Eliza is forthright, determined, independent and not a little unlike Audrey Hepburn in places. Her singing is "loverly" and she handles the wide-ranging and difficult songs professionally but at times there were glimpses of the actor which would benefit from a little more grit, intention and physical energy in line delivery particularly in the early stages.
Ed Blunden's Higgins is wonderfully egocentric without the cruelty of Harrison. He spits lines and lyrics with alacrity and genuinely treats Eliza as completely inconsequential (much to the modern audience's amused disgust).
The talented cast is rounded out by Mike Bryant (an adorably enjoyable and comically adroit Colonel Pickering), Patrick Jennings as a jolly, sharp and exuberant Alfred Doolittle, Margaret Hill (the attentive, stalwart but caring Housekeeper; Mrs Pearce) and the immature, romantic but ineffectual "stalker" Freddy Eynsford-Hill (Vishan Appanna) who delivers a gently obsessed "On the Street Where You Live". Ellie Stewart also shines as the delightfully composed and well-articulated Mrs Higgins.
The entire cast make the most of the simple choreography in the tight space, sing enthusiastically (the acapella work of the male chorus was especially impressive) and do their level best to master a cockney accent.
The dance numbers are choreographed with simple, fun and polished movement - particularly the pleasing freeze-frames in Alfred Doolittle's songs "With a Little Bit of Luck" and "Get Me To The Church On Time". The ensemble's infectious delight and merriment is palpable.
Wellington Footlights manages the technical aspects of the space with thoughtful efficiency that supports slick set changes and realises the different locations admirably. Congratulations should also be awarded for costuming such an extensive and historical production relatively successfully (some of Eliza's dresses were breath-taking). It was a hard ask to dress everyone to the tailored, Edwardian standard and it was a shame that some clothing was far too clean for the streets of London or did not fit properly.
Overall, this production of My Fair Lady is thoroughly engaging fun and a timely reminder of just how entertaining and gratifying these classic musicals can be. This company is growing from strength-to-strength and I can't wait to see what they are planning to do next.
Director: Michael Stebbings
Musical Director: Sue Windsor
Choreographers: Shereen Capper and India Loveday
Theatre Company: The Wellington Footlights Society
Te Auaha - Tapere Nui (Big Theatre), Wellington from 25 Jul 2019 to 3 Aug 2019